Larry Bentley is inspired by shape and color. The New York–based artist is on a mission to create artwork that goes beyond beauty and immerses the viewer in its bold hues and forms. "I've become so much more aware of interesting color combinations and patterns since I began painting," he tells Business of Home.
Courtesy of Studio Larry Bentley
As a child growing up in Northeast Florida, Bentley was an avid sketcher. In college, he studied architecture at The Ohio State University before moving to New York and embarking on a career as a model agent for Ford and IMG Models. However, it wasn't until the beginning of the pandemic—and more specifically, during New York's shelter-in-place mandate—that he tried his hand at painting. "I helped launch the careers of some of today's biggest models," he says. "But I had never painted before March 2020."
Bentley quickly converted the dining area of his Harlem apartment into a makeshift studio, where he spent his days experimenting with hard-edge painting and geometric abstraction–style art. "I'm very inspired by the midcentury modern era—especially by the prominent artists of that period—and by the simplistic ethos and aesthetics exhibited during that time," he says.
In November 2021, Bentley hosted his very first exhibition at a pop-up gallery in Tribeca, New York. The showcase featured 40 original paintings, nearly half of which were sold. "It was a challenge to see if I could indeed sell to a live audience as opposed to selling online, which is what I had been doing since September 2020," he says. "It was a lot of work, but it was well worth it."
Courtesy of Studio Larry Bentley
Bentley describes himself as an "impulsive painter"—easily swayed to start a painting based on a color or the shape of something that's caught his eye. He constantly sketches out ideas in his head and captures interesting photos on his phone that serve as inspiration for future paintings. "Since I mainly work with acrylic paints, the tools I use are brushes, rollers, rulers and, of course, lots of painter's tape," he says.
Bentley recently teamed up with Crate & Barrel to release an exclusive line of five prints based on his original artworks, including the landscapelike Pink Moon and the minimalist-friendly Balancing Act. "They've selected numerous works of mine to re-create; these are just the first to be introduced," he says. "It's so unbelievable to me that my name and artistry is associated with such a popular home decor brand."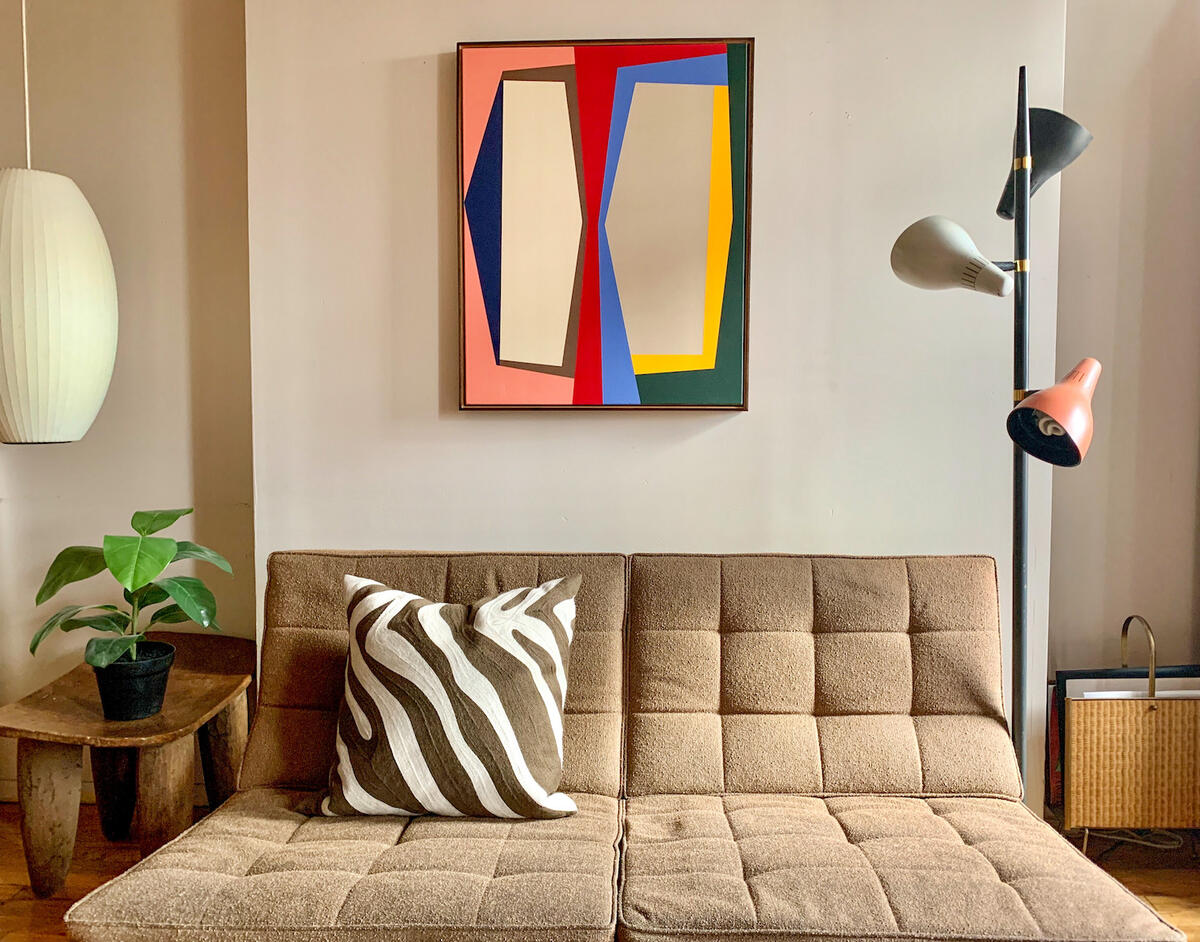 Courtesy of Studio Larry Bentley
Along with seeking out collaboration and licensing opportunities, Bentley began working with interior designers to craft custom pieces for their projects. "Keia McSwain, president of Black Interior Designers Inc., and [Los Angeles designer] Ron Woodson were instrumental in helping me get my work into The Gallery at 200 Lex, as well as on its online platform, Incollect," he says. "I actively accept commissions and am looking forward to connecting with more talents in the field."
Looking ahead, Bentley is currently hard at work on a second solo show that will premiere in November, as well as another major brand collaboration set to debut in 2024. "It's hard to believe I've only been painting for three years," he says. "I am so humbled."

If you want to learn more about Larry Bentley, visit his website or Instagram.
Homepage image: Larry Bentley inside his Harlem studio | Courtesy of Studio Larry Bentley