For Serena Dugan, creativity is all about self-expression. "It's about figuring out what I have to say and translating what's inside, or my unique point of view, into something visual," the Sausalito, California, designer—and co-founder of Serena & Lily—tells Business of Home. "My mission is to continually push my creative edges to create a representation of that internal landscape. It's less about presentation than it is about self-discovery."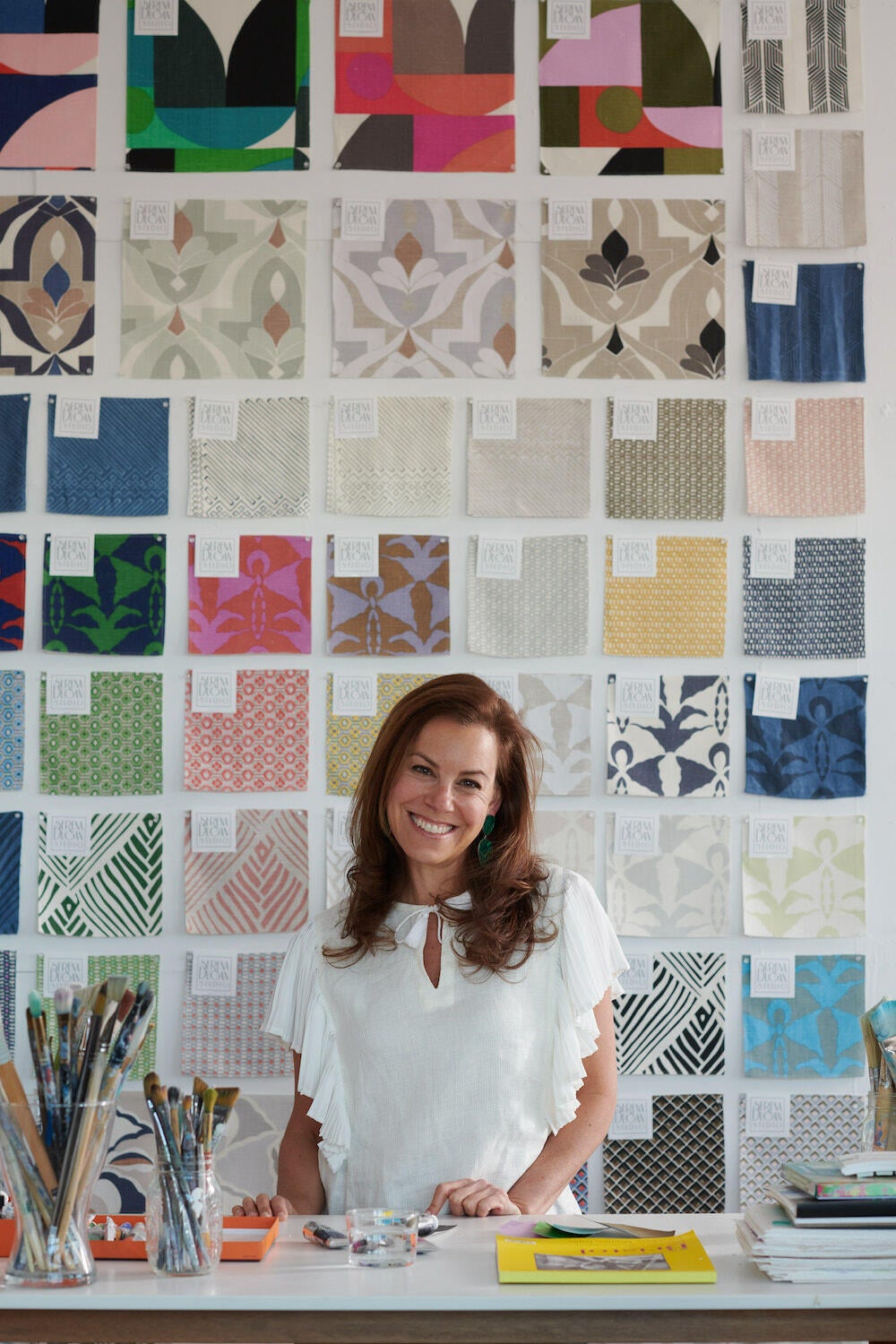 Dugan spent most of her life believing she would be a therapist. After earning a bachelor's degree in psychology at Wake Forest University in North Carolina, she decided to take a year off before applying to graduate school and began painting in her downtime. "I went back to school and focused on painting, initially attending the Metropolitan State [University] of Denver—where I could take art classes after work—and later at Lorenzo de' Medici at the Italian International Institute in Florence, Italy."
She spent the next several years working as a decorative painter, freehand painting original patterns into interior spaces that paid homage to the centuries-old art adorning Italian palazzos and churches. "I decided I wanted to translate these original patterns on to fabric and went back to school to study textile design at the San Francisco Art Institute and Berkeley College," she says. "After learning just enough, I taught myself how to block-print and created my first line of fabrics that sold through stores and designers throughout California."
In 2003, she launched Serena & Lily with co-founder Lily Kanter and spent the next decade and a half building the company—"brick by brick," as she describes it—-into a big-name furniture and decor brand. "It was an incredible ride and learning experience, but as it grew, it became less of a creative endeavor and more of a business endeavor," she says.
In 2017, she left Serena & Lily and debuted her namesake studio with a collection of 13 hand-block-printed fabric patterns and seven wallpaper designs, including Condesa and Capretto, in multiple colorways. "I wanted to capture a breezy, celebratory, jet-set-in-the-1950s spirit, and designed original patterns to support this vision and storyline," she says of her inaugural launch.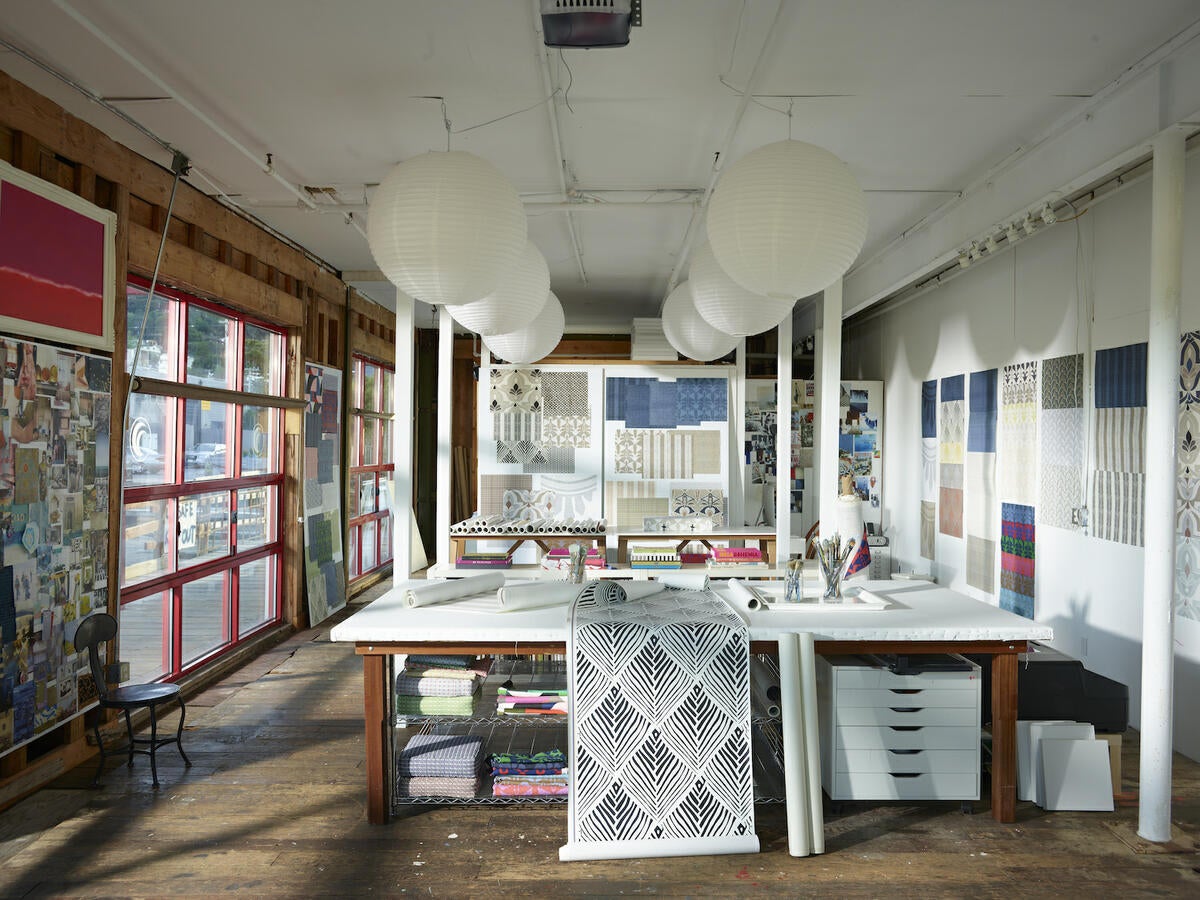 The bulk of Dugan's designs begins as sketches, which she translates into gouache-painted motifs before transforming them into a digital pattern. "Much of my pattern work happens in Photoshop, where I'm able to play with repeat spacing, layering and scaling," she explains. "Sampling and experimenting are essential parts of a successful pattern for me, and I give myself loads of time to play with elements to create the most rhythmic print."
Once she's settled on a pattern, the design is either hand-screen-printed or block-printed—where each color within a single repeat is carved into an individual block that gets stamped on to the fabric—on to linen, cotton or solution-dyed acrylic performance fabrics, or digitally printed on grasscloth or a paperweave substrate for wallcoverings. "I believe what makes each pattern unique isn't the printing method or the materials, but the design itself," she says. "I see original textile patterns as art, and they're one of my two art forms, along with painting."
Last winter, she released a rug collection in partnership with Erik Lindström inspired by her original artwork, and she has plans to unveil a new collab with Clé Tile this fall. "Collaborations are a fun and exciting way to expand and challenge my viewpoint," she says.
She's also currently hard at work on a new textile collection inspired by the house she's remodeling on Shelter Island in New York. "I've resolved to only use my fabrics and wallpapers, along with vintage fabrics that I've collected through the years, in the home," she says. "I'm finding holes in my offerings based on what I'm needing and don't have represented in the line, either in terms of color palette or pattern, or scale."
Looking ahead, she says she hopes to keep collaborating with other brands, while crafting fresh collections that reflect her evolving artistry and worldview. "I'm careful not to set future goals that are too far down the line," she says. "As they say, that closes you [off from] kismet—and I'd rather stay open to the twists and turns that are put on my path."
If you want to learn more about Serena Dugan, visit her website or Instagram.