In just one generation, Loloi has gone from being the fledgling American dream of its founder to an industry standard-bearer for beautiful quality carpets. Launched in 2004 by Amir Loloi, who had emigrated from Iran when he was just 16, the company is now a second-generation family affair that boasts a 30,000-square-foot showroom at High Point Market, a product development team of 20-plus members, nine notable brand partnerships and an expansive assortment that includes not only thousands of rugs but also complementary accessories like poufs, throws and wall art. "When you build a business from the ground up, you're able to create something new and fresh and special," says Cyrus Loloi, principal, along with his older brother Steven, of the Dallas-based, to-the-trade rug company. "It's more work. It takes more time. But that's who Loloi is. It's in our DNA."
From affordable patterned pieces printed using the latest technology, to on-trend collaborations with acclaimed makers, to luxury wool rugs hand-crafted in India, Loloi's good-better-best selection mirrors the breadth of its origin story: Whether a client's home represents humble beginnings or crowning achievements, Loloi has something for every stage of the design journey. "For the living room, a designer may want a beautiful hand-knotted rug as the centerpiece, but then might prefer to save a little bit on the rug in the guest bedroom or the runner in a hallway that gets a lot of traffic," says Cyrus. By offering a range of styles and price points, the company combines quality with convenience. "It's one of the key variables that makes Loloi an invaluable resource for designers," he explains. The sprawling High Point locus, a 25,000-square-foot showroom in Las Vegas and showrooms in Atlanta, New York and Dallas—as well as more than 1.5 million square feet of distribution facilities—guarantee that there's always a way to experience Loloi products in person.
On the Loloi website, designers can compare items, check stock, place orders and confirm ETAs. To simplify the selection process, the platform includes a filter to search across four price ranges based on the MSRP for a standard 5-foot-by-8-foot size, from $499 and under to $2,000 and up. On the luxury end, out of a multitude of choices, Cyrus spotlights two vintage-inspired house collections. "Legacy is our most intricate line," he says. "The colors are quite soft and sophisticated, and the way we create it—very shaved down with a deconstructed appearance—genuinely makes it look antique." The collection, evocative of Persian heirlooms and awash in milky creams, faded blues and burnished reds, has been coveted by designers since its introduction six years ago. Shades in the recently released Dominic line are stronger, more saturated, but intentional variances and distressing denote an equally one-of-a-kind character.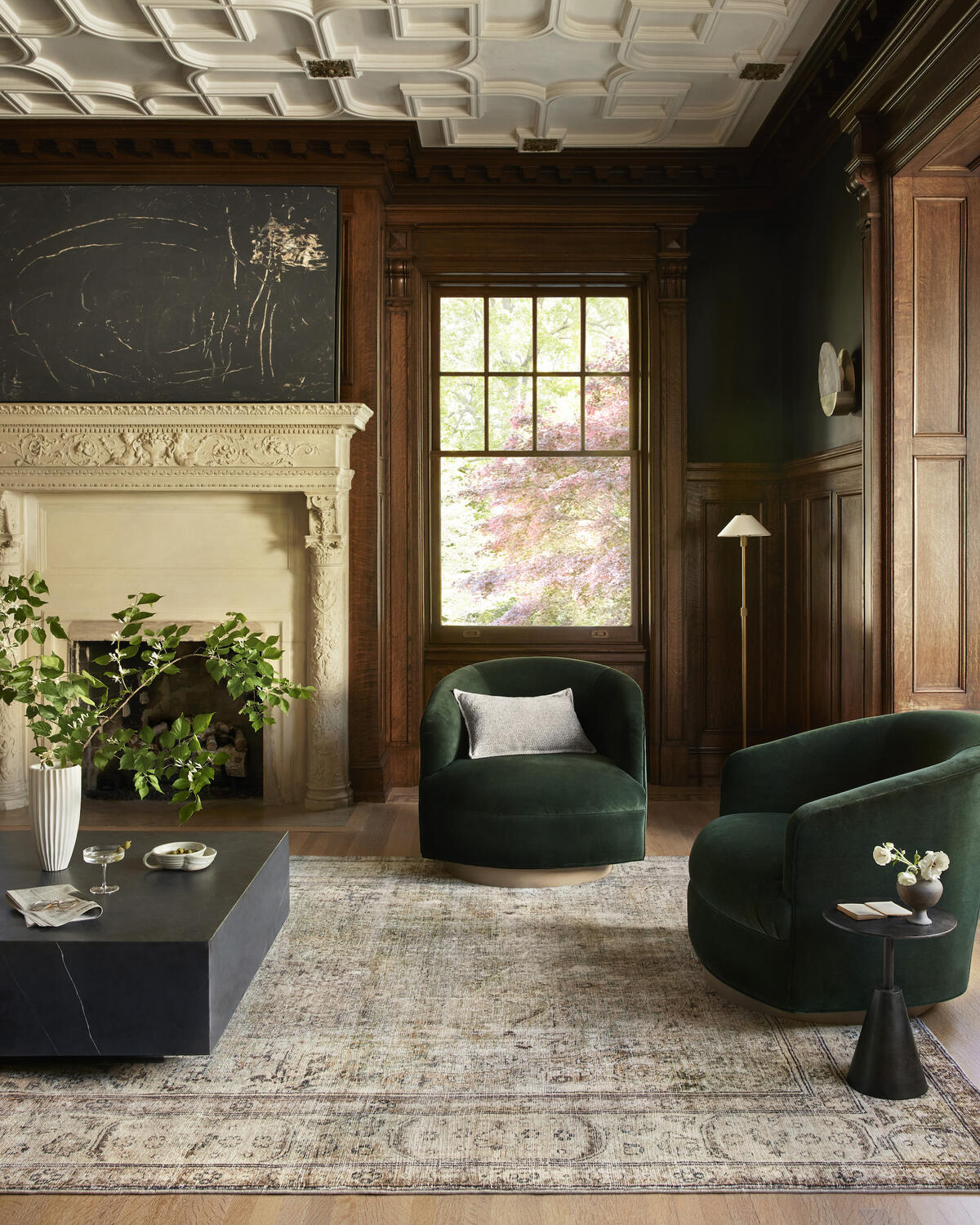 Both collections are hand-knotted from 100 percent wool pile by artisans in India—craftsmanship often witnessed by Amir himself. Instead of placing orders from afar and awaiting their arrival at port, the owner and other VIPs from the Dallas headquarters frequently travel abroad to India, China, Turkey and Egypt in order to meet with manufacturers and develop products together. "It's more demanding, but that degree of hands-on involvement gives us the competitive advantage," says Cyrus. Considering the global nature of its operations, in-person oversight also underscores the company's commitment to ethical practices: In an effort to ensure that no child or bonded labor is used in any part of its supply chain, most of Loloi's hand-made rugs from India are GoodWeave certified.
The brand's partnerships range from a cozy Magnolia Home line and bohemian offerings from Justina Blakeney to a contemporary series by prestigious New York–based design firm Carrier and Company—a mix of collaborations that allows Loloi to match any mood. Of particular pride are the lines with Amber Lewis, famous for perfecting the look of laid-back luxury through her residential design firm in Calabasas, California. Her original styles for Loloi include hand-knotted denim rugs in moody charcoals and weathered blues, nubby basics crafted from wool and jute, and traditional Middle Eastern motifs overlaid with slightly higher pile in soothing sand, sky, mist or stone hues. Embroidered fragments, woven nudes and squares of patterned fabric, all framed in wood, bring the textures and colors found in Lewis's rugs to the walls.
For of-the-moment midpriced delights, Cyrus suggests Rifle Paper Co.'s overscale botanicals and cheerful menageries, hand-hooked from 100 percent wool and easily paired with whimsical pillows, floor poufs and throws from the brand. "It's added a different dimension to our portfolio," he says of the partnership. "It's fun, it's floral, but it's still sophisticated." For pattern-forward designers who embrace bright colors and hints of humor in their projects, the apt place to find a figurative riot of daisies, hydrangeas, palm leaves and lemon trees—not to mention the occasional peacock or cheetah—is in a Rifle Paper rug underfoot.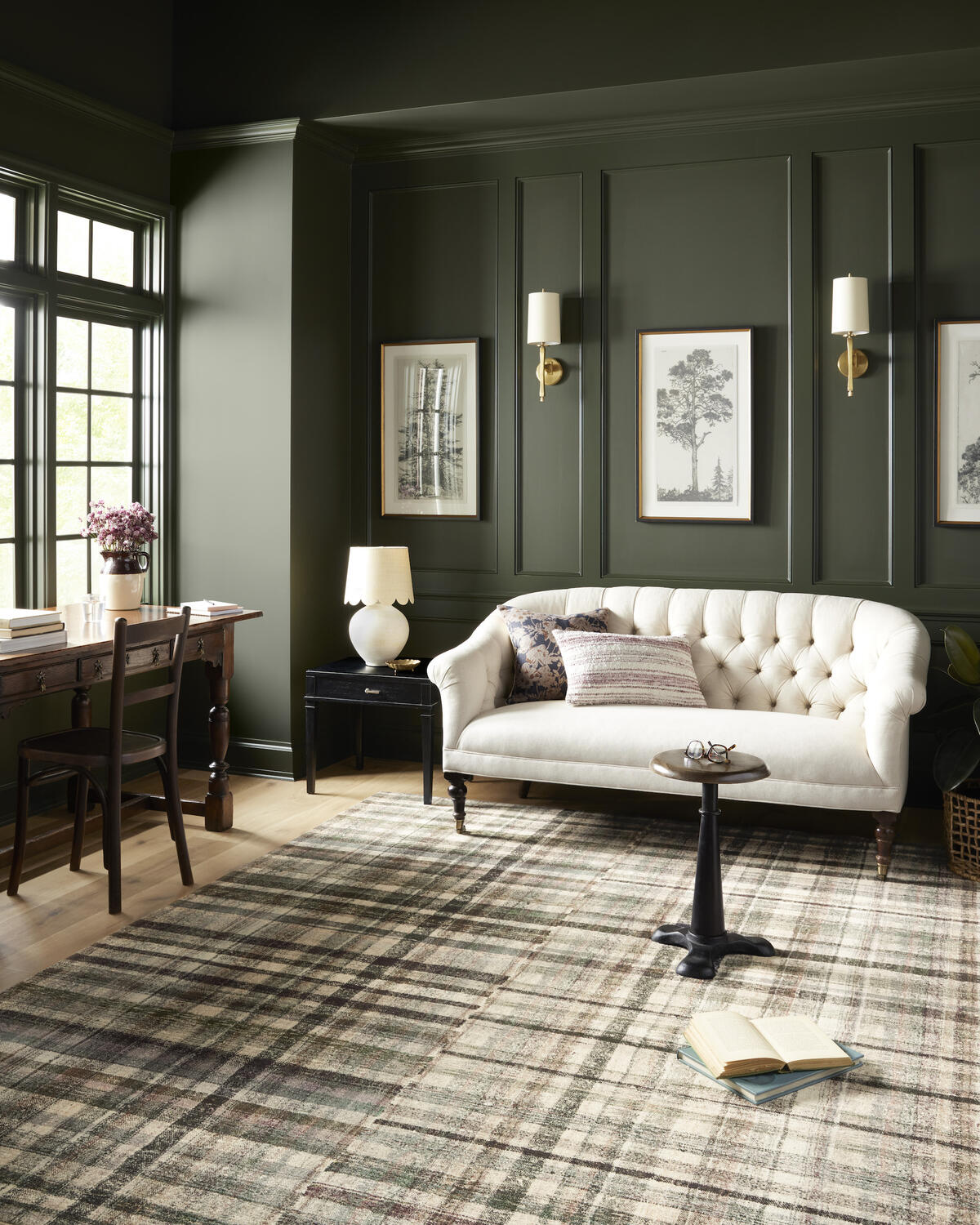 Cutting-edge technology plays an important part even in Loloi's most affordable products. This fall, the company released the Humphrey collection, designed in partnership with Chris Loves Julia as a celebration of warm, earthy plaids. Typically, such patterns might be found in libraries, dens and more traditionally masculine spaces, but the line's trademarked CloudPile construction defies such limitations. "It's so soft that, combined with the nostalgia factor for classic plaid, people are putting the rugs everywhere: bedrooms, hallways, shared family areas," says Cyrus. The technology is also featured in the ribbed pile of Morgan, Lewis's newest collection, after having debuted in 2021 in the house Margot line, which put the method on the map. "CloudPile products are durable, extremely tactile and don't shed," explains Cyrus about the printed fabrication. "They offer innovation and tremendous value."
With plans to increase distribution and warehouse capacity to up inventory, expand the pillow and wall art categories, and collaborate with new, soon-to-be-announced partners, Loloi's magic carpet ride is destined to continue into 2023. Because there's no opening order requirement, every purchase is commitment-free. In lieu of a discount program or seasonal promotions, the company keeps it simple: "We just offer great value every single day so that designers can order at the right time for them," says Cyrus. In light of Loloi's success, that's a winning strategy.
This story is a paid promotion and was created in partnership with Loloi.
Homepage image: Loloi's vintage-inspired Dominic collection is knotted by hand from 100 percent wool by artisans in India. | Courtesy of Loloi