LG's new twist on the experience center lives up to the company's "Life's Good" motto. Come August, the New Jersey-based home appliance brand will launch its new QuadWash dishwasher with a water park designed to replicate the dishwasher at Manhattan's Summer Street festival.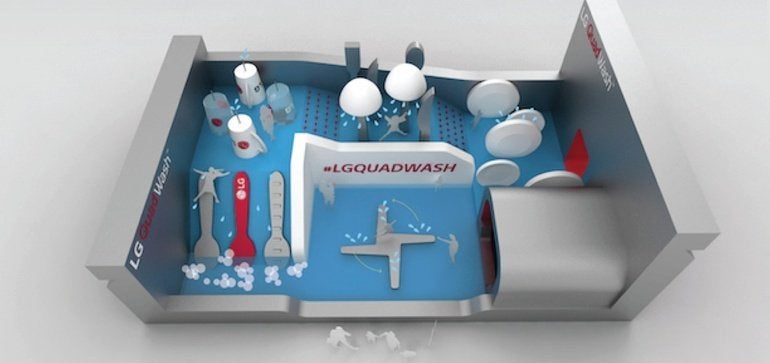 Presented by the New York City Department of Transportation, the annual event closes nearly seven miles of Manhattan roadways for outdoor recreational activities. The LG QuadWash Water Park, designed to mimic the brand's new dishwasher, will encompass two tennis courts' worth of inflatable obstacle courses, each presenting a feature of the appliance.
Guests will dodge powerful jet streams as they cruise down cutlery-shaped slides and a hanging rack-like glide rail that leads into pools of water.
"Citi Summer Streets is the ideal venue to make a splash with our newest dishwasher innovation with the first-ever water park modeled after a massive dishwasher," says Peggy Ang, head of home appliance brand marketing at LG Electronics USA. "This summer, we're launching a brand-new line of LG dishwashers with our industry-first LG QuadWash technology that stands apart from the competition because it harnesses the power of four spray arms instead of two, getting dirty dishes clean the first time without ever having to prewash or rewash."
For those who prefer a more traditional product tutorial, LG will also be hosting cabanas around the water ride where guests can learn about the new QuadWash offerings. The water park will be located at the north entrance to Citi Summer Streets on August 5, 12 and 19.