More than a decade after most of the domestic home textiles industry that once made billions of dollars' worth of sheets and towels decamped for Asia, manufacturing in the category is slowly starting to return to the United States. The latest entry in the Made in the USA movement comes from a new company called American Merchant, which is putting the final touches on its first manufacturing facility in Bristol, Virginia—a town of 17,000 in the southwestern corner of the state, part of a Tri-Cities region that also includes Johnson City and Kingsport, Tennessee, and that is perhaps best known as "The Birthplace of Country Music." The new textiles mill, which will use American-grown cotton and American-spun yarn, expects to be up and running (and shipping towels) by the second half of this year.
It promises to be a dramatic moment in the nascent effort to return textile production to this country. While the U.S. remains the third-largest cotton grower in the world, virtually the entire home textiles industry (other than some spinning capacity and cut-and-sew finishing) moved offshore in the early 2000s following the lifting of quotas on its products. The trend has started to reverse itself in the past few years, starting with the Pakistani company 1888 Mills, which opened a towel plant in Georgia several years ago, largely to service a Walmart program that trumpeted its Made in the USA origins. A second company, Standard Textiles, an Ohio-based, vertically integrated textiles business founded in 1940 that specializes in health care, hospitality and institutional textiles, is now starting to target the retail market.
American Merchant is rapidly completing work on its manufacturing plant, with nearly 90 percent of its equipment in place. When complete, its operations will include warping and weaving its locally purchased yarn on a suite of 24 new high-speed air jet looms. Batch dying, drying and cut-and-sew facilities will round out the facility's manufacturing process in the facility, which previously housed a Ball jars plant. While it has not decided specifics on its product lineup yet, the company expects to be primarily an OEM (original equipment manufacturer) provider for other brands and retailers, but will manufacture its own brand, Cotton Queen, as well.
The company has modest expectations on its launch, but expects to be producing up to 400 tons of towels a month by the time its facility is fully up to speed. The company, a subsidiary of Hong Kong–based Merchant House International, believes there is a void in the marketplace for the kind of better-to-best products it will produce. "When we looked at the American market, we said, Something is missing," says Robert Burton, a longtime industry veteran with 35 years of experience in textiles manufacturing and sourcing who is chairman of the new company. "We didn't see a high-quality Made in the U.S. towel, so that's what we're focusing on," he told Business of Home from the company's Virginia offices. But Burton says that the brand's market positioning has to be more than just a domestic production story: "It has to have a strong price-value relationship," he explains. "We believe there's room in retailers' assortments today for us."
The company's team also includes another industry veteran: general manager Allen Oakley, who spent much of his early career with erstwhile North Carolina–based textile producer Fieldcrest-Cannon—producer of the Cannon, Charisma, Fieldcrest and Royal Velvet brands—which was purchased by Pillowtex in 1997 but filed for bankruptcy in 2003.
Burton says that parent company Merchant House, publicly traded on the Australian stock market, chose towels for its American venture because it already operates a terry facility in southern China that specializes in seasonal products for the kitchen and dining segments. (Merchant House is also involved in the footwear business, and established its first American manufacturing facility—Footwear Industries of Tennessee, Inc.—in Knoxville in 2013.)
Burton says that being a responsible supplier will be a critical part of the company's market positioning; the company will seek Oeko-Tex and BCI (Better Cotton Initiative) certification once it is up and running. And while the current political climate promotes a return to domestic manufacturing, Burton says that the company has been eyeing U.S. production for the past three years. "We looked at the supply chain, asked where it was going, and the answer was America," he explains.
"We feel we'll be competitive with the rest of the world," he says, though he admits that the company will be a relatively small player on the global scene at the start. "We know how big we are and how big the shoes are. But we think of ourselves as the little caboose that could."
____________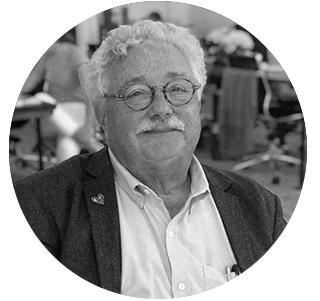 Warren Shoulberg is the former editor in chief for several leading B2B publications. He has been a guest lecturer at the Columbia University Graduate School of Business; received honors from the International Furnishings and Design Association and the Fashion Institute of Technology; and been cited by The Wall Street Journal, The New York Times, The Washington Post, CNN and other media as a leading industry expert. He was also a guest on the BOH podcast, and his Retail Watch columns offer deep industry insights on major markets and product categories.