The 50 States Project is a yearlong series of candid conversations with interior designers we admire, state by state. Today, we're chatting with Rehoboth Beach, Delaware–based Jess Weeth of Weeth Home, a firm she launched as a side project four years ago while working in the fashion business before pivoting to design full-time two years later. In addition to sharing favorite moments from two recent local projects, she tells us how her background in fashion informed her current career, shares why she partnered with a local furniture retailer to give her clients a white-glove experience, and describes her hometown's unique coastal aesthetic.
You had a career in fashion before starting your firm—let's start there.
I have loved design in all ways as long as I can remember, but I didn't really consider it as a career when I was looking at colleges. Instead, I went for as rigorous an academic school as I could and got a bachelor of arts, thinking I would jump into the business world in some way, and try to get as close as I could to the creative areas of business. So when the opportunity [came] to join a corporate training program and take on a buyer role at the corporate office of Abercrombie & Fitch after graduation, I was able to jump out of college and get right into a $4 billion company, which gave me so much insight into not only the design side of fashion, but also the production element.
I traveled everywhere—I was in China, Korea and Turkey often, and in London and Paris for inspiration and shopping trips. I got to see the mills and fabrics and all of the production elements firsthand. I was able to have an awesome career and ended up running a pretty large team, overseeing a large side of the women's business.
Abercrombie was a brand in transition at that time, correct?
Exactly. When I started, it was the heyday of a huge global company that everyone knew so well, which then became a huge challenge to overcome, because everybody had one image of Abercrombie. It was a very cool learning experience to be around all those hardworking people. You would never imagine the amount of talent on that design team. Yes, you're designing jeans and T-shirts, but the capabilities and the [sources of] inspiration are a lot bigger than that.
I was running a $350 million portion of the business with a team of 13 under me by the time I left. So [the experience of] project management, presenting to the CEO, and exposure from that standpoint cut my teeth a little bit on the business end of things.
But [the office was in Ohio], so I wasn't anywhere near home. I grew up here in the Rehoboth Beach area, and my husband and I were thinking about how to get closer to that area. We started looking in Philly and Baltimore, a two-hour drive away. He ended up getting a brand manager role at Dogfish Head, a brewery that has a pretty sizable team here, so we relocated back to Rehoboth Beach. I had never considered coming exactly back to my roots, but it was awesome. Along the way, we had renovated our historic home in Columbus, Ohio, and it sold really quickly. Then we moved here into a small ranch fixer-upper and ended up doing the same thing—renovating it completely and flipping that house. In the meantime, I started blogging about it.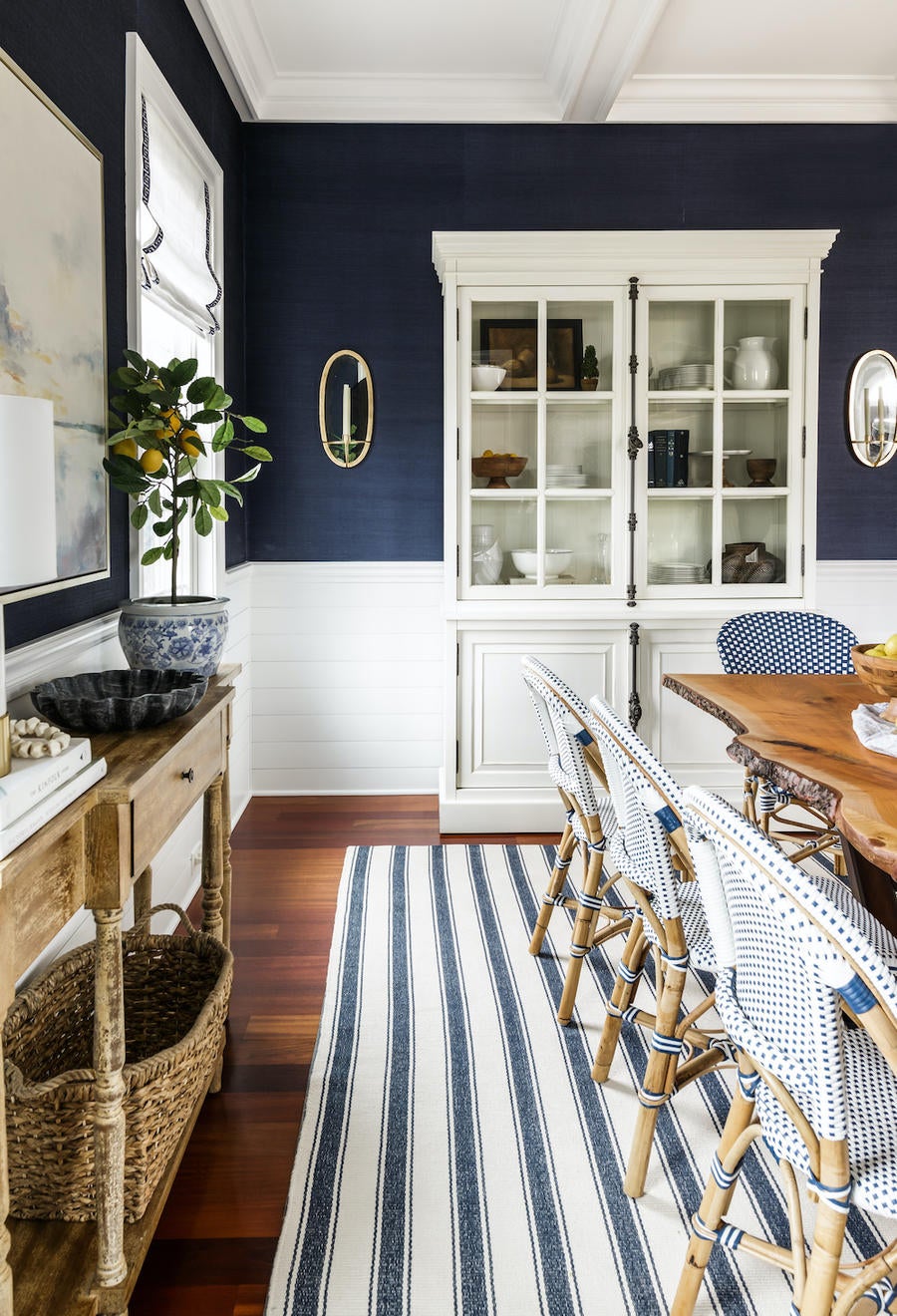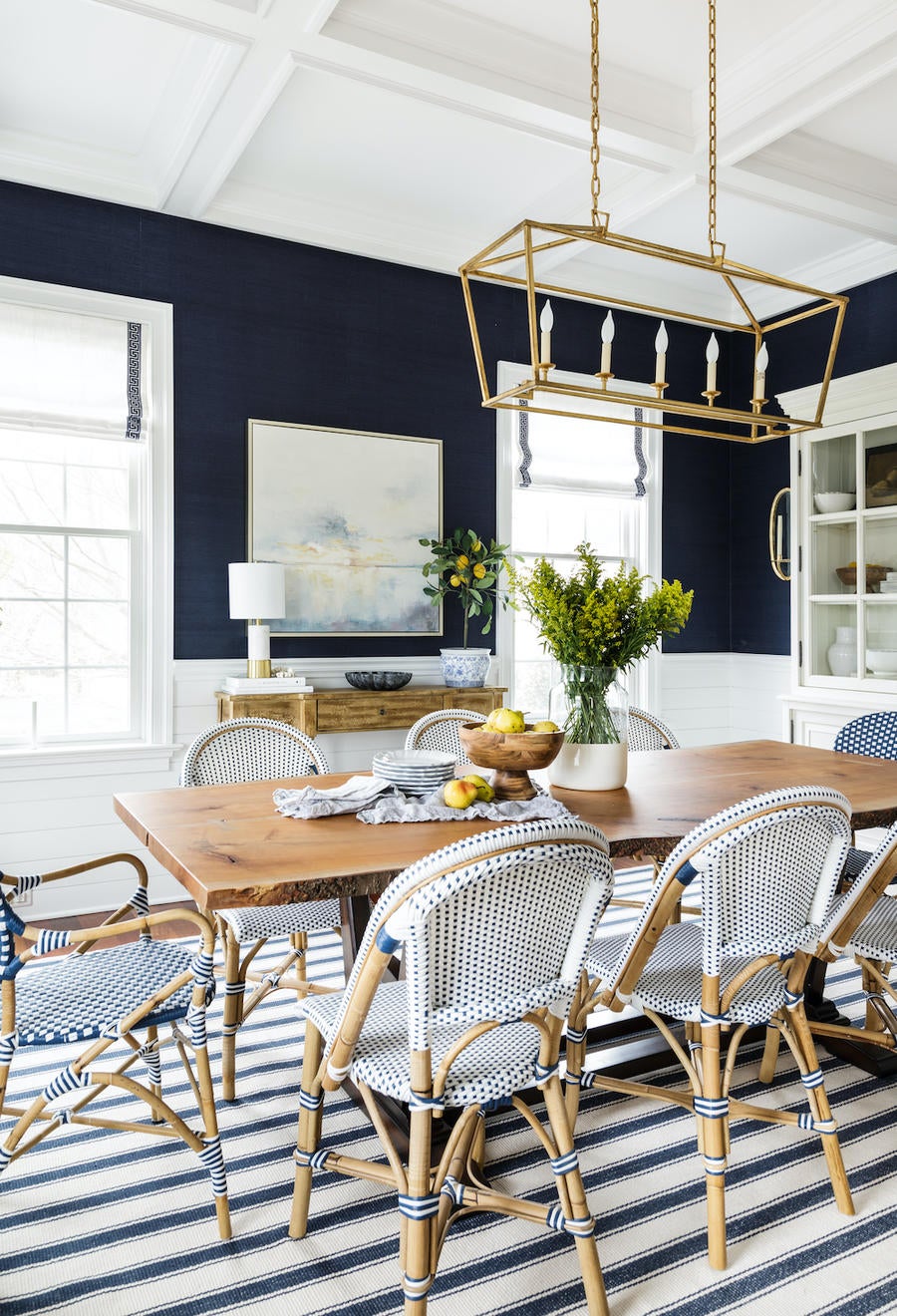 And the blog turned into a design business?
In this town, there is a huge need—it wasn't long before friends and coworkers and word-of-mouth referrals started coming in and I started taking on smaller projects. I took online classes at the Interior Design Institute to learn as much as I could—I had a baby son at the time, and wasn't at a point where I could move to a city and go to design school, so I had to get a little creative in [how to] get information and hone my skills.
Had you left Abercrombie when you moved back to Delaware?
I was still working remotely for the company when the design business started to grow, more quickly than I could have ever imagined. In May 2018, it got to the point that I actually went full-time into my interior design business.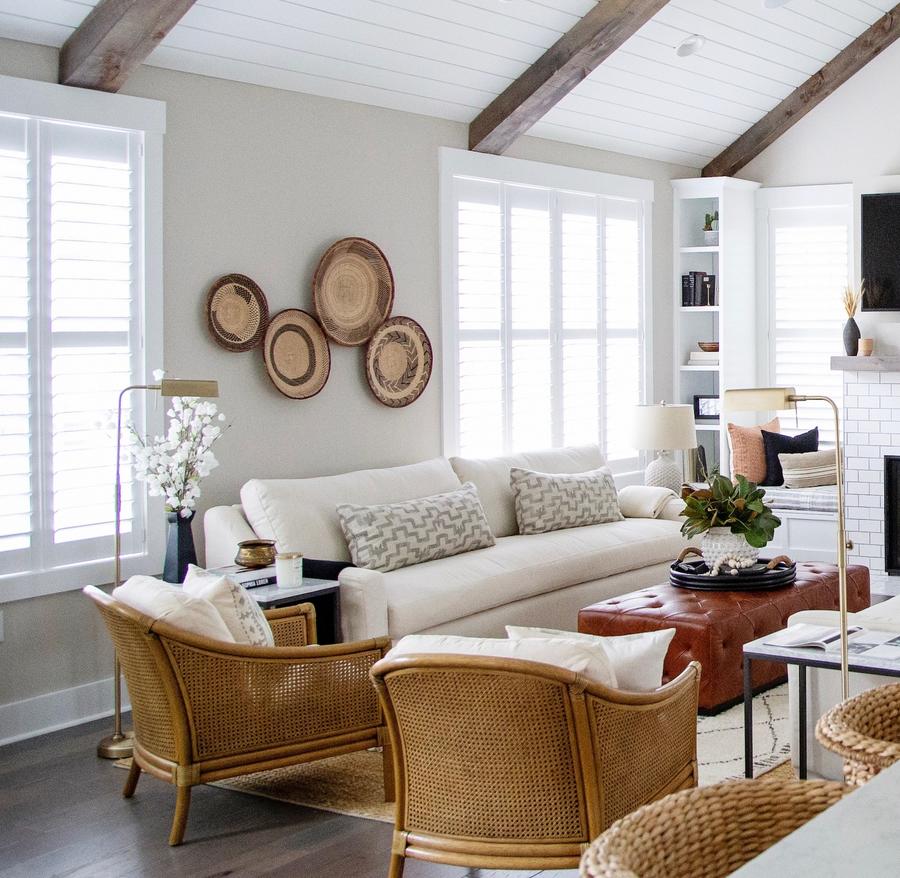 How did you know when it was time to do design full-time?
My husband would tell you it was blatantly obvious, because I was just working around the clock. I would finish my work, do dinner with my son, and then be up and working, and the projects just kept coming. I did work remotely, but it was also starting to feel like a cheat on Abercrombie's time, where occasionally, if somebody needed to schedule a 3 o'clock meeting, I would go to their house quickly and then make up for [that missed work later]. It was crazy.
It just became so clear that the work was there, and I was honing my confidence and my skill set. I was able to raise my prices and start to wrap my head around the business model of design, which is complex and interesting in terms of the margins, savvy sourcing, tracking time, flat fee versus hourly, all of that stuff. It took those two years of hustling [to] feel confident that I could make the jump. Every client project that went smoothly puts that feather in your cap, where you're like, "OK, I can do this, it's getting easier, and I'm loving it more and more because things are clicking." Now, when I source sofas, I'm not looking at 2,000, I'm looking at my favorite 60 that I've already narrowed down from years of looking at and sitting in them.
The classes you took online—what did you gain, and what made you realize that was an important piece of the process?
I took 10 modules of interior design, so it wasn't years of schooling. I learned the history of architectural periods, some of the jargon that was making me feel uncomfortable. I knew I could style, I had an idea of what I liked spatially, and color has always been my strength—at Abercrombie, I was one of the color testers. But having that vocabulary and background [the courses provided] gave me the confidence and some good basic tools. The last thing I would want is somebody to think that I have a four-year design degree. There aren't a bunch of big firms here, so interning was not an option, and I wasn't able to move to a city to attend school or work at a big firm. For me, that was my scrappy way to do it.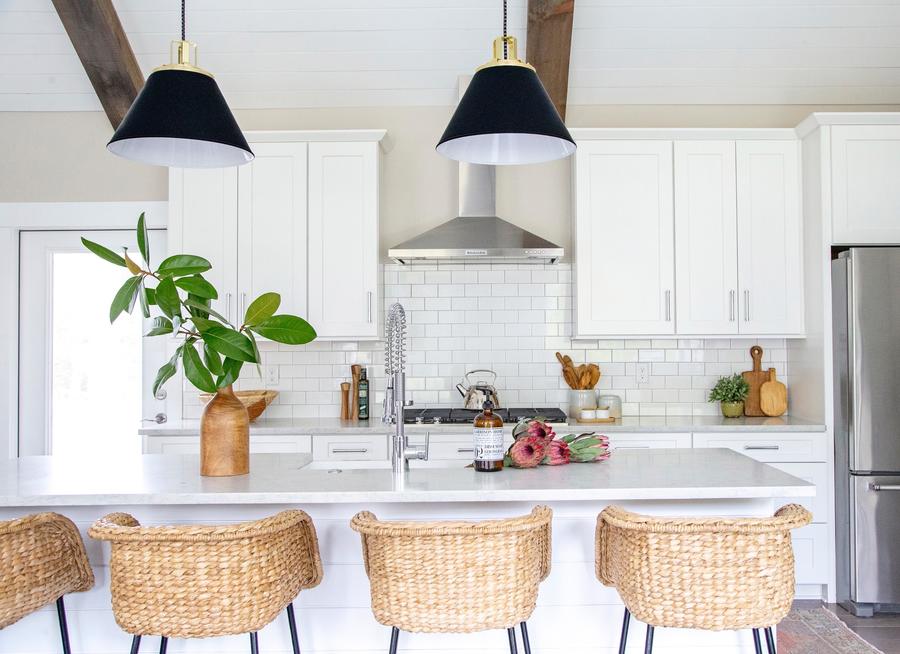 What did the early projects with friends and family look like?
They were furniture and styling projects. It was cool to find people looking for something different and a fresher aesthetic. There's a lot of traditional design that I think is done really well here, and then there's a [firm] or two that does very modern design. I think I fall more in that 'fresh take on classic' [category], that middle, breezier feel. So it was refreshing to see people that saw my home or blog or heard about me and gave me a shot. When I came with design boards and the aesthetic started to sync up, the projects started to spiral in a good way, where it was like, "Oh, did you know there's somebody in our area that does this?" I worked hard. My prices were super low back then. I was scrapping to gain traction, because I didn't have the internship. I didn't have a prestigious four-year degree, but I had the passion and had an aesthetic that some people were looking for.
My poor husband—I would have our guest room stocked to the brim with lamps and nightstands, little pieces of furniture. He would help me load everything. We would hang things ourselves. It was definitely down and dirty four years ago, and then one of the biggest changes came when I synced up with Mitchell's Interiors, a fine furniture retailer out of Laurel, Delaware—they're an hour away, but the owner, Derek Feist, lives in the Rehoboth area. I think it's a pretty unique setup in some ways. I love a lot of the upholstery lines that they carry, and they have more of a breadth of resources for custom than I could ever want or need in terms of dining tables and beds. Plus, they do all of the receiving for me, including for [a lot of goods] from other vendors. The pricing is great and the client gets that white glove experience. We also spend a day together at High Point, where I point out new lines I'm interested in and they use some of their buying power to help with that. Our partnership gives me a huge breadth of resources that I, as one individual designer, couldn't have.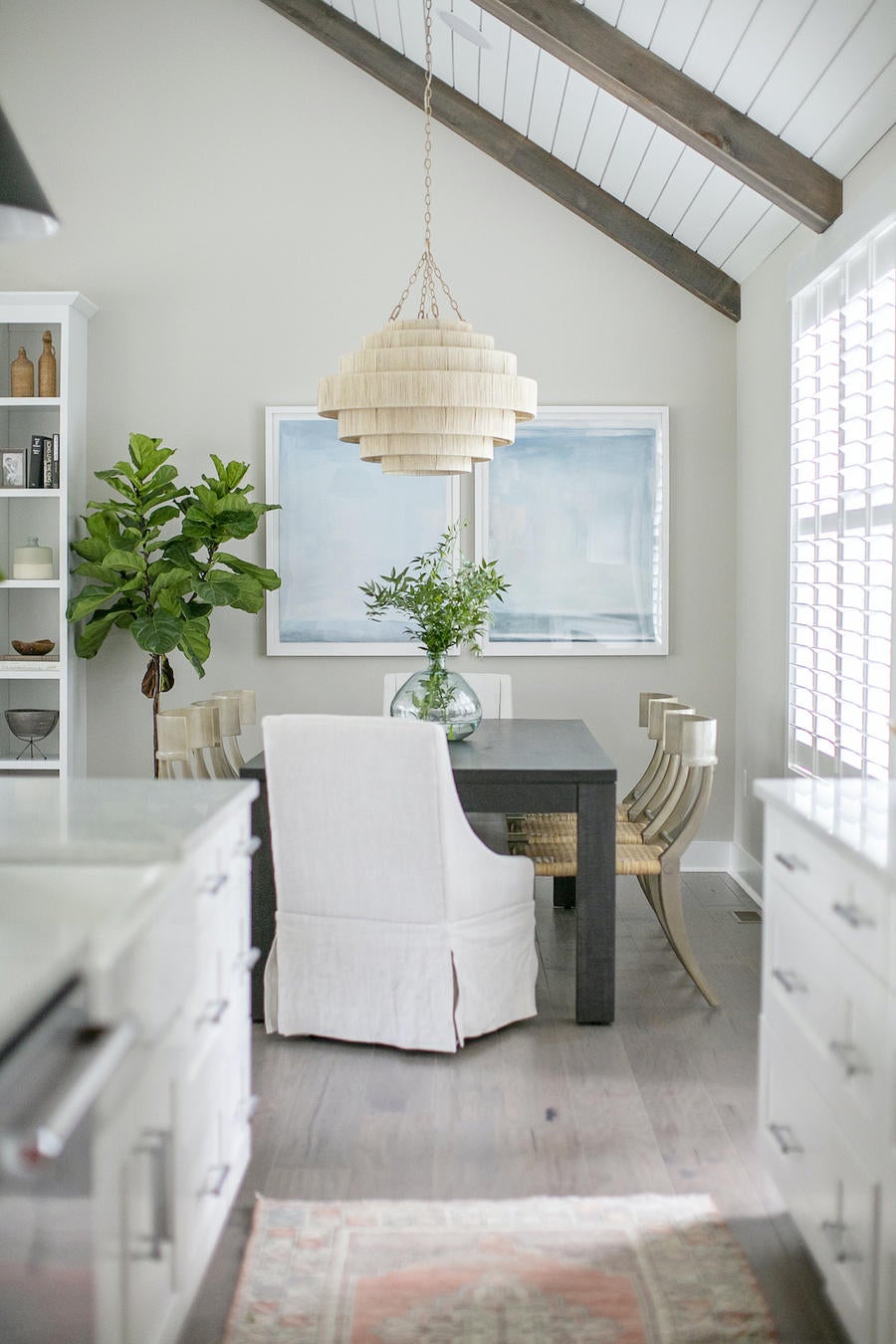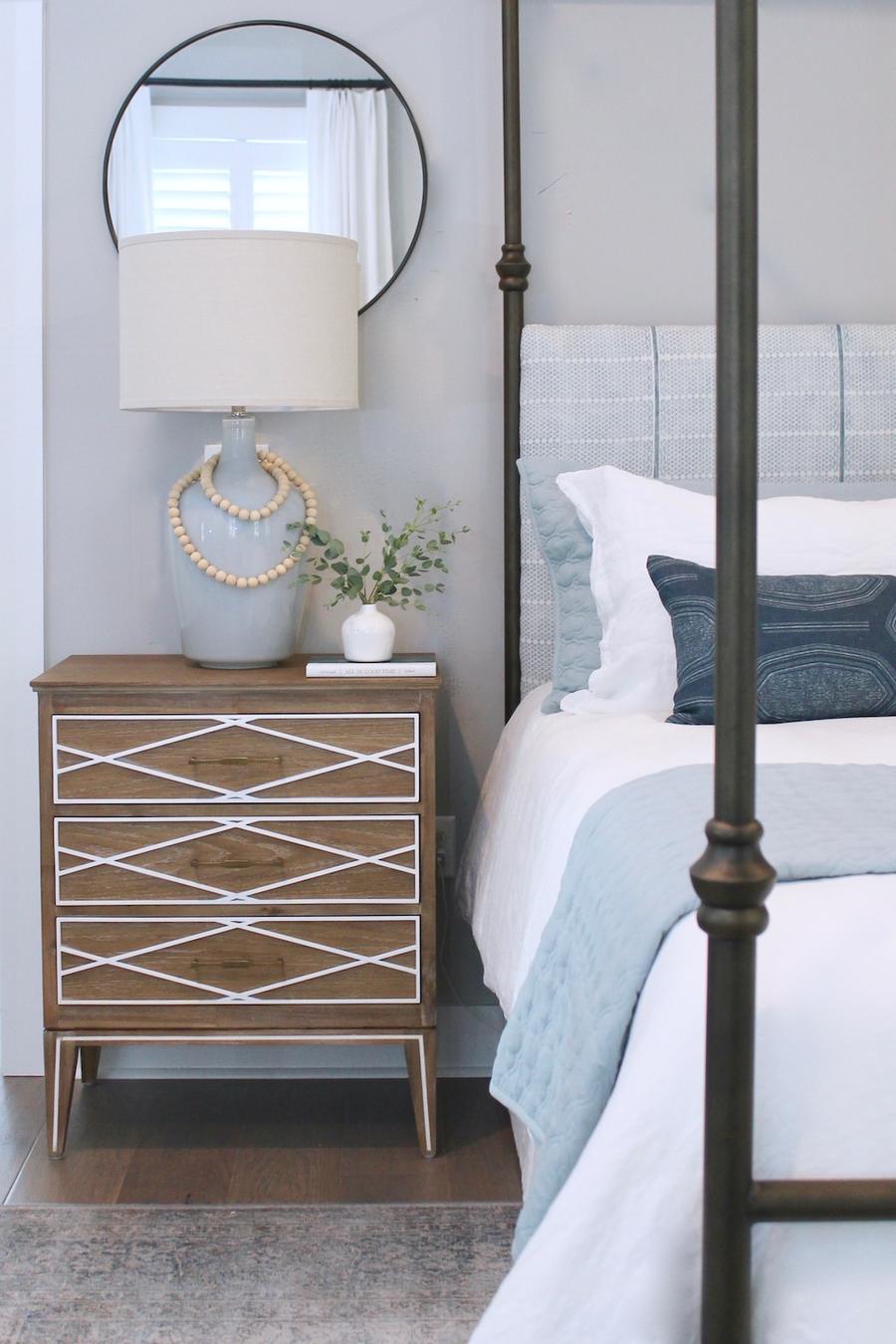 How long ago did you set up that partnership?
I started working with them pretty close to when I started, when the logistics were killing me. So it's been over three years at this point. I feel like we're on the other side with the logistics a lot more worked out, which is nice.
You opened your studio in October 2019. Where does that fit into that equation?
It seems like a big jump, I know, but I had the luxury of two years of working from home for Abercrombie, and knew that I was not good at working from home. I just struggled with it—I was so used to leading a really big team and being in meetings and that energy and focus. Home is home, and work is work. I was really struggling with that and wanted to have a space. Then I was getting so bogged down with the project management and logistical aspects of the job that were not paid as much, that bringing on an assistant or project manager was necessary. Even installs that don't seem that big, doing it by yourself is hard. And textiles are a huge passion of mine. I was building up this sample library that was a tool for people to understand my aesthetic and the things that get me excited. I think if it was all tucked away in our little office at home, which it was, it wouldn't be serving me as well as it could.
[The studio is] a huge investment that I had to think hard about, but because I work on so many second homes, I was meeting people in Starbucks or bringing fabric samples to dusty new-build sites. It was logistically very hard to give somebody what I thought was a high-end experience from my home. I was tired of bringing design boards to Starbucks and ready to have the presentation be a positive part of their experience rather than something that I was feeling self-conscious about.
I also think it's nice for people to be able to walk in and be like, "OK, so when she says she's coastal, but not too coastal, this is what she means, this is what that feels like." There have been anchors and seashells around here my whole life, and I couldn't want to be further away from that, but there's also this barefoot spirit that is why I'm obsessed with living here, and why I think people move here or have second homes here. Rehoboth is super small, but it balloons [exponentially] in the summer. So it's a nice way to say I'm here and part of the community. We did a total gut on our building here on the main street, Rehoboth Avenue. It was a super cute boutique, but very coastal, and set up for a clothing shop. It took a couple months, and then we were able to open last October.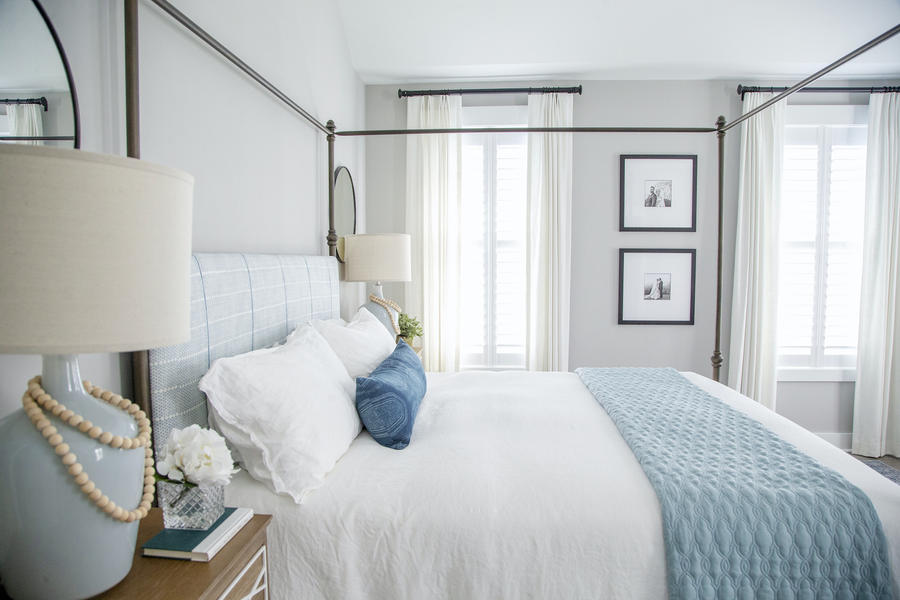 It's you and your project manager. Is that your whole team?
Yeah, that's my whole team as of now. My project manager joined when the studio opened. It's crazy that as of six months ago, I didn't have her. I don't know how I functioned. So that's been great.
OK, and so you're both there, and the studio is open by appointment only.
Here, we have such a defined season. It's pretty much Memorial Day to Labor Day. Obviously, that extends every year, and it's not like it's dead year-round now. For us, it makes sense to be open full-time [during that season], when more people can walk in. We have some cash-and-carry things in here, and it's been fun for people to come in and shop and see it. I'm getting so much pressure and requests like, "I just want to shop there all the time. Can't you make it a shop?" That kind of thing. So I think come May, we'll extend that arm of the business and hire the extra couple of hands to be here when I have to be on-site.
You mentioned High Point earlier. Why is that so important, and where else do you go for discovery?
High Point is essential for me, because of where we are. There really are no resources around here—no big design centers, no huge showrooms. It is a time for me to walk until my feet are numb and sit in everything I possibly can. Seeing something, it just clicks whether it's a good fit for your clients and projects or not. I love discovering new lines and building relationships. That way, if there's an issue, there's somebody going to bat for you that's going to get it resolved.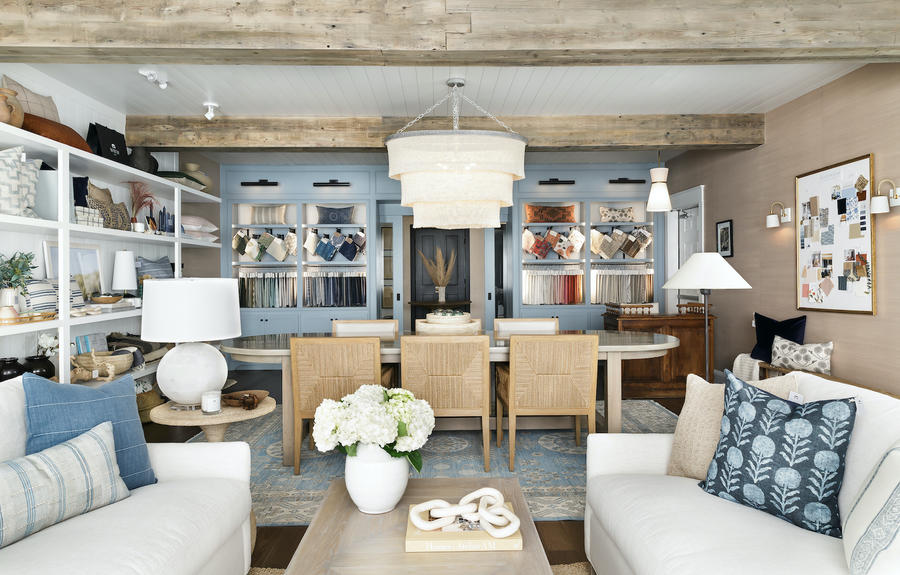 How many projects are you typically working on?
About a dozen at a time. I'm about half-and-half right now, [in terms of] full house versus decorating. But the full house ones are on longer timelines, so in terms of all the decorating side, we have a little bit more time to pull things together. I think probably everyone loves the bigger projects, just because efficiencies pick up when you're doing bigger projects. But I don't think we will ever completely [forgo] the smaller projects. We try to impart to people that we really like to do projects to completion.
We're definitely looking to make the room feel meaningfully different and very finished when we leave—not just coming in to do the window treatments. Not that we can't use a favorite old piece—I certainly love the character and soul that that can bring—but I want to be focusing on, at the very least, the whole room's design.
You talked about how in May, so many people are moving in. When did they approach you, and what kind of lead times did those projects come with?
That's the loaded question. The amount of project inquiries we get in January spikes, and even in the last month, too. I think once you cross the holidays and January is behind you, people start thinking about spring and summer. It would certainly be nice if people had the forethought [to think about it] back in early December.
Often they'll be like, "It's March! Can you help me?" Those requests haven't changed, but my answers have—I've gotten stronger in my stance of being like, "No. We can't start now and have a completely renovated, perfect house by May." That doesn't happen. But I will say, from working with builders around here, everybody is on that same timeline. So a lot of new builds, I don't necessarily have to set the schedule as much, because they started on the build nine months or a year ago with that date in mind. Now, am I often waiting on builders to finish up, and then it makes my life a little stressful? Sure.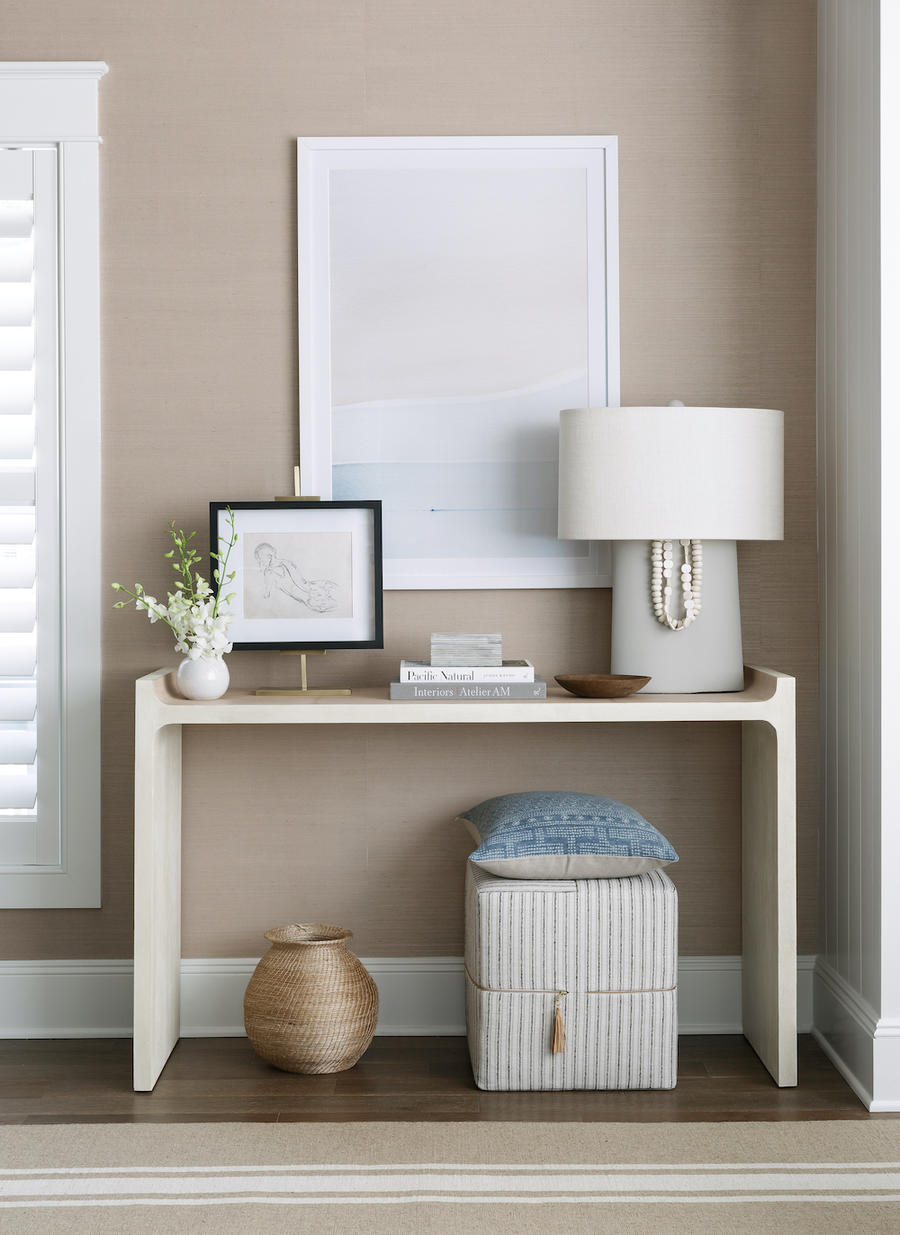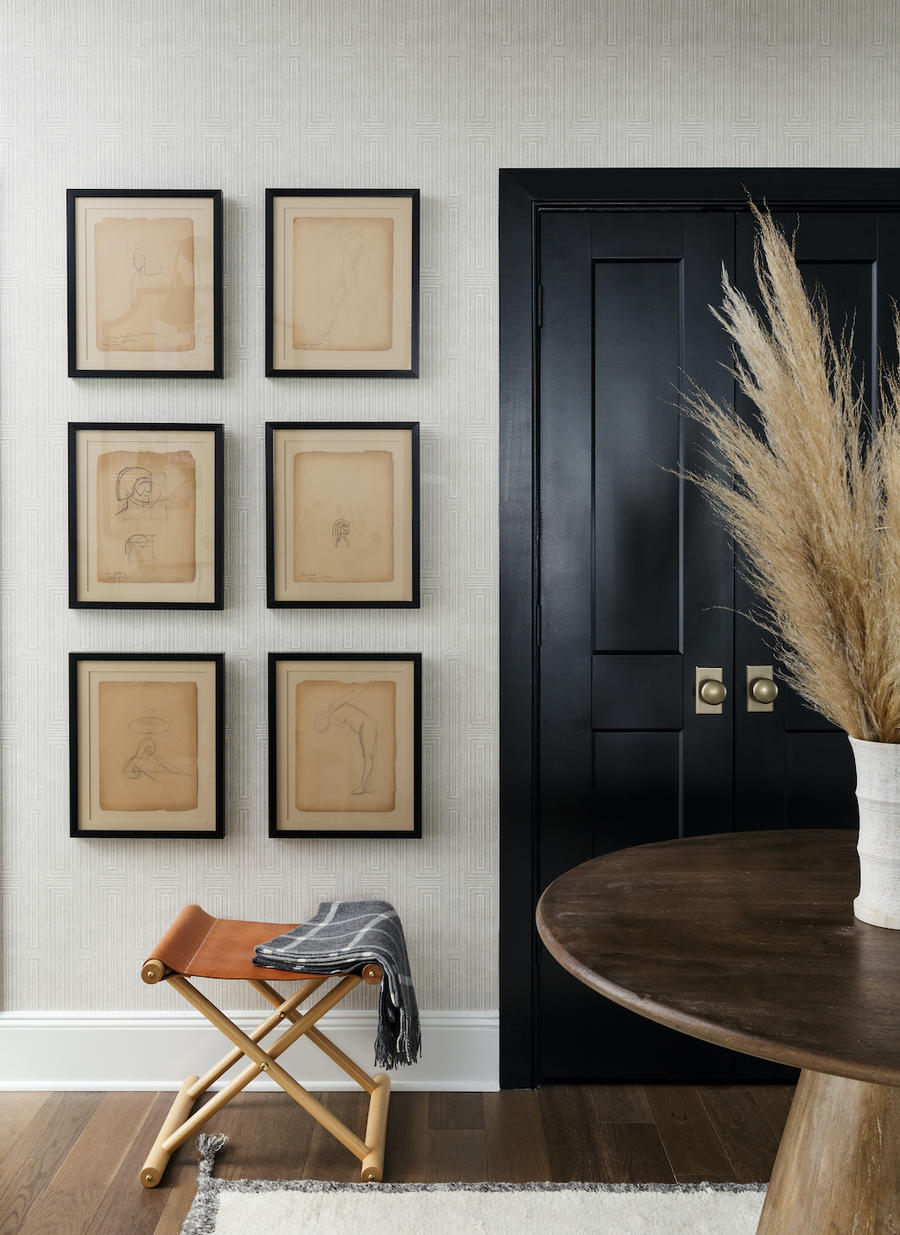 What are your plans for the next few years? What do you see coming for the firm?
I definitely see the shop experience, the studio experience being a big focus, just because of our location. The way we've designed it, it's very well lit at night from the road. So there's been so much curiosity about it. I know that it's a little unconventional to have such a focal spot that's appointment-only. So we are definitely going to make the studio experience a profitable portion of the business. [Another thing that's important to me is] curating. I don't want the pieces that you see everywhere to be here. We try to utilize our custom lines as much as possible when planning for the retail furniture items in here and some of the decor—that has been a work in progress that we're excited to launch in May.
I'm trying to pace ourselves a little. It would be great if this next year or two we are refining our processes and still taking on the same workload before taking on more headcount. I would certainly love to very intentionally grow this team, but I think me being as close as possible to the projects is what's right at the moment.
What's the most inspiring thing about the business to you right now?
I feel so strongly about the entire history and importance of this area, and how there really is, to me, such a vibe [in Rehoboth Beach] that hasn't necessarily been defined by a style. There's not a West Coast or California coastal feel at all. It really isn't as specific as a Nantucket. It certainly is not a Southern vibe here, either. You have a lot of heritage components coming from Washington, D.C., and Philly, and some of that old-school tradition, but in a very laid-back way [because] people are so chill here. And there's a huge generational vibe to this town, where everybody is connected.
A lot of these homes have had iterations, and some of people's best times are probably in these houses that are packed on top of one another on their way to the beach, and it's a very inspiring thing to be a part of, especially having grown up here and seen the evolution. I love being able to bring a global lens, because I did leave and travel around the world [for my former job]. So it's very cool to be able to bring, hopefully, a fresh take and style to an area that is very close to home for me.
To learn more about Jess Weeth, visit her website or find her on Instagram.
Homepage photo: Jess Weeth in her studio | Leeann Rae Pulchny