Modsy is an interior design service, but the company doesn't employ a single "interior designer"—only stylists. The team works remotely using Modsy's proprietary 3-D technology; anyone with a degree in interior design, architecture, art history or graphic design is welcome to apply, and the brand has said it's a good fit for recent grads. But when Modsy hires people with limited or no experience, how does it prepare them to work with clients?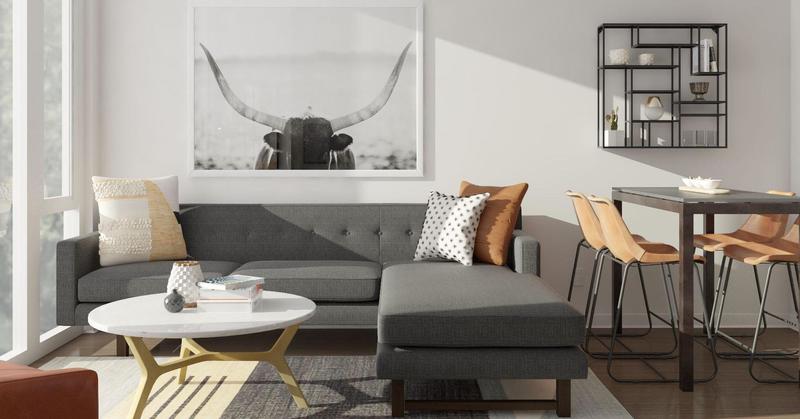 "In order to hire the most talented pool of stylists, we've implemented a multi-level test and certification system," Alessandra Wood, Modsy director of style, tells Business of Home. "During the process, candidates take a design test during which they have an hour to style a room using Modsy's proprietary software."
If they succeed in the test (based on taste level, styling ability and artistic skill) and the rest of the interview, new hires enter a certification process. "Certification consists of a series of lessons and design prompts that are reviewed by a team of style leads," explains Wood. "Once they complete certification, there's a final three-part test that uses different 'customer' prompts ranging in difficulty. The test is scored based on candidates' ability to produce a cohesive and beautiful space and fully address a customer's needs."
Upon passing that test, stylists are admitted to the Modsy Style Network, which has nearly 100 people. In the first stage of employment, they undergo styling reviews by managers—and all stylists have periodic performance audits throughout their tenure to ensure they continue to meet Modsy's standards.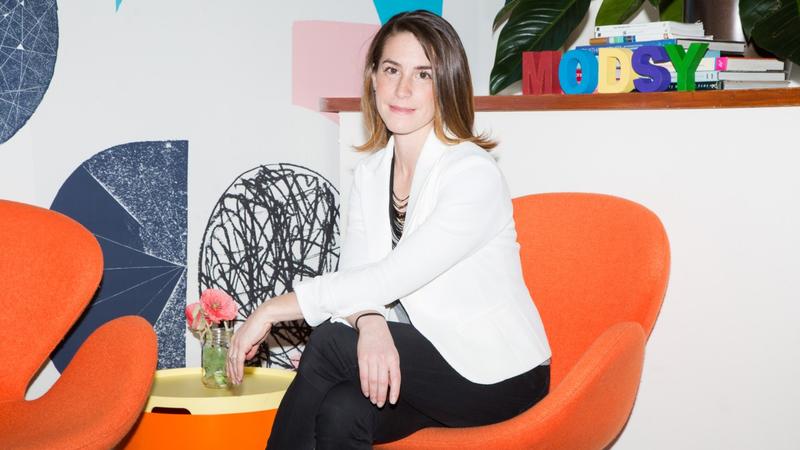 The company, founded in 2015 by Shanna Tellerman (who personally has a background in 3-D design and commerce), offers 3-D renderings of room designs that come with unlimited revisions; clients can work one-on-one with individual Modsy stylists or the design team for their projects from anywhere in the country, and furniture and decor can all be purchased through the site. The model clearly has appeal: The company has raised $33.8 million over three rounds of funding; since its launch five years ago, Modsy has partnered with Crate & Barrel and Clever, a millennial-focused content channel that Architectural Digest debuted last fall.
Calling Modsy team members stylists instead of designers was a strategic decision. "We wanted to make sure we can hire anybody who is a creative person, even if they didn't go to interior design school or have typical training," says Wood. She names Kelly Wearstler as a major industry influencer who didn't follow a conventional path. (Wearstler established her interior design firm using money from a Playboy photo shoot; though she studied graphic and interior design in college, she first pursued a film career—and didn't apprentice at other design firms before launching her own.)
Changing a job's name does affect the hiring pool—just ask Indeed. Zhuying Xu, an Indeed product scientist, said changing the title of a job (especially to make it more general and open-seeming) can get more people to apply, and, based on an internal study, applicants can even be more qualified. "Our pilot research shows that simply making small changes to job titles led to more and better qualified candidates for Indeed," she wrote in an essay for Medium.
And it impacts those who make the cut too. "Modsy has provided me with the opportunity to start my career in the design industry when no one else would give me the chance," Cassie Thibault, a certification reviewer, tells BOH. "I never expected a remote-based position to make me feel like I had a place in the company."
Other employees echo the feedback that Modsy's innovative, open approach to hiring has positive results. "Everyone has the ability to share their thoughts on ways to improve both the employee and customer experience," says stylist Jenni Marko. "The company culture makes you feel like a family."