Need to design the perfect product? Just ask your audience of 13 million what it should look like. More than 10,000 people helped Food52 design its new double-sided cutting board—which debuted this week as part of Five Two, the brand's first direct-to-consumer line of kitchen and home products designed in-house—via surveys promoted on the brand's site, social media and email outreach.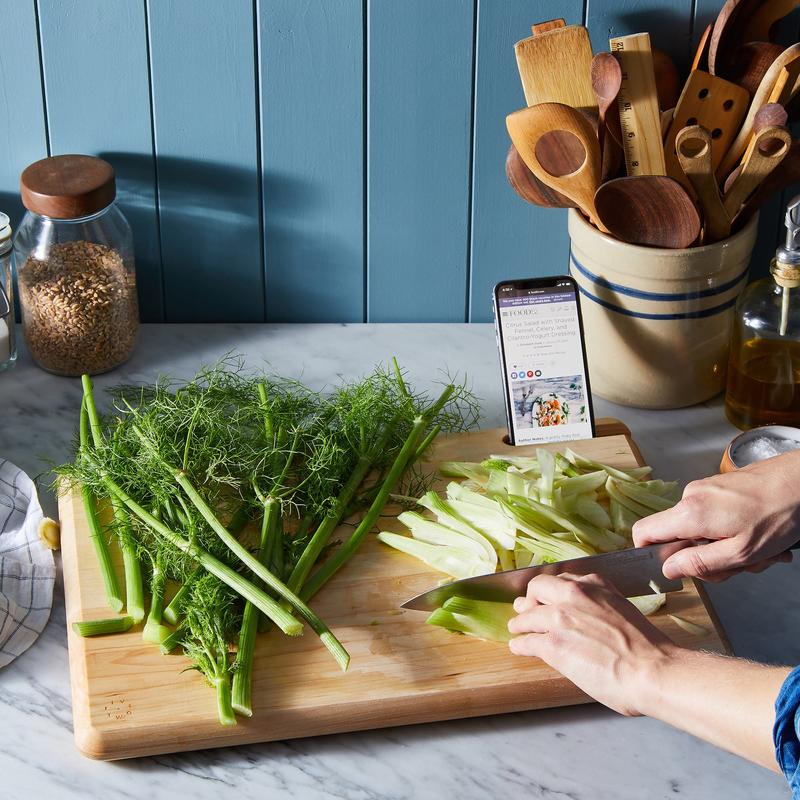 Rocky Luten, courtesy of Food52
The last of the survey's 11 questions was open-ended—and out of the consumer feedback in those responses, the cutting board's "juice groove" became an obvious must. Though respondents called it different things (moat, trough), it quickly became clear that the feature was a top priority for consumers. "We eventually landed on calling it a juice groove because it seemed to be more popular than other terms, but that same concept was reiterated by hundreds of people," Food52 co-founder Merrill Stubbs tells Business of Home. The cutting board—"the heart of the kitchen," says Stubbs—is the first debut of the Five Two collection.
The brand will roll out 20 subsequent products through 2019, each powered by its own unique data set. Up next is towels: "People were very adamant about absorbency," says Food52 co-founder Amanda Hesser. "That they would be able to serve as something to dry your hands on but dry dishes effectively. People wanted something that looks good but that's been on display typically in your kitchen. So we ended up designing two different towels based on the qualities that people wanted to address."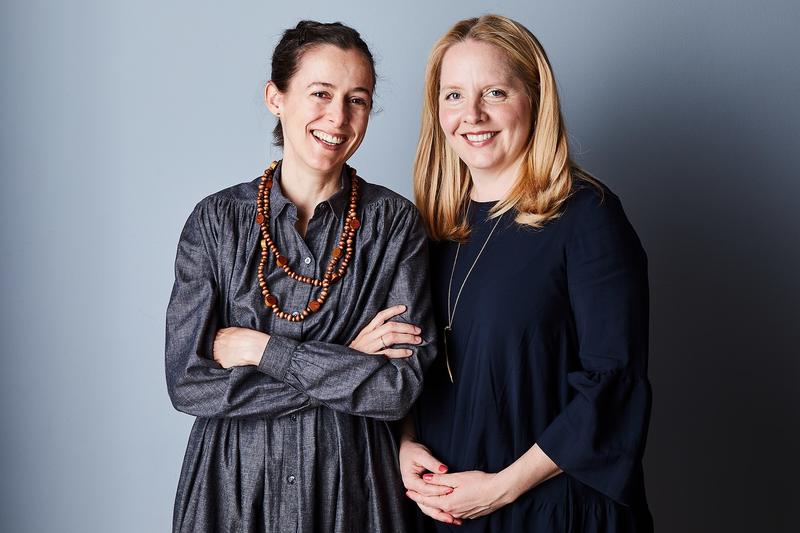 Rocky Luten, courtesy of Food52
Surveys weren't the brand's only approach to consumer research. For the wooden cooking spoon, debuting in early 2019, they asked readers to send photos of their favorite wooden spoons through social media. "A lot of people have wooden spoons that are handed down to them that are manufactured no longer, that they have real attachment to," says Hesser. "It was really great to have this array of samples from people who had thought about why they liked it, gave us details about what they are looking for, what they'd replicate, what they wouldn't, and then we use that … for the design."
While this collection is the first direct-to-consumer line for the company, which was founded in 2009 as a community to unite home chefs and share recipes, the site's e-commerce shop has long been a mainstay of Food52's business model, quickly growing to generate 70 percent of the brand's revenue—and that number is still on the rise. (For the majority of the existing products on the site, Food52 is a drop-ship merchant, meaning the company doesn't stock the items; instead, the third-party artisans and merchants whose goods are carried on the site fulfill orders directly.)
"The margins we are able to get on these products that we are designing ourselves are 15 points higher than the margins that we see in our drop-ship shipment on average," says Stubbs. "As we grow and scale this side of the business, that's a key consideration for us."
Food52 garnered $22.7 million in revenue last year, largely from online sales. "Products having meaningful margin improvement on the rest of our drop-ship business—which already has a very good margin," says Hesser.
"As commerce continues to be a larger part of our business, we're also being very conscious and proactive about making sure the bottom line increases at a faster pace," adds Stubbs.
Though the brand hosts both a media component and an e-commerce component, the founders don't see the two halves of the business as being at odds—instead, they say they wouldn't want to have one without the other. "We're really thinking about building a trustworthy brand that is focused on kitchen and home," says Hesser. "The businesses sort of build upon each other. ... If we bring in shoppers and they become readers, that helps our ad sales; and if we bring in readers and they become shoppers, it helps with our commerce business. Those are things that, if we were one or the other, we couldn't do. So we feel like it's a very powerful model that builds ultimately a bigger company than we could if we were focused solely on commerce or solely on media."
There's no silver bullet to the strategy—it takes time, dedication and constant nurturing to build that kind of audience, and maintaining an authentic voice is no easy task, the founders agree. In both Food52's product offerings and its daily content, those survey respondents—the site's core customers and dedicated readers—come first. "We built a brand people really trust and come to and want to engage with in a very genuine way," says Stubbs. "That's really what we're focused on."