Longing for more in-person connection, many homeowners are turning to conversation pits as a renewed symbol of intimacy in interior design. Whatever happens next, stay in the know with our weekly roundup of headlines, launches and events, recommended reading and more.
Business News
Responding to shifting preferences for remote work, residential real estate developers are incorporating elevated work-from-home amenities into new luxury rental buildings across the country. New features include private offices, conference rooms, task lighting, wall-mounted monitors, podcasting booths and high-speed internet, for which the cost is either included in the rent or available for an additional fee. As The New York Times reports, the move is part of a trend accelerated by the pandemic, in which developers began adding space for desks and work equipment in new builds. Demand for such features may only continue to grow: According to a survey conducted by Pew Research Center earlier this year, 59 percent of employees are still working remotely, and 78 percent of that group wants to continue to do so after the pandemic—up from 64 percent two years ago.
According to the National Association of Realtors, the median sales price of an existing American home hit $416,000 in June—the highest since records began in 1999, The Wall Street Journal reports. Recent market conditions have led to a slowdown in activity, with almost 15 percent of pending home-purchase agreements falling through, at a rate not seen since April 2020's pandemic disruption. Though demand remains buoyed for now, with properties remaining on the market for an average of 14 days last month (the shortest time period since 2011), buying could fall in the months ahead if mortgage applications continue dropping as they have for the last three straight weeks. Currently, applications are at their lowest level in 22 years, due in part to the Federal Reserve's interest rate increases aimed at tamping down inflation.
Operations have resumed at the Port of Oakland after a week of protests left cargo stranded at ships, docks and warehouses, straining the supply chain and prompting some ships to reroute to different ports, Reuters reports. The demonstrations began last week in response to California's new "gig worker" law, which would require many businesses that rely on freelance workers to reclassify those independent contractors as employees—a distinction that protesting truck company owners said would force them to shoulder heavy added costs. Port executives and police have now restricted demonstrators to designated "free speech zones," allowing cargo shipments to restart at California's third-busiest port and most-used agricultural export hub.
Construction startup Vantem has announced plans to build 15 factories across the U.S. by 2029 to manufacture prefabricated modular housing units, Archinect reports. The expansion will be fueled by capital from the company's recent Series A funding round, led by Bill Gates–founded firm Breakthrough Energy Ventures, and will allow Vantem to expand production of its proprietary design—a low-cost, net-zero building product that does not require steel or wood reinforcements. Joining startups like Vancouver-based Nexii Building Solutions and Bjarke Ingels's Nabr in the race to disrupt the construction industry, Vantem expects each of the new facilities to produce 1 million square feet of homes annually.
Launches & Collaborations
The Healthy Materials Lab at the Parsons School of Design has debuted the third season of its podcast Trace Material. The new iteration will explore the "mysteries of mycelium" as mycologist John Michelotti journeys into the Catskill mountains to investigate the properties of mushrooms and their potential to produce healthier housing, materials and food systems.
Pottery Barn has debuted The Accessible Home—a new product line centered on inclusive design that aims to serve people living with disabilities or injuries, as well as the aging-in-place community. The collection includes a range of bath, upholstery, office, dining, bedroom and lighting products with added accessibility features—for example, the remote-powered Irving recliner and the wheelchair-accessible Pacific Desk.
Courtesy of The Novogratz
Husband-and-wife duo Robert and Cortney Novogratz of The Novogratz have partnered with Bed, Bath & Beyond for a curated collection of Back to College items. The colorful product line includes furniture solutions, decor, bedding and bath items suitable for dorms, apartments and small living spaces.
Shutterfly is partnering with four influencers—viral TikTok personality Brittany Broski, entrepreneur and dating expert Serena Kerrigan, comedian and author Elsa Majimbo, and actor and digital creator Chris Olsen—for the launch of a new initiative called the Shutterfly Collective. The program will partner each social media personality with an independent artist on Spoonflower—the home decor marketplace owned by Shutterfly—to create a limited-edition capsule collection, featuring original designs on coffee mugs, blankets, journals and pillows.
Collectible design and art fair Salon Art + Design has announced the exhibitor lineup for the event's 11th edition, to be held at the Park Avenue Armory in New York from November 10–14. Along with a mix of returning exhibitors, new additions to this year's cohort include Armel Soyer, Boccara Gallery, Galerie Artempo, Galerie Carole Decombe, Galerie Scene Ouverte, Galerie Yves Gastou, Garde and Le Lab.
Recommended Reading
When Laura Mauldin, a University of Connecticut sociology professor who studies caregiving and living with disability, began conducting research remotely during the pandemic, she noticed the ingenious ways in which people with disabilities hacked their living spaces. Employing household items like zip ties, painter's tape and dry erase boards, they created accessible furniture, rooms and devices to better suit their everyday needs. The discovery led to the creation of Disability at Home, a website that's exposing the ableist approach of mainstream design companies, which fail to offer adequate options for people with disabilities, as Nate Berg reports for Fast Company. "We don't want innovation. We want infrastructure," disability and design advocate Liz Jackson tells Fast Company. "The way that disability is often written about is it's not actually about the solution, it's about the promise. So what happens when you start to ask what is the solution without any techno-utopian promise?"
A new generation of first-time homebuyers arose during the pandemic, with recent research from Freddie Mac revealing that the federally backed home mortgage company financed the highest level of loans for first-time buyers since it began tracking such metrics in 1994. As Jerusalem Demsas writes for The Atlantic, that surge combined with uncertain market conditions could indicate the rise of a new class of NIMBYs, an acronym for Not In My Backyard—a phenomenon that emerges partially due to homeowners trying desperately to maintain their property value.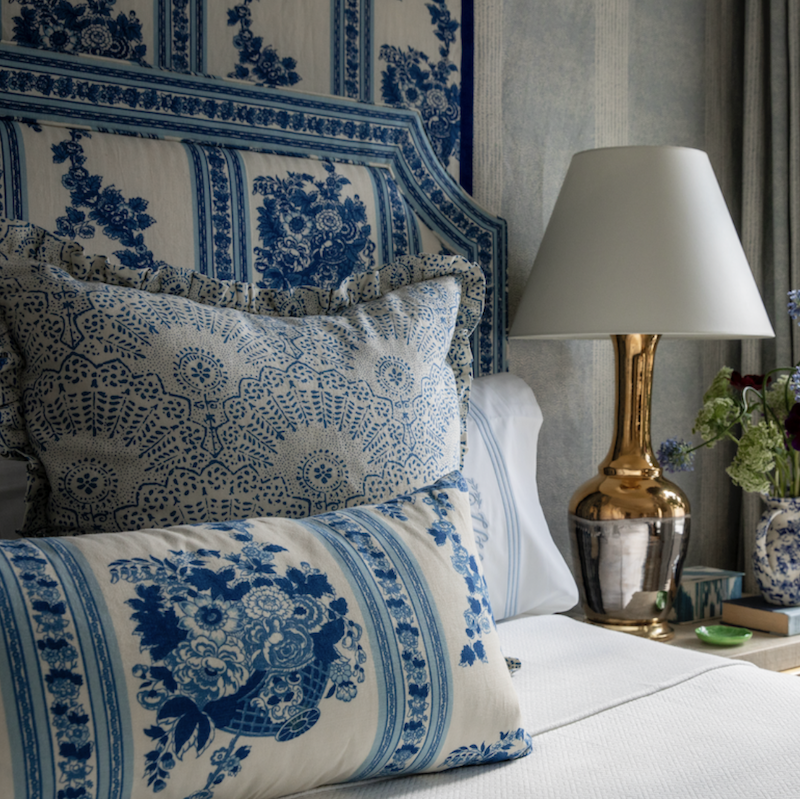 Courtesy of Sister Parish Design
Showroom Representation
Sister Parish Design's fabrics, wallpapers and lifestyle products are now available in Palm Beach, Florida, through an exclusive partnership with full-service showroom Well Made Home. Both trade clients and customers without a design license in the area will be able to shop the brand's items in person, with the available selection including bestselling fabric prints along with new introductions, plus performance fabrics, grass-cloth wallcoverings and hand-painted wallpapers.
In Memoriam
Designer and industry leader Scott Koehler, founder of the North Carolina–based design/build firm Dream Kitchen Builders, has passed away. As a 28-year industry veteran and licensed contractor, Koehler was active within the National Kitchen & Bath Association, KBB Online reports, and held accreditations as a Certified Kitchen Designer and from the National Association of Home Builders. Koehler was also recognized for his extensive contributions to the industry: In 2020, he was honored as a Praiseworthy Pick in NKBA's Person of the Year Competition. Koehler is survived by his wife, Gwen; his extended family; and his grandson.
Homepage photo: This week, Pottery Barn launched The Accessible Home—a new product line centered on inclusive design that aims to serve people living with disabilities or injuries, as well as the aging-in-place community. | Courtesy of Pottery Barn