At some point, you've probably walked into a store and thought, "Gee, I could live here."
Over the past two decades, home and fashion brands have had the same thought. They've responded in a number of ways, from launching hotel collections to building hotels to developing entire condominium complexes.
CB2, the contemporary kid sister to Crate & Barrel, is the latest to work this theme through its summer promotion with the trendy Surf Lodge hotel in Montauk, New York, on Long Island's East End. Earlier this month, Surf Lodge debuted The Sandbar, described as "an experience" featuring an array of shoppable products throughout the resort. The promotion, which is scheduled to run through the summer season, includes both CB2 furniture and tabletop products, many created by noted Los Angeles designer Ross Cassidy. Hotel staff will even be decked out in CB2 x Surf Lodge uniforms.
"The Sandbar at The Surf Lodge is an exciting development for CB2, as it marks our official foray into lifestyle experiences, allowing customers to fully interact with our product and brand outside of a store and home environment," said CB2 president Ryan Turf in a press release.
CB2 is not the only home brand to connect with a lodging property this summer. Arhaus, the upscale furnishings chain, has partnered with the White Elephant, the iconic property in Massachusetts on Nantucket, which just reopened following a serious renovation. Arhaus supplied the hotel's outdoor furniture as well as outfitted some public spaces and guest rooms—all of which is, of course, for sale at its 80 stores around the country. (Crustaceans are extra.)
Both of these tie-ins are ways for retailers to get their products in front of audiences that might not walk into their stores or click through their websites. With consumer spending shifting toward travel and vacations, and away from spending on their homes, it's also a way they can expand their businesses into new sectors beyond residential.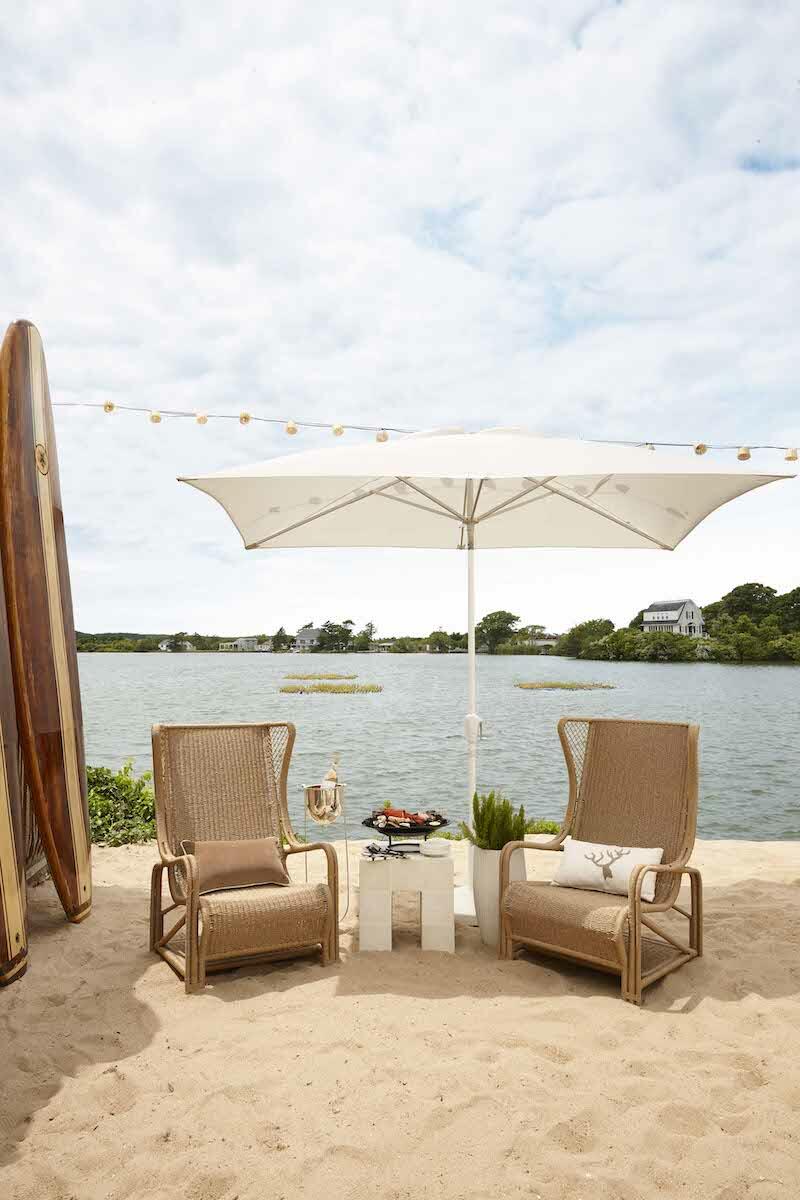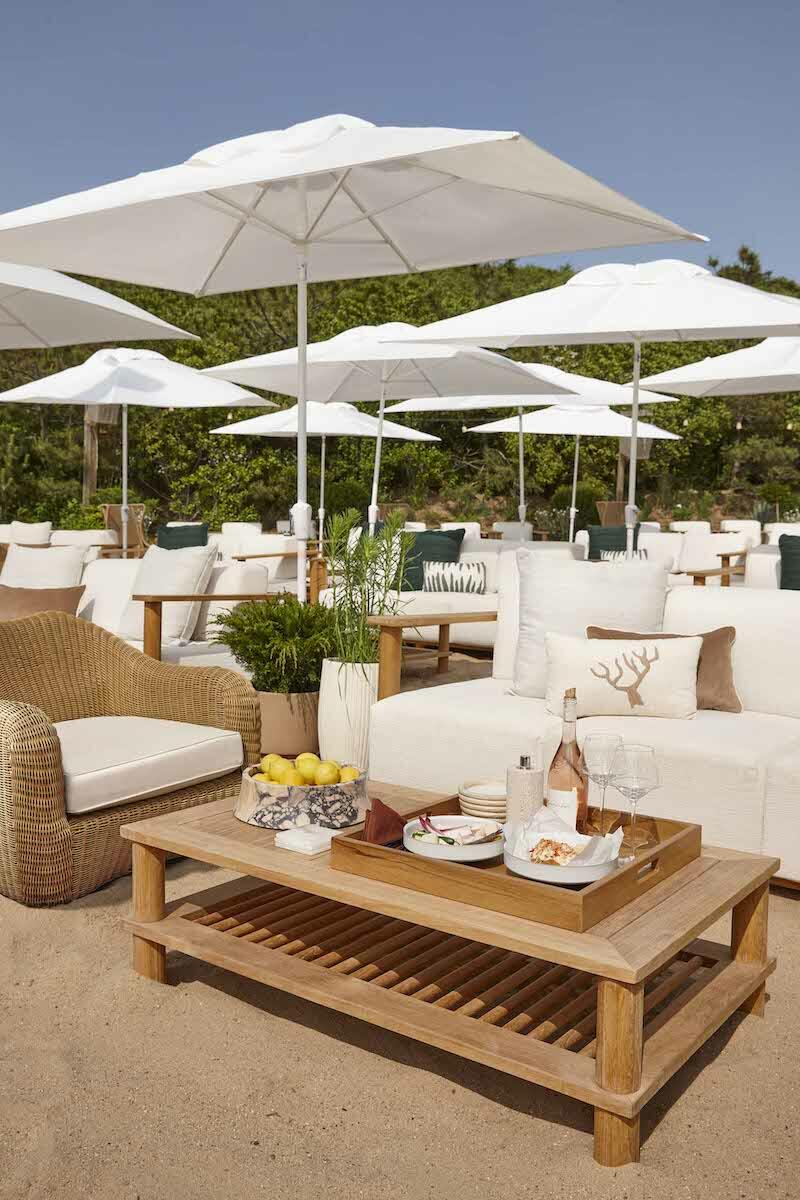 This program is only the latest collaborative effort to come out of the home and hospitality sectors. In an even more high-profile example, RH opened its Guesthouse (RH-speak for a hotel) last year in New York's Meatpacking District. With just nine guest rooms and prices starting at $3,000 a night, it's not exactly a Holiday Inn, but it is elegantly furnished with rare woods, leather and luxury fabrics—none of which, by the way, come from RH's own collections. RH president and impresario Gary Friedman made it clear that the project was separate and apart from the retail chain, even as it was most certainly a branding statement. For RH, the marketing is more subtle than other retailers, which tend to put products from their current lines into these properties looking for an easier connection with potential shoppers.
In the meantime, RH has talked about opening additional hotels elsewhere, including in a complex it is building in Aspen, Colorado, and perhaps in other locations where it has retail galleries. With its recent expansion to England and Europe on the horizon, the options are plentiful.
In Europe, RH would find a number of would-be competitors. Luxury labels like French jewelry and lifestyle brand Baccarat and Italian fashion house Armani have opened several branded hotels there, with the former also located in New York, while the latter has a branch in Dubai. These endeavors are generally in conjunction with established hotel operators, rather than operated entirely by the brand itself, as RH has done in New York.
A little further down the market, Ikea opened a remodeled 250-room hotel in its native Sweden in 2016, while Muji has created a much smaller boutique hotel in Tokyo. Both are furnished wall to wall with each company's merchandise. Detroit-based luxury watch and lifestyle brand Shinola has decorated a hotel in its hometown, while back in 2016, West Elm teased its own hospitality venture, which has since been delayed beyond its planned 2018 opening.
Perhaps the most well-known hotel branding has been in the home textiles sector, where multiple retailers have adapted the generic "Hotel" brand for private-label bed and bath merchandise programs. Macy's has likely the best-known such collection, a staple of its assortment for more than two decades.
All of this home and hospitality interplay, including the new CB2 and Arhaus programs, is only the latest interpretation of home companies extending their brands into the hospitality area, looking for new business from new customers. They most certainly won't be the last.
Homepage image: CB2's new hospitality promotion through Surf Lodge hotel in Montauk, New York opened earlier this month | Courtesy of CB2
____________
Warren Shoulberg is the former editor in chief for several leading B2B publications. He has been a guest lecturer at the Columbia University Graduate School of Business; received honors from the International Furnishings and Design Association and the Fashion Institute of Technology; and been cited by The Wall Street Journal, The New York Times, The Washington Post, CNN and other media as a leading industry expert. His Retail Watch columns offer deep industry insights on major markets and product categories.