The daily business of Echo, the 95-year-old home goods company that began as a scarf brand (it's also the longest-ever licensee for Polo Ralph Lauren men's and women's neckwear, hats and gloves, and continues to create custom scarves for the likes of The Met and MoMA), is still a family affair. Today, the brand's creative vision is led by Meg Roberts, director of design, who develops patterns, textiles and furnishings for Echo, as well as textile collections via a longstanding relationship with Kravet, along with her husband, CEO Steven Roberts, the grandson of Echo's founders. Now at work on a new line of ceramic tableware and a "top secret" bedding product for autumn, Meg Roberts talks with EAL about the company's history—as well as what's on the horizon.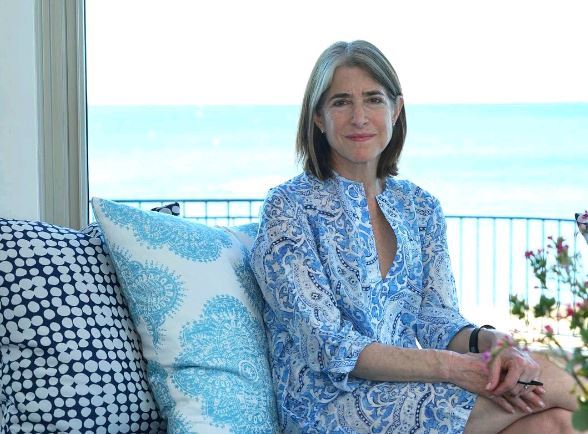 How did Echo evolve from making scarves to home decor?
My husband Steven's grandparents Edgar and Theresa Hyman founded Echo in 1923 as a scarf company called Echo Scarfs…. The Echo folklore is that they founded it on their wedding day: They went to City Hall to get their marriage license, and decided to incorporate the business while they were there! Their only child, Dorothy [Roberts], is now the chairperson, and at 88 still comes to work every day…. Her two children, Lynn and Steven [Roberts] both work at Echo, and now Steven's and my son Charlie has come in the business, representing the fourth generation. It's a tremendous legacy for an American family business.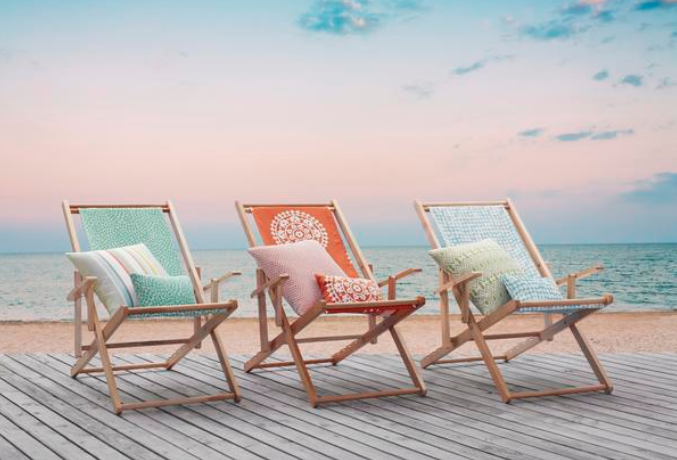 For 70 years, Echo was a one-product company, creating all sizes, shapes, and patterns of scarfs. In the 1930s, we were the first company to engrave our name right into the screens, to print our logo on the scarfs—this was not branding as we know it today, but rather because we were so committed to quality that we wanted the printers, anywhere in the world, to know that they were printing an Echo scarf, and to take extra care to make it perfect. By 1992, Echo had become a multi-brand fashion accessories company, but wanted to further diversify, and looked in to other product categories.
While home seems vastly different from fashion accessories, we realized that both tapped into our core competencies of print, pattern and color, and we could bring beauty to life by accessorizing your wardrobe and accessorizing your home! So we launched our home division, beginning with wallpaper and fabrics, and over the years have expanded to bedding, bath, rugs, window treatments, table linens and more.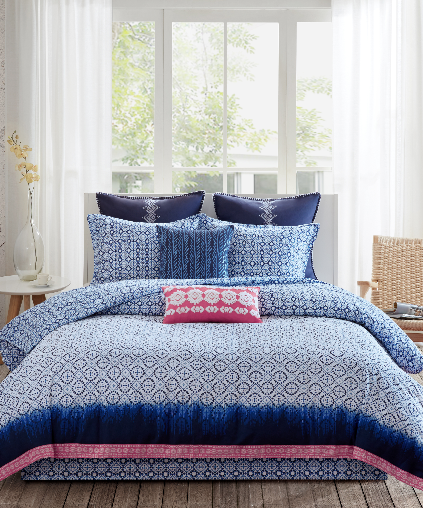 What are some of your roles today?
I was initially brought in to do resource and product development, but almost immediately began to utilize my design skills as well. When Echo chose to segment the line, I was given a large portion of the line to design. I was also the design liaison for the Ralph Lauren line during the first year of our 34-year relationship—responsible for all the design work and production.
Echo then decided to diversify, through licensing partnerships, and after working as a scarf designer for 10 years (and having three children!), I was ready for a new challenge! So, 25 years ago, in 1992, Echo started the home division, and I was given the exciting opportunity to design it, and build it. Steven and I have since authored three home decorative coffee table books, published by Harry N. Abrams, and Stewart, Tabori & Chang. A few years ago, we were asked to put our designs on pajama pants, and they blew out. So, now the home division is designing five sleep and loungewear collections a year. We have our hands full!
What's next for the brand?
We are building up a small, beautiful throw business, with some great launches coming this fall. We are beginning to develop a new line of ceramic tableware, which we are really excited about, and are at work on a top-secret new bedding product. And of course, we continually are designing new, timely yet timeless designs, intended, as our mission statement says, "to inspire and delight."