Only hours after the last of its physical stores locked their doors forever, Bed Bath & Beyond returned this week as an online retail brand, becoming the new moniker of its freshly minted owner, Overstock. While there will no doubt be some growing pains, it is a somewhat remarkable transition.
After purchasing the beleaguered brand in late June, then rebranding its Canadian website under the Bed Bath & Beyond brand a few weeks ago, Overstock has now launched the decidedly more complicated U.S. version of the site. As the company's CEO, Jonathan Johnson, told Business of Home this week, the changeover was a daunting task.
"We've added more than 600,000 SKUs to our assortment, many of them things you would have seen in Bed Bath stores," Johnson said from his Midvale, Utah, office, indicating the additions were primarily in the bed, bath and housewares categories where the furniture-centric retailer had most needed to broaden its assortment. Though there is still work to be done to get some of the higher-profile housewares brands on the site, Johnson indicated that he expects to build up that assortment throughout the remainder of the year. The rebranding aims to boost those vendor relationships—in fact, Johnson says he's already seeing fresh interest from once-wary companies: "We've found that vendors who may have been hesitant to sell us in the past because of the Overstock name are now calling us to see how they can sell us."
Founded in 1999, Overstock was one of the internet's early liquidators, known for its closeout and off-price sales. But over the past three years, the company has repositioned itself as a home furnishings–only resource selling first-line merchandise.
Its name—technically, Overstock.com—was a hindrance in that repositioning, and Johnson said the company had considered buying Bed Bath & Beyond as early as three years ago, though the timing wasn't right for either company. When Bed Bath & Beyond filed for bankruptcy in April and put its assets up for sale, Overstock ultimately got them—including more than 20 million customer names—for what appears to be the bargain price of $21.5 million. What the deal didn't include were any of Bed Bath & Beyond's physical assets, including all those stores. For now, that seems to be OK; Johnson says that the company intends to remain online only.
There is also the matter of the corporate name. While the company is now doing business under the Bed Bath & Beyond name, it is still Overstock.com and trades as OSTK. "We'd like to make that change sooner rather than later," says Johnson, though he admits the company may not take on the Bed Bath & Beyond name for its corporate moniker. "Whatever it is, we won't use the BBBY stock ticker the old company used," he says, which he notes has been tainted by meme traders.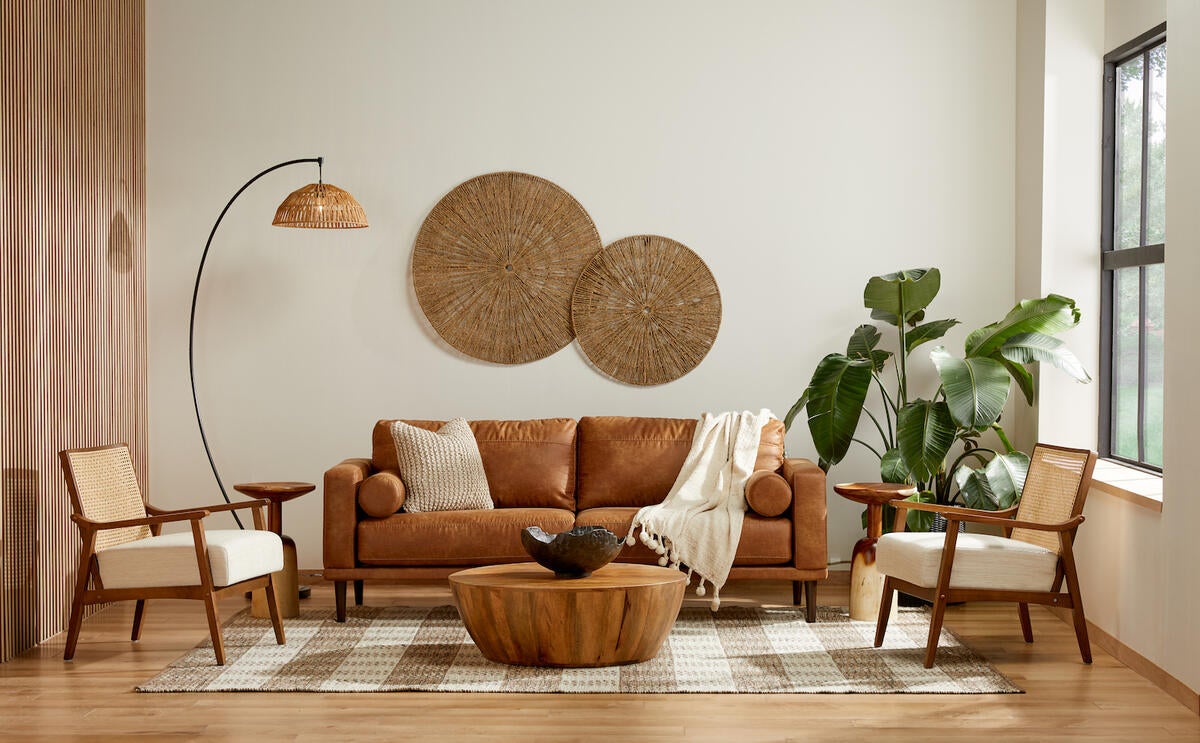 For now, the company's focus will be on its branding—there will likely be TV advertising in time for the holiday period—and deciding which of the 1,300-plus intellectual properties that came with the deal will be resurrected. One is likely to be the Wamsutta name, which had been a bestseller for the former BBB but was relegated to the junk pile under its last private-label push (a strategy that failed). "We've had extreme interest in Wamsutta," says Johnson, indicating that the plan is to become a licensed seller under that brand.
Another new initiative will be to focus on the trade. "As Overstock, we had a very nascent trade program, but designers didn't want to work with us under our old name," says Johnson. "Now we have a much better chance of building that up."
Whatever the category and target audience, the company intends to continue what he calls its "asset-light" strategy of essentially relying on its suppliers to drop-ship product directly to the consumer rather than taking ownership of inventory. It will continue to operate a small fulfillment operation but even there it does not own the goods.
The entire transition is a massive work in progress, and Johnson was quick to admit that there are still many moving parts to put in place. (A vendor who does business with Overstock both before and after the BBB deal agrees, saying he believes the retailer is still trying to digest the acquisition but seems a bit overwhelmed.)
Johnson, who has been with Overstock for 21 years, including the past four as CEO, has seen its many ups and downs. This, he says, is something very different: "We think we're now a distribution channel that can't be ignored."
Homepage image: An outdoor furniture line by Bed Bath & Beyond, the online retail brand that returned this week | Courtesy of Overstock