"We want to make it easy, we want to make it fast, we will take on as much responsibility within the window component of a project as needed," says Zach Gibbs, co-founder and chief executive officer of The Shade Store, about its trade program for designers. "We're committed to supporting their creative process." With a dazzling array of in-stock fabrications, orders shipped in 10 days or less, showrooms nationwide and personalized service that extends to installation, the company strives to check every box. "We provide customization on a mass scale in a way that maintains the intricate artisanal craftsmanship once found in traditional boutique workshops," says Gibbs. "From project management to problem solving, our goal is to help our partners deliver a world-class product." Don't just take his word for it: Designers Everick Brown, Zoë Feldman, Brandon Fontenot, Mindy Gayer, Chris Goddard, Jennifer Mabley, Natalie Myers and Becky Shea spoke with Business of Home about the value proposition of pairing with the brand and shared the materials, services and support they love the best.
An invaluable Resource
Window treatments have a reputation for being a notoriously difficult part of a renovation project, but The Shade Store solves every problem, anticipated or all too real. With the expertise it has perfected over more than 75 years in business, it knows just how to dress even the most finicky frames throughout a house and is dedicated to seeing every job through to the customer's complete satisfaction, whatever it takes.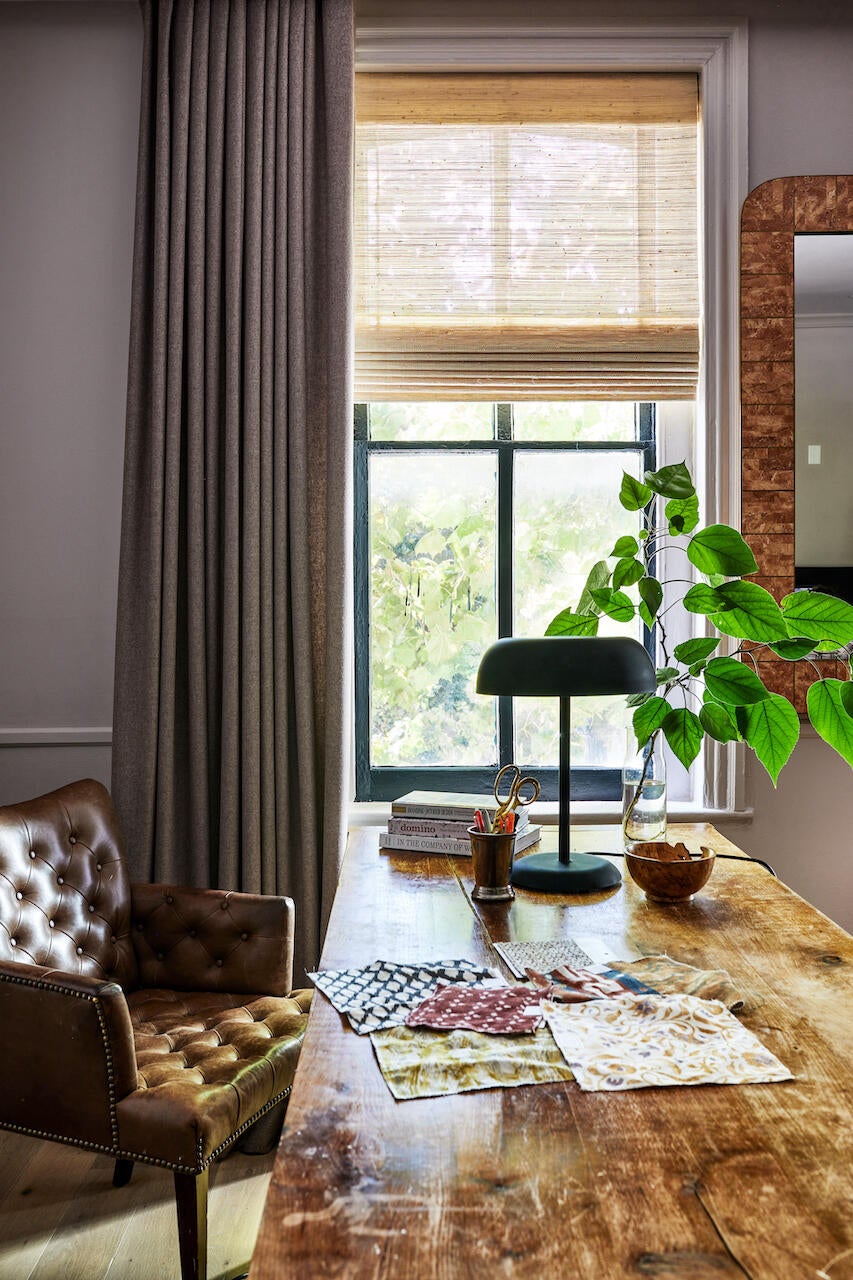 Courtesy of Zoe Feldman Design
"When we moved from Manhattan in 2002 and established our firm out in the Hamptons, we had to come up with a different approach to window treatments. We needed a workroom that could not only accommodate customers' materials but also offer installation services. There was a real gap in the marketplace. When we realized The Shade Store took COM, all of a sudden they became our custom house. We were thrilled to have the ability to still be creative but have that one-stop shop." —Jennifer Mabley, Mabley Handler Interior Design, Water Mill, New York
"If something goes sideways with a project—whether, say, a measurement shifts by an eighth of an inch or information gets lost in translation—The Shade Store always makes it right. They take away a lot of the pain points you might find when working with a smaller vendor." —Zoë Feldman, Zoe Feldman Design, Washington, D.C.
"I would say 99.5 percent of my window installations are The Shade Store—I don't know where I would be without them. Every now and then I'll end up doing a custom job, but all my custom can run through The Shade Store as well. I do business in different states—New York, Connecticut, Massachusetts, Florida, Texas, California—and no matter where I go, there's a Shade Store." —Everick Brown, Everick Brown Design, New York
Showrooms Everywhere, Plus Shops within Kravet
Alexandria, Ann Arbor, Atlanta, Austin—and those are just (some of) the locations that start with A. The Shade Store's 130 showrooms mean designers anywhere in the country can drop by to peruse samples, preview collections, attend product demonstrations, confer with sales associates and meet with clients. By conveniently combining two stops, the 14 Kravet shop-in-shops help save time.
Courtesy of Mindy Gayer Design Co.
"We utilize the showroom as a resource to pull swatches and to see hardware in person. They always have loose samples readily available, which is so helpful as we're putting together presentations. One thing that sets The Shade Store apart is its number of showrooms. We've worked on homes throughout California, in the Seattle area, on the East Coast, and we're even doing one near Austin right now. It's so important that we can confidently refer our clients to The Shade Store wherever they may be." —Mindy Gayer, Mindy Gayer Design Co., Costa Mesa, California
"I consider The Shade Store showrooms as laboratories, not only for my window treatments but as an inspirational environment for collaboration. I'll often meet clients there to talk through their projects." —Brown
"Our firm is in partnership with Kravet for our furniture collection, so it's helpful to check The Shade Store section when we're in the Kravet showroom. All those tools create a trickle-down effect, whether you're ordering samples online, looking through catalogs, shopping at a brick-and-mortar store or visiting a showroom. By spreading its messaging across multiple platforms, The Shade Store makes it that much easier for designers to get information, with customer service being the icing on the cake." —Mabley
"To see some fresh, effervescent patterns, I'll pop into the showroom every season just to be like, 'What's new? Show me! Inspire me!' It's always fun." —Natalie Myers, Veneer Designs, Los Angeles
Measurement and Installation, Handled
Banish the measuring tape and math anxiety that come with mapping out the exact dimensions of every single window by designating that task instead to The Shade Store's seasoned team of installers. They'll get the details right, down to a sixteenth of an inch.
Courtesy of Goddard Design Group
"We're firm believers in seeing a design through from concept to conclusion. And who better than The Shade Store's measure-and-installation team to do that and also be held accountable if there are any hiccups along the way? Some of our residential projects have more than 150 windows. We're nearing completion on a home with a family room that's 45 feet wide with an all-glass wall that pockets into the side of the house. So we deploy The Shade Store team from soup to nuts." —Becky Shea, Becky Shea Design, New York
"It makes the client happy because you don't have to worry about overordering. You don't have to worry about underordering either; that responsibility falls on The Shade Store." —Chris Goddard, Goddard Design Group, Springdale, Arkansas
"Do I use The Shade Store's measure-and-installation service? Absolutely. They offer it, they do it all, it's fantastic." —Myers
Reps Who Go Above and Beyond
The Shade Store's design consultants inspire such devotion that more than one designer worried aloud theirs would be "stolen" if credited by name! The secret's safe, but praises should still be sung, because these hardworking reps offer white-glove support from the first consultation until long after an order has been fulfilled.
"The customer service I get from my design consultant in Port Chester, New York, is phenomenal. He'll pull fabrics for me and send samples to my clients. Let's say I've designed a double- or triple-layer treatment: I can have him look it over and tell me what he thinks. He's a second set of eyes." —Brown
"Our Shade Store design consultant in Westchester, New York, is an extension of our office. When we can't quite figure out how to solve an installation problem or style a challenging window, she'll bring great ideas to the table. When we have a big install, she'll come to the site to make sure it goes well. If there's a box missing, she'll track it down. Our confidence in the end result is so much higher thanks to her." —Mabley
"I like a double pleat, which differs from The Shade Store's standard tailored pleat. My design consultant here in Texas really advocated for that modification for me as a trade partner. He did the same to weight our curtains with a continuous chain as opposed to individual washers. He's our liaison with the workroom." —Brandon Fontenot, Brandon Fontenot Interiors, Houston
"My design consultant in West Hollywood is the man. I trust him implicitly. We have a shorthand. We have a system. There are thousands of options, but for my signature look, there are maybe nine or 10 styles and fabrics I go to over and over again. He pulls the samples and puts together the quote so when my client is ready to discuss window coverings, I already have an edited selection to share." —Myers
Quality Basics, Expertly Curated
Crisp linens to filter the light, luxe silks that pool like liquid, cozy wools to warm up any room: Designers rely on The Shade Store for its selection of more than 1,300 materials, noting in particular the quality fabrics and classic color palettes that complement so many decors.
Courtesy of Zoe Feldman Design
"I believe drapery should look like a couture ball gown and hang the same way. The Shade Store does beautiful, simple sheers that are tailored to perfection and hang exquisitely. They have a new hand-woven collection and wooden shades I love as well." —Goddard
"For the Hamptons, our look is clean, ethereal: a lot of white and natural linens. Sometimes we'll use a trim, but not a ton. We do a lot of flat Roman shades and ripple-fold sheers—they're not pleated, which gives a more modern aesthetic. But for a project in the city, this crazy-complicated bedroom, The Shade Store was able to make a multipiece custom valance as a shade and curtain pocket. When you've got a pickle, they know how to fix it." —Mabley
"I joke that if I had to compromise, I'd rather have drapery than furniture, because drapery gives such a beautiful backdrop and changes the fill of a space. I use The Shade Store's sheer wool blend in Cloud in pretty much every house I design—miles and miles of it. It's in my own house!" —Fontenot
"We often start with a Roman shade that gives some privacy, helps with sun glare and protects the artwork—it creates a wonderfully relaxed look in a room. Then, for a more finished product, we may layer it with curtains. For the panels, we use a lot of the wools in both natural, neutral tones and moodier, more saturated ones. I like the Windsor Stripe, in Fog and in Toast. Mushroom is really pretty. The Shade Store doesn't overwhelm you with 14 blues to choose from; they give you the best one or two. The same for greens and grays. It's just enough for everything you need." —Feldman
On-Trend Collaborations
Basics are the bread and butter, but when a space lends itself to trendier interpretations, The Shade Store has got special collections galore. Midcentury starbursts courtesy of Nate Berkus, eclectic embroideries from Martyn Lawrence Bullard and a vast array of trims from Samuel & Sons: Whatever strikes a client's fancy is sure to be in stock.
Courtesy of Mindy Gayer Design Co.
"The Shade Store has such a sophisticated eye. By bringing in vendors like Holland & Sherry and Victoria Hagan, they're providing a secondary designer resource. The collections are fashion-forward but still well priced, which helps keep the budget more realistic when you're designing 10 bedrooms." —Mabley
"I use the Samuel & Sons line a lot because those finishing details make all the difference. Plus the Alexa Hampton collection." —Goddard
"I like the Chilewich offering. Love the Sheila Bridges. And the Martyn Lawrence Bullard." —Brown
"For families with young children, we'll often use Alma, one of The Shade Store's Sunbrella performance fabrics. It has a nice chunky texture to it and holds up to wear." —Myers
"I use the Holland & Sherry collection the most. I actually used the wool fabric in my own home; the color is called Shea, like my last name, so it was meant to be." —Shea
COM, Exclusive to the Trade
When only the customer's own material will do, no worries: For its trade partners, The Shade Store's workrooms will tailor drapery, Roman shades and cornices from any fabric manufacturer with the same care and attention to detail it applies to its own products.
Courtesy of Everick Brown Design
"I recently needed to achieve a particular orange, so I did a COM of a Romo fabric. When I tell you the execution was flawless! It was basically getting a custom job through The Shade Store." —Brown
"In a large home, we'll do COM for the double-height sheer in the living room because that's the showpiece. Then, in the guest bedrooms, we might use The Shade Store's white-grass weave for a natural look. It's a combined approach, with some COM and some in-house fabrics." —Mabley
"I one hundred percent would use the COM program if I were doing a wallpaper or patterned sofa and wanted to match the drapery to it. I just haven't needed to because The Shade Store has so many cool options in its own collections." —Myers
Aesthetics Meet High Tech
For the privacy, light control and convenience they provide, motorized window treatments are increasingly popular. With systems as simple as a hand-held remote and as comprehensive as whole-home automation synchronized via smartphone app, The Shade Store can cater to every client's technological comfort zone.
"Bedrooms, I like motorized window treatments. Also family rooms and movie rooms. Rooms where you need to lower and raise the coverings on a regular basis, where you might want blackout. Hard-wiring is good for a new construction, but when you're just renovating and don't want to open up the walls, battery-operated is so convenient—and more cost-effective." —Brown
"Because The Shade Store has Lutron capabilities and Somfy motors, their window treatments can easily work in concert with a whole-home system. There's a sophistication level involved with being able to accommodate a high-end project like that." —Mabley
"Clients love the battery-operated option because there's no exposed cord or chain; it's a really clean look. And we don't have to hard-wire them, which is an appealing selling point because clients can add them at any stage of construction." —Gayer
"Battery-operated and solar-powered is a dream. Never have to recharge it. The sun does all the work. Just don't lose the remote, and you're set!" —Myers
This story is a paid promotion and was created in partnership with The Shade Store.
Homepage image: Roller shades topped with flat Roman shades in fabric from Martyn Lawrence Bullard for The Shade Store | Courtesy of Everick Brown Design