In Business of Home's series Shop Talk, we chat with owners of home furnishings stores across the country to hear about their hard-won lessons and challenges, big and small. This week, we spoke with Alethea Yeisley of the Columbus, Ohio–based retailer Elm & Iron.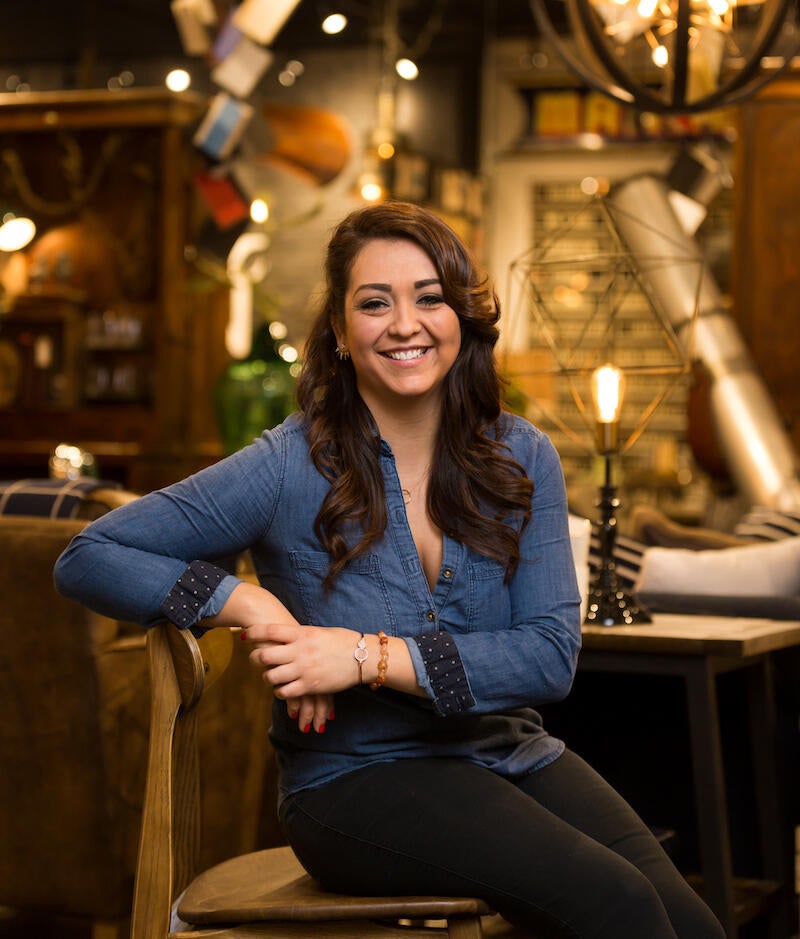 Founded by entrepreneur Daniel McClurg, Elm & Iron opened its first location in Columbus in 2012, before eventually expanding to two other spots in the city and two stores in Cincinnati. Yeisley has been with the business since the beginning, and now serves as store designer and buyer—though another staffer calls her the company's true "visionary." Ahead, she chats about the brand's moody aesthetic, closing locations during the pandemic and a recent expansion into the events industry.
Tell me about your role.
I am the store designer for Elm & Iron, but we are a very small company, so I wear a lot of hats beyond that position. The company started in 2012, and I was hired part-time to help set up the store and displays—everything, as the business was brand-new. Eventually, that led to a full-time position.
Will you describe the vibe of the stores, and whether it's changed over time? I was surprised this edgier look works so well in Ohio!
It's really eclectic. The foundation of the store was the owner's love of vintage. When it opened, vintage was very popular, and people were seeking that out. Over the years, vintage became a little bit harder to get ahold of, and then we started to grow and have larger stores—big spaces that we needed to fill with more things—so we have started carrying a lot of newer items.
Our logo is a black background with white lettering, so we've always had a darker color aspect. Our Easton store is painted all black. We accent with a lot of Edison bulbs, which creates that moody lighting. Each of our stores also has an upside-down-canoe light over the checkout register, with a bunch of Edison bulbs hanging from it.
Has there ever been any pushback from the customers, or a wavering of the aesthetic? Or do the right people find you?
Our first location is in an old service station, so it has a ton of character: exposed brick, garage doors. At that time, we had all the vintage mixed in, so it really had this cool feel. But our store at the Easton mall is very different. It was a new building that we moved into, so we tried to bring that character, but some of our original customers are like, "You guys used to have a lot more vintage in here. It just feels really different." Sometimes they prefer one store over another, so that customer won't want to go out to Easton and shop, or they only want to come to the store in Clintonville. We've definitely heard that feedback and it's challenging because, really, we are growing with how customers are requesting things.
So what is the balance of merchandise right now?
We try to seek vendors that are a little smaller and more unique. We have Rewined candles out of Charleston, South Carolina. Those have been a staple since we've opened. We have Catstudio dish towels, which have an embroidered, vintage look to them. One of our favorites is a husband and wife from Chicago who create framed art—they use reclaimed wood for the frames, and find archived historical images and maps and print or re-create those. These [pieces] help us to keep that feeling of the old, even though they're new.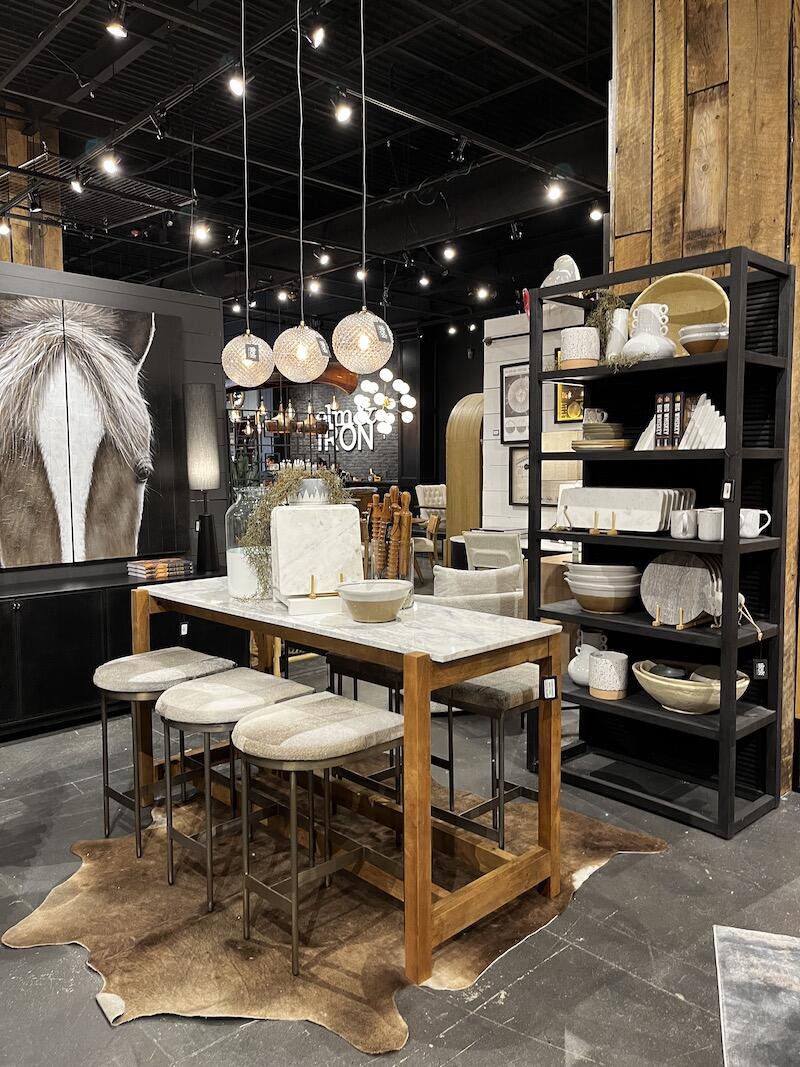 Who is your typical customer? How much of the business is to the trade?
We do have a trade program. We started it about six years ago, but we have defined it a little better over the last couple years with Covid. We have a good designer base, but then, because one of our locations is in a mall, we have a lot of out-of-town people who think we're a big-box store. Then we have a lot of local customers: Our first location, in Clintonville, is just north of the huge Ohio State campus, so we get college students and their parents. And because it's in a nice little neighborhood, we get repeat local customers based here in Columbus.
Tell me about a favorite vendor of yours.
Sure. We work with Lit Candle Co., which is by a lady here in Columbus. She makes these amazing soy wax candles with unique smells, and we sell them out very quickly. I think people like the appeal of it being local. She actually ended up sharing a warehouse space with us for a little while, which grew that relationship a little quicker.
Is there another category or object that flies out the door?
We do really well with our faux succulents. They look very realistic; we've even had customers ask us how to care for them. They're made of a soft, airbrushed foam, so they are not your typical plastic botanicals.
What's the company's approach to sourcing?
We love to attend market shows. We usually go four times a year: to High Point in North Carolina and to the Atlanta market. We prefer those for our initial ordering, because seeing things in person—seeing the quality, the scale—is a lot better. But we do utilize websites like Faire, and we reorder through online sources, just because it's easier for us to maintain [our inventory that way].
When did you move into e-commerce?
We actually did not start with it. For many years, we had a website, but it was really just the front page—nothing was purchased. Covid forced us to think outside of the box, to say, "OK, we're just this local shop. What can we do to grow?" It shifted us into online growth. We developed a nationwide shipping program, so now we have a lot more product that we show online. It is still a work in progress: We don't have the click-to-buy [feature] so it's more of a look book, and you email or call us to make the purchase. It's something we're still developing, but it has helped us reach outside Ohio.
Speaking of Ohio, Elm & Iron has a higher price point and products are more high-end than at other local retailers. Do people ever balk at the prices, and how do you handle that?
Our prices, especially with inflation, have increased over the past two years. People have made comments here and there, and we have really been working to get those prices back down because we know that within Columbus specifically, there are many furniture stores that somebody could shop at, and we want to be competitive. For online pricing, we have to follow math and stay with a specific price point for certain vendors, because otherwise we can't show that item online. People outside of Ohio are going to see that same pricing anywhere they look for that item. But we do offer lower pricing in stores, for our customers who are local and have been loyal to us.
How have some of the other challenges of the recent years affected the business?
We ended up closing both of our Cincinnati locations during the pandemic. Those were located in downtown Cincinnati, and when the pandemic hit, there were also riots, and stores were getting looted right on the streets we were on. Thankfully, ours did not, but it pushed us to [think that] our smartest business decision was to close those locations. We were able to pull some of those employees over to our online [sales] to utilize their skills and make the best of that situation.
Can you tell me a bit about the design scene in Columbus? I've seen that yours are consistently voted the number-one design stores in the area.
We have quite a mix of locally owned furniture stores, and I think designers play a big role in that as well. A lot of designers within Columbus have started to branch out and carry vendors themselves rather than coming to us, which has created a bit of a challenge. But our Easton store is located in a large mall, with all your big-box stores like RH, West Elm and Crate & Barrel. I think the appeal of our store is being able to buy local, which is big for people in Columbus. There are a lot of corporations coming into Columbus, so it is growing quickly as a city. Once people are at the mall, they see our store and how it looks different than the big-box stores, and that draws them in.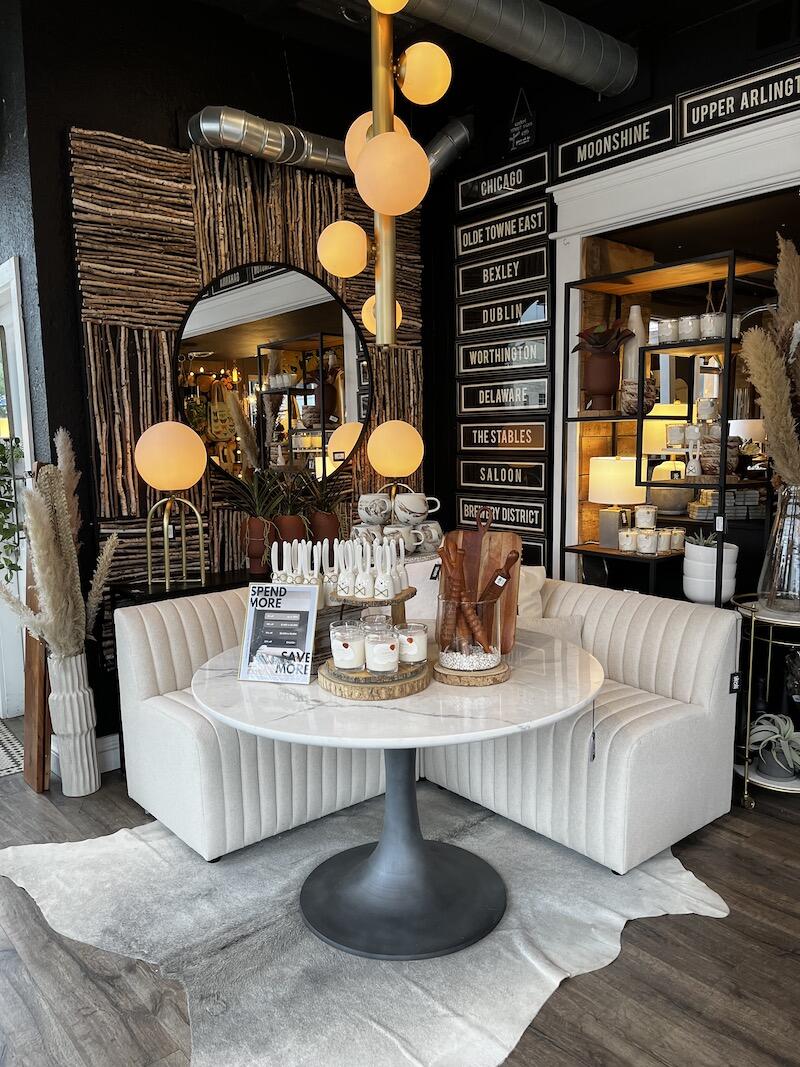 The company just opened a wedding venue! How did that come about?
This is a new venture. The owner of the company has always been involved in a few different businesses beyond Elm & Iron: He purchases commercial and residential buildings, and has a property business, and he owned a house-painting business that he sold last year. His interests evolve from where he sees opportunity. We've had people come in and say, "I just love the feel of the store. I would love to live here." That triggered some of this idea. For the wedding venue, he saw the potential of tying that to Elm & Iron. He's also in the process of working on an Elm & Iron–focused Airbnb, completely furnished with Elm & Iron goods, which is expected to launch by the end of this year. How do you develop a furniture store when furniture stores are slower right now? You go into different venues.
So the company is designing the space, but are you also producing and running the events?
It will actually be a completely different staffing crew. The venue itself allows for catering to come in and has the space for it, but we won't be doing the catering ourselves. That's on the client to source. It's more just the overall design and the look of the space that is created by Elm & Iron, and then it will have its own separate crew to operate and run it.
Does the Elm & Iron founder prefer to stay low-key and out of the story? Does he leave a lot of the business up to you creative professionals?
His name is Daniel McClurg. He has a good eye for construction and design, and so he was very involved at the beginning. But because so many staffers have been here so long, he's felt comfortable to step back and let us run it. He oversees operations. He doesn't love the spotlight, but it's also more of a time issue because he has so many ventures. He bought a winery last year as well. He's always getting into new projects.
Overall, there's something very inspiring and American-dreamy about this business, and how it keeps growing. Since you've been intimately involved in this growth, how do you feel about the future of small business in the U.S.?
Every city has the big-box stores, but the small businesses are what make that city unique. So many neighborhoods within Columbus have pockets of small businesses, and that really draws [outside] people in. We're always looking for growth, and the owner has talked about finding an old warehouse space and pulling in a live plant vendor or a coffee shop, so you have drinks while you shop. I think it's about expanding on the foundation you've built and allowing for more of an experience. Small businesses will always have a place within cities.
Homepage image: Elm and Iron's faux succulents, made of a soft, airbrushed foam, are popular with customers because they look very realistic | Courtesy of Elm & Iron