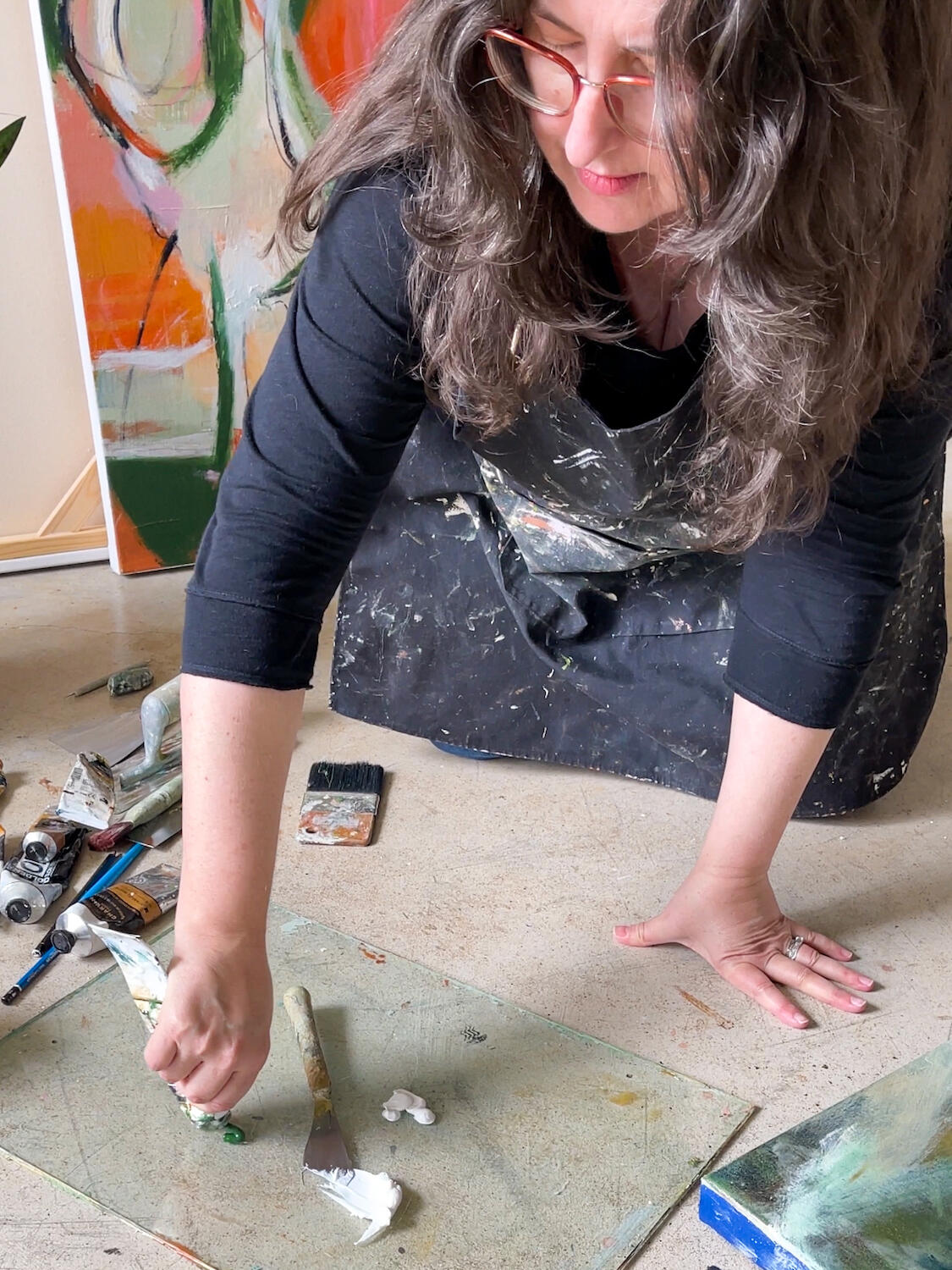 Courtesy of Melanie Biehle
Melanie Biehle believes that art provides more than visual interest; it's escapism. In a world filled with smartphones, televisions and tablets, the Seattle-based artist sees paintings as portals to other times and places, and—perhaps just as importantly—into our own imaginations. "I love that art can transport us," she tells Business of Home. "Not only to other worlds, but deep inside ourselves."
A Louisiana native, Biehle spent years working as a writer and photographer for various art and design publications, such as Seattle Refined and Luxe Interiors + Design, before picking up a paintbrush. After covering a weekend-long abstract art workshop at the local Gage Academy of Art for a freelance assignment in 2014, she was so energized by the experience that she signed up for her first painting course. "Something finally opened up inside of me," she says.
Later that year, she hosted her first exhibit at a small boutique gallery in downtown Seattle, and the rest is history. "When I first started, [my work] was based in a tiny corner of our already small home," she says. "I created an eight-piece painting collection for a Seattle hotel in our living room. Now I have my own room, and honestly, I've already outgrown it."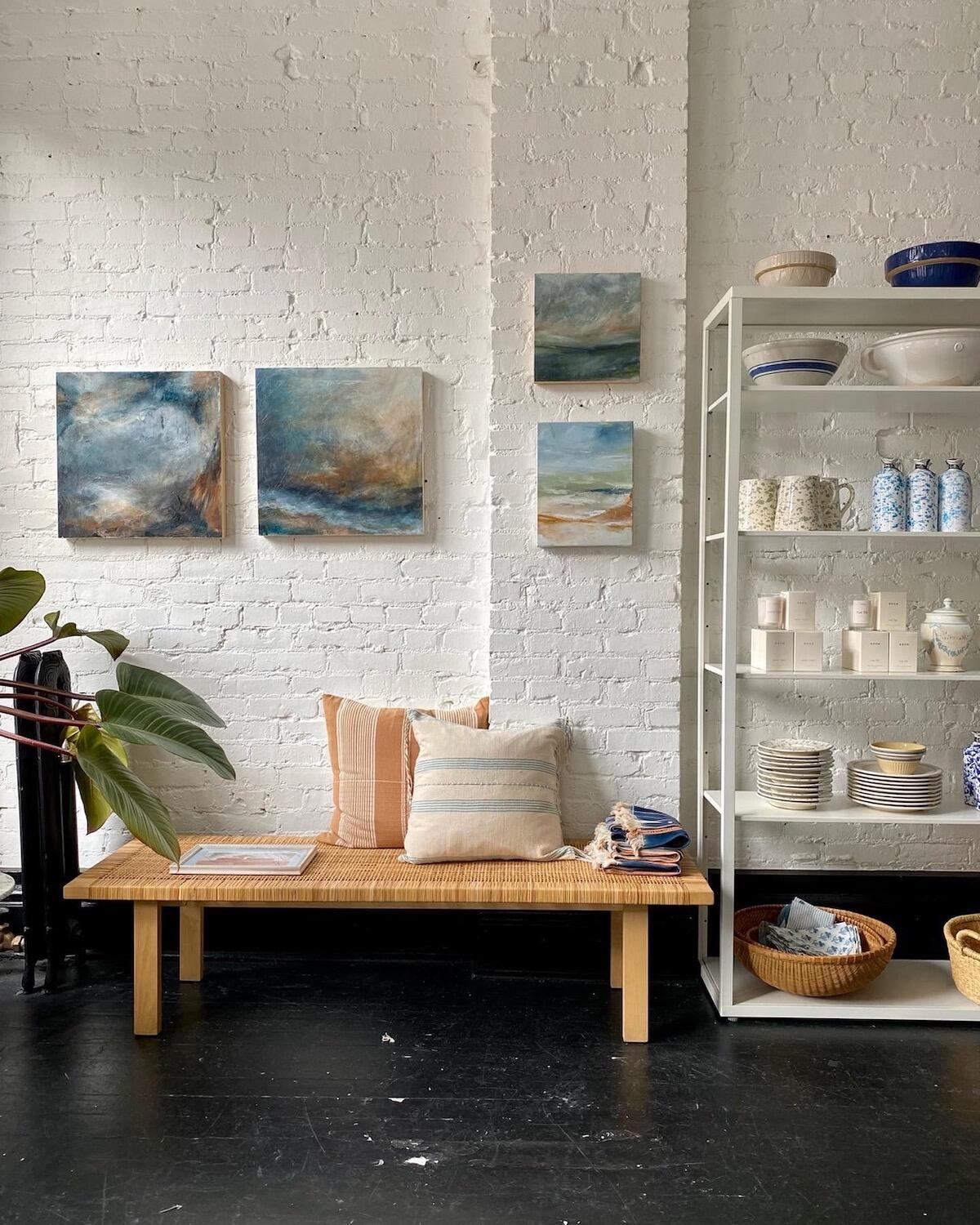 Courtesy of Casa di LaValle
Though she mostly works in oils and acrylics, Biehle says many of her abstract paintings begin as mood boards or collages, often inspired by a book she's reading. "My art contains psychological, emotional and spiritual elements," she says. "I read a lot of books about creativity and spirituality, and a lot of times those ideas and mindset show up in the feeling of my abstract paintings, and in actual titles and descriptions. Sometimes, it feels like I infuse the canvas with their wisdom as I ponder their meaning while I paint."
While she's had plenty of success working with private collectors and commercial clients—including Four Hands and Level57 Art Studio—a recent discovery has since boosted Biehle's business exponentially. "Last year, I had a few conversations with interior designers, and they mentioned that it can be hard to find original artwork at affordable price points for their clients," she says. "More specifically, they don't get substantial trade pricing for it."
Galleries and online marketplaces often collect commissions ranging anywhere from 30 to 50 percent from artists, so Biehle saw an opportunity to directly provide interior designers with a substantive trade discount. "I believe that interior designers serve the same purpose as galleries and [boutiques] when it comes to sharing my art, so I'm offering them generous trade pricing when they work directly with me," she says.
Since introducing her trade program, Biehle is prioritizing interior design partnerships over art galleries. "Focusing on direct relationships with designers gives me more creative freedom, which is very important to me," she says. "Interior designers have clients with lots of different style preferences—abstract landscapes, colorful cityscapes and so on—-and that's exciting to me."
Though she continues to focus on original paintings, commissions and authentic reproductions of her work, Biehle also hopes to collaborate with brands on bespoke collections in the future. "I'm more interested in working in the way that I want to work and experimenting creatively than a more traditional growth trajectory," she says. "I'd like to expand my licensing partnerships, and also work with a few new partners to include an artist residency aspect to our collaboration."
If you want to learn more about Melanie Biehle, visit her website or Instagram.