In Business of Home's series Shop Talk, we chat with owners of home furnishings stores across the country to hear about their hard-won lessons and challenges, big and small.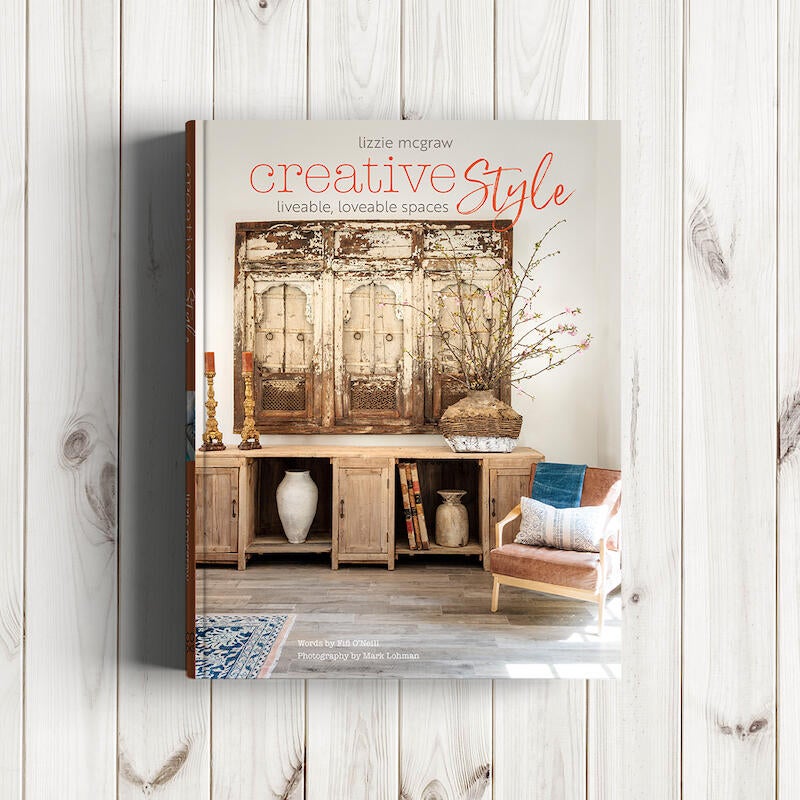 This week, we spoke with Lizzie McGraw, an interior designer and founder of the interiors boutique Tumbleweed & Dandelion in Venice Beach, California. Since opening on the famed Abbot Kinney Boulevard in 1997, the shop has had two locations (including McGraw's own home) and grown a reputation for its meticulously crafted custom furniture and pillows, boho vibe and celebrity shoppers. In addition to the shop, McGraw and her team offer design services and staging, and that diversification has been key to keeping the whole enterprise afloat.
In honor of the 25th anniversary of Tumbleweed & Dandelion, McGraw has a new book out now called Creative Style: Liveable, Loveable Spaces, which shares 14 of her favorite interiors projects. Ahead, she looks back on a deeply memorable first day, explains why she's reluctant to grow e-commerce too quickly and discusses how her younger staff have a wildly different perspective toward their careers than she did.
What was your career like before the store?
The store really was the beginning of my career. I moved to L.A. and didn't have any money or know what I wanted to do. I'd gone to art school, and my father was an architect and I had worked for him since I was 14. On a whim, I started a store with a friend of mine with furniture I found on the street that I hand-painted. We opened in July of 1997 and that day, a girl came in and spent $3,000, which was literally everything in the store. My hands were shaking, like, "Oh, my God, I'm going to be rich."
Was it entirely decor then, or were there clothes involved? What was the mix?
We've always jumped in and out of clothing and accessories, but it's mostly been furniture. Pretty quickly, we started making our own. I only had a business partner for a hot minute that first year, and since then I've been running it with my life partner. It's been very big design jobs that have always kept us going, even in lean years. We're always making furniture for clients. Somehow it always works.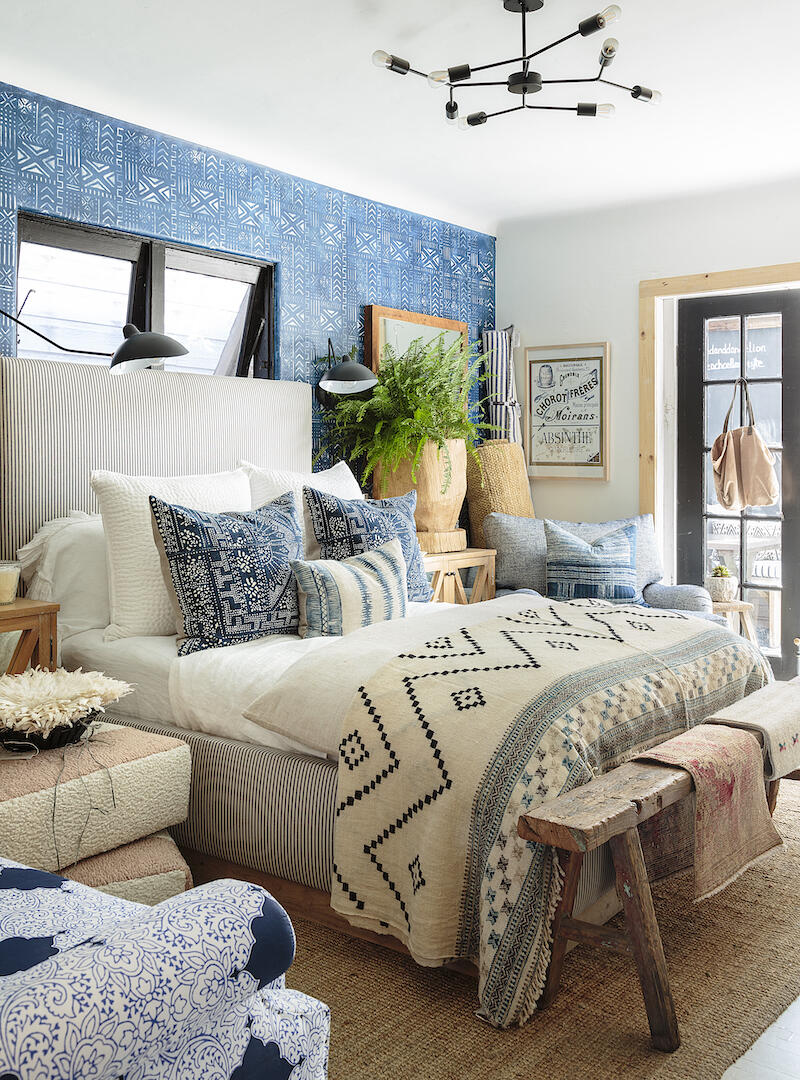 Have you been in the same location this entire time?
No. The week of 9/11, we were on Abbot Kinney, which at the time was a street that no one cared about. We lost our lease, and we were figuring out what to do. We also had a house down the street, where we lived with two cats and two dogs, and we decided, "Well, we'll just move into our house temporarily. We'll live and work in the same place!" We were open seven days a week, and we did that for two years. If that's not determination, I don't know what is. And I'm still with the same guy, somehow!
How would you describe the vibe of the store now?
It's funny, because one of the girls who works for me said recently that we're a "multigenerational trend store." We get a lot of kids in their early 20s, but we also get their moms and everyone in between. She goes, "Everybody's happy here." I like to feel we hit all the right points for what people want, whatever age they're at.
Who is your typical customer? Is it a lot of foot traffic, or are there other designers?
There are designers who work under me, like Mikhail, my right arm. He's my oldest friend here. We just went to Paris together. But our typical customer is somewhere in that 30- to 40-year-old range, the young mom kind of place. It's all about Instagram and wanting to have something like that. We make a lot of things, and that's a really happy thing for people. They're like, "Oh, you can actually build me this?"
What kind of furniture pieces or products do you customize?
Literally, anything I can draw, we can do. We build in iron, wood; we do upholstery. We have our own sofa shop and wood shop. Everything from built-ins to kitchens to bathrooms. We're very environmental, so one of our first questions is always looking at what they have and what we could reuse and redo and repair. We strike up that conversation before we just say, "Let's do all these things for you."
I would love to hear about the role of celebrity within your shop—like how Julia Roberts shopping there may have put you on the map.
I think one of the reasons we get a high-profile clientele is that we're so nonchalant, and we make things very easy for people. When we have our little celebrity things, we'll take the time to say, "Well, if you want to come in before we open, we can have a meeting." We cater to them, but in a healthy way.
Does it have an impact insofar as media coverage, and then people want to come in because they know a celebrity has been there? Or is it L.A., so nobody really cares?
We used to have paparazzi planted around the store all the time, before the pandemic. In fact … I'm just realizing we don't have that the same way anymore! I think that since the pandemic, everything's a little bit more on the down low, you know? Because literally, I would [say to paparazzi], "Oh, my God, can you park somewhere else? You're taking up our parking."
But Venice is not Beverly Hills, where people go to be seen. It's more where they go to hang out and actually live. The restaurants are good, the shops are cool, the beach is right there. It's more of a Malibu vibe, more casual.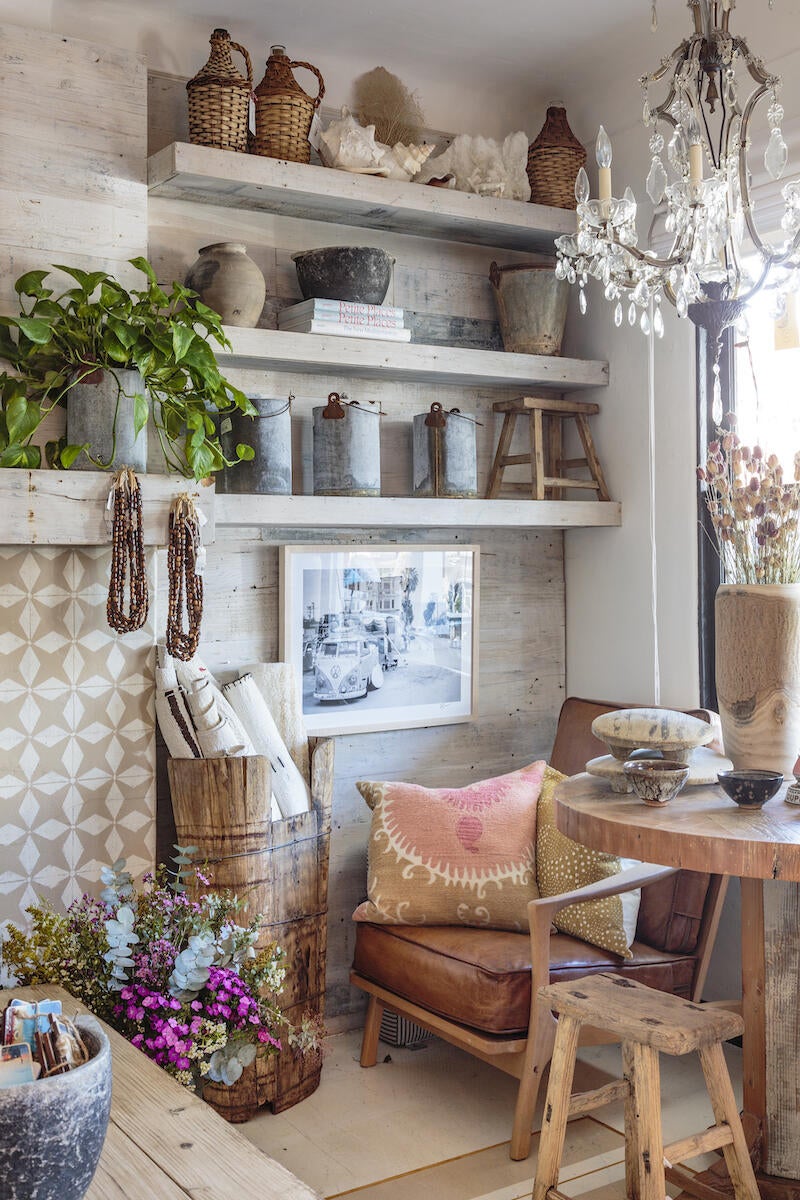 What is an object or category that flies off the shelves?
The candles we make. They're all soy-based with natural oils. We sell them incredibly quickly, probably our number-one thing. We take great pride in not looking like everybody else. We make our own pillows. I just went to Europe to get a whole bunch of things that looked like a Parisian flea market, not something you buy out of a catalog. There's enough of that that I think keeps people coming in. The local clientele feel very comfortable coming in with their coffee and hanging out.
What category are you excited about these days?
This year, we really got into table linens; I realized how much I love decorating with them. We made our own line of table linens, and then I noticed how fun it is for people. They show us their dining room on their phone, and they're like, "Can you just help me figure this out?" I take great care not to spend all their dollars. I'll be like, "OK, this is something reasonable I think you could do, and you can reuse all these things in this different manner when you're done."
How has your approach to e-commerce changed?
We fell into it over the pandemic because everyone had to close so quickly. I think we're still navigating it; it's busier than we thought it would be. We make picnic tables, and if you go online to look at picnic tables, most of them are mass-produced. Ours are built from redwood, and I recently did 25 picnic tables and chairs for a hotel in Florida, and it was all from the website. We have interesting orders come through: It's candles and soaps and then all of a sudden, "Can you furnish our hotel?"
We don't want to get ahead of ourselves. We're trying to grow in a way where we know we can do what we say we can do. We do staging, we do interior design, we make our own furniture, we have a retail store. I want to make sure that we can come through with all those promises.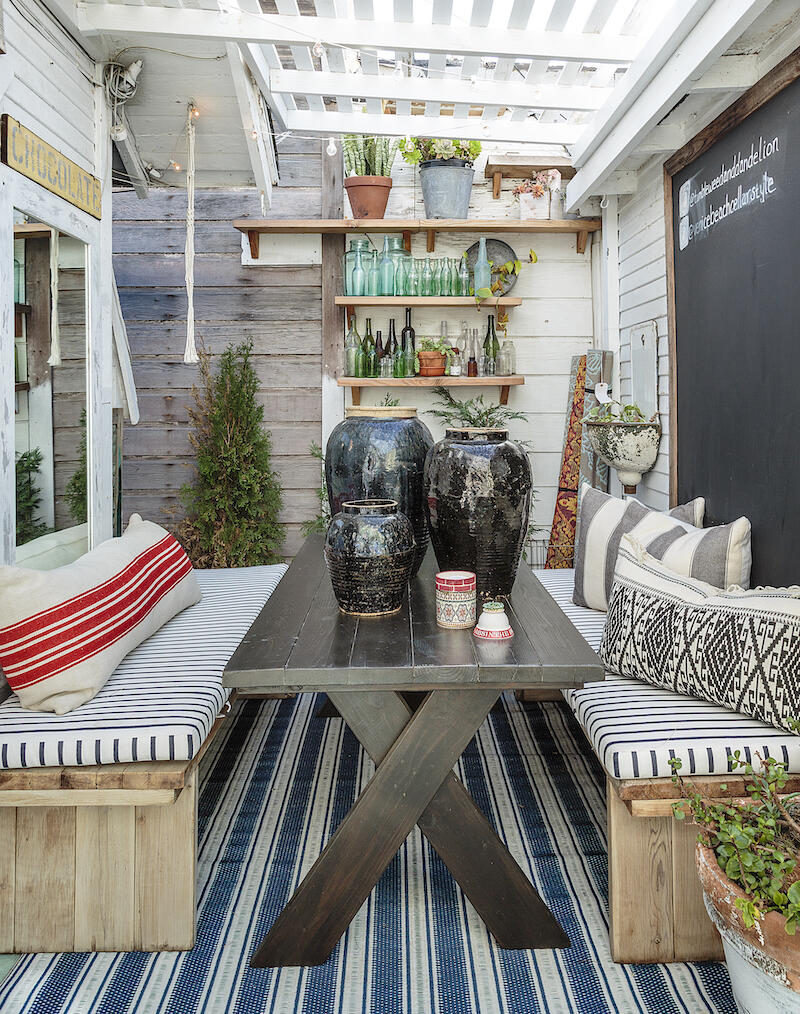 How many people are on your team now?
There are around 20 people, not including the people that work in our wood and sofa shops. I have three designers under me, and they're all wonderful, but just keeping track of all that is a job.
Could you have ever imagined this when you were opening 25 years ago?
No. And I think it's amazing now how the internet does so much for everyone's businesses, and for women. I didn't have a plan! The girls working for me now really have plans. Wow, I didn't. I was like, "I don't know. I like art. Maybe it'll be cool." I never was a woman who thought that my life was different than a man's—then one day I realized it was, and I should ask for a certain amount of money. I tell everyone who comes to work for me, "You need to go for what you're worth, including with this job." I want everyone to make the most money that they can, and at the same time, I want us to be happy and ethical and enjoy our lives.
How have you handled some of the struggles of the past few years, including inflation or labor shortages?
Labor shortages are a real thing, which is a big mystery to me because I could never not work for one minute. I have interviewed literally hundreds of people to get this small group that I have now. I've had people tell me what they want to do, and it has nothing to do with what I would be asking them to do. And I'm like, "Note to you: Keep that to yourself and figure that out, because I'm not going to hire you. You don't want to do this!"
How about inflation?
I feel like when you stand behind what you do—even if it costs more, people will [accept] it. It's probably affected us on the smaller retail scale; people like holding on to their dollars a little bit more. But we're very careful not to raise prices on a lot of those [less expensive] things. Yes, we make a little less, but we're still selling the goods.
What is a challenge that's specific to Venice or to L.A. that you think maybe isn't true of other places?
Well, the cost of living is really high, and I think that that makes it challenging for a lot of job candidates that come in. I feel like I pay well and my people are great, but I also know that $25 to $35 an hour doesn't pay these high rents. That's definitely a big-city challenge. And gas prices have been really high.
How has your perspective on independent retail changed, or the concept of a decor store changed, over these 25 years?
It's very difficult, but I think it was always very difficult. When I started my store, there was not much on Abbot Kinney, but there were two other very beautiful, high-end stores. To start mine I had literally $5,000, which paid for rent for two months. I would hover inside those stores and think, "These are so beautiful. I'll never be as beautiful." Well, all of those stores are long gone, and one of the reasons that we are not long gone is because we're very diversified.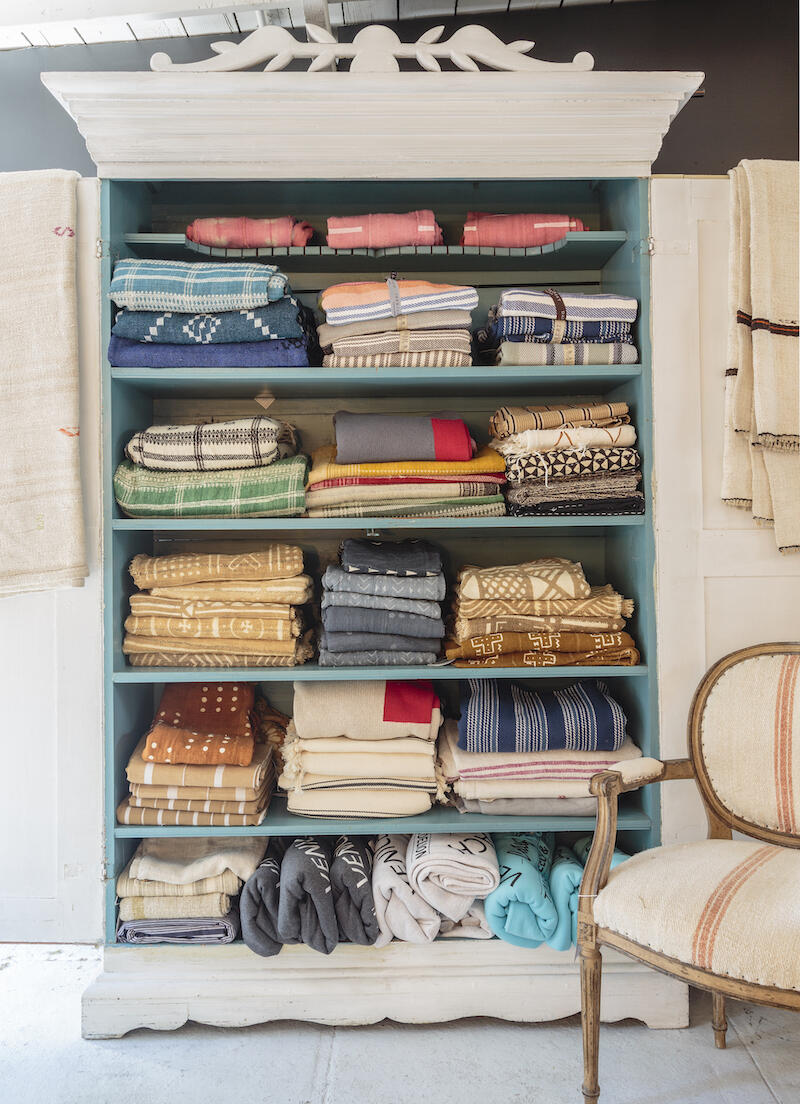 If you want to be small, you have to do at least three things so that you can pay your rent and pay your people. That was always my thing: If I have trouble paying my people, I have to reevaluate this. There have been times it's definitely been tight, but if the store is not doing well, the design is usually doing a little better, or the staging is doing okay. Something is usually carrying the other things through. And then we had to plan a website, because the truth of the matter is having a brick-and-mortar space is a wonderful dream—and I don't think I'd want to do this if I didn't have that part of it—but certainly it's like being a magazine. You have to know digital's taking over. You have to be prepared.
As a magazine writer and editor, I understand that one.
When I come back from Europe, I pretend that I protect the fragile goods I buy [by packing them] with European magazines, but the truth is they're just so beautiful and the paper's so nice. I just want that! We use them in our decor, and they're so creatively stimulating in all kinds of ways. I don't think there'll ever not be books and magazines, but you have to look forward to how people are getting their information, you know? To stay in business.
What is your favorite kind of day as a store owner?
The day I had today! I had to go to the flower market at sunrise, and it was the most beautiful red sky. I played in the flowers for a little while, and then I got a coffee, and then I checked on my jobs and I did two site visits. Everything was great. Then I went and arranged all my flowers at the store and talked to the lovely people, and a few people who have known me for a long time came in to buy my books. This is good. Everyone's happy. That is my favorite thing—when the wheels are turning relatively well.

Homepage image: A display inside Tumbleweed & Dandelion's storefront in Venice Beach, California | Mark Lohman