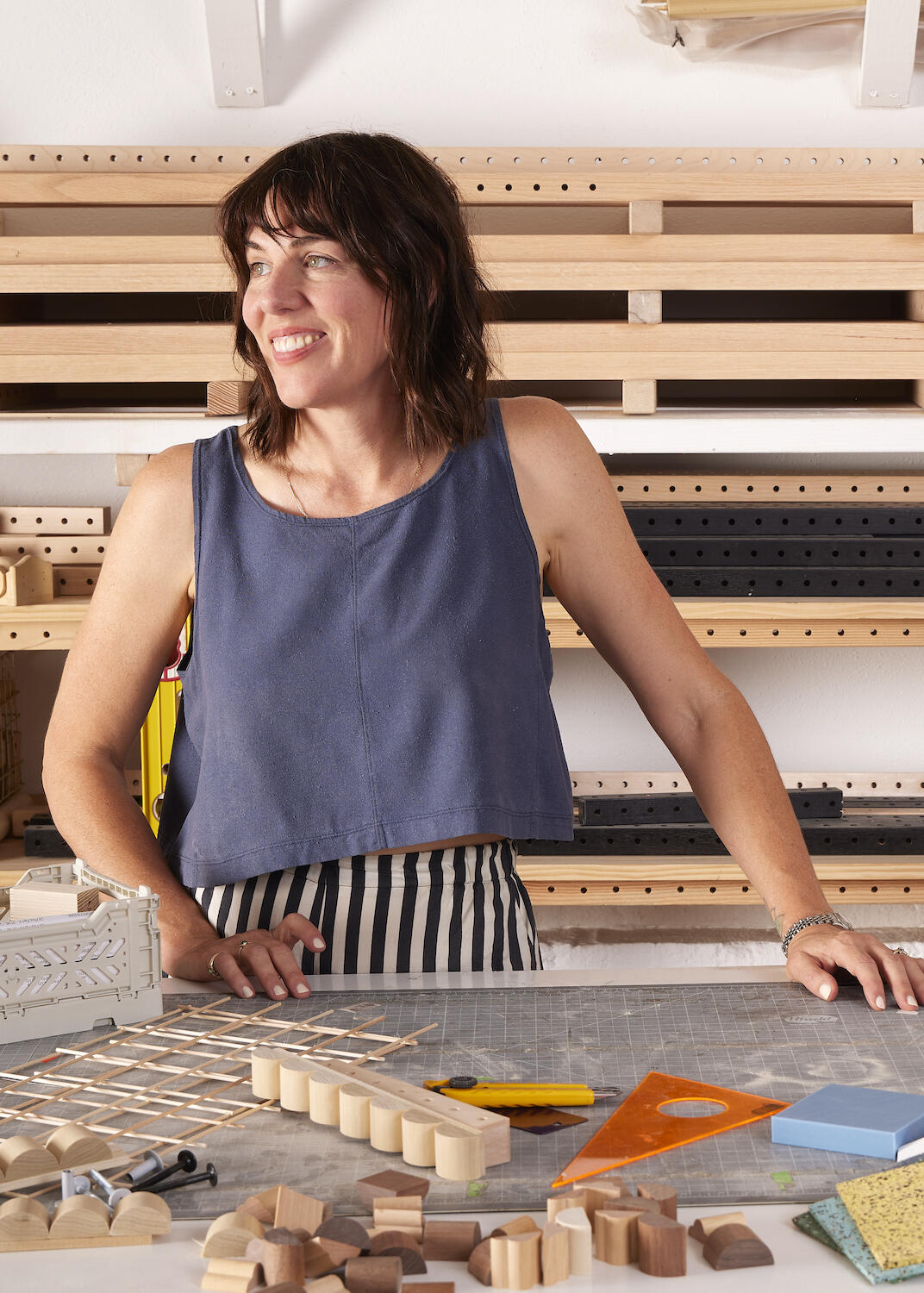 Jennifer June is inspired by the process behind a design. Whether it's an ancient klismos chair at The Met museum or an ad hoc stack of egg crates on the street, the Hudson, New York–based founder of Loose Parts believes you have to truly understand how something is made in order to appreciate it. "My mission is to design pieces that celebrate and enable the process of making," she tells Business of Home. "I'm interested in the materials used, the connection points between those materials, and the final shape they take."
Growing up, June split her time between the suburbs of Southern California and rural Costa Rica on her grandparents' farm. In college, she studied fine arts and print-making at San Francisco State University before opening a wallpaper company, Hermitage, in 2007.
In 2011, she decided to close her business and enroll at Parsons School of Design, where she dove headfirst into furniture-making and eventually earned a double master's degree in interior and lighting design. "I learned firsthand about all the different assemblies that come into play during the design process," she says. "I wanted to use those same methods and processes to create something ephemeral."
She launched Loose Parts in 2019 with the Berta series, a system of five rails that could be configured into a myriad of distinct furnishings, including a chair, daybed, side table and storage shelving. "I wanted to distill everyday furniture down to its basic outline," she says. "I took the most common heights, widths and lengths, and used those as my constraints in designing the collection."
All of June's designs can be reassembled to adapt to the evolving needs of a buyer. The Lean-To Lounge chair, for instance, contains all the necessary parts to be refashioned into a side table, while the Oak display can convert from a bookshelf to a console table or display rack. "All of my furniture shares a common language of parts," she says. "Therefore, when you purchase one design, you are in effect purchasing the beginnings of another furniture piece."
June crafts all the parts of her pieces by hand, through a process of drilling, sanding and finishing. The bulk of her designs are composed of FSC-certified woods and reclaimed timbers, which she favors for their "natural beauty" and sustainability. "In order to support multiple configurations and applications over time, I have to also consider the quality and durability of the parts themselves—and their impact on the environment," she says.
In addition to an assortment of reconfigurable furniture designs, Loose Parts also offers self-assembly-style rail kits, including And/Or, which allows the user to forge everything from benches and plant stands to a coffee table, and Original Assembly, which supplies the components to construct your choice of eight different pieces. "I often explain that I don't design furniture per se, but rather I design a system."
Last year, she showcased a handful of her innovative creations at Alcova during Milan Design Week 2022, including her latest launch, the aforementioned Lean-To Lounge chair. "I used a new joinery technique in the construction of the chair, allowing the rails to lean against one another to create the back, while solid walnut planks span the seat for added stability," she says.
Looking ahead, she plans to introduce upholstered items in the near future, as well as a new Douglas fir–based design. "I'm trying to rethink how furniture is sold," she says. "Rather than a top-down approach where a piece might serve only one function, I'm interested in a more collaborative approach that leaves room for the user to incorporate that piece into their lives, allowing for it to grow and change alongside them."

If you want to learn more about Jennifer June, visit her website or follow her on Instagram.
Homepage photo: The Mamá Cari chair in black oak and mauve by Loose Parts | Black & Steil