Courtesy of Tuell and Reynolds
Randy Tuell and Victoria Reynolds are inspired by tradition. The Cloverdale, California–based duo behind Tuell and Reynolds look to the past to find fresh ways to design for the future. "Natural textures and forms in nature inform one side of our work, and the other side is rooted in a decorative arts tradition, particularly the art deco movement of the 1930s and '40s," Tuell tells Business of Home. "If we have a mission, it's to keep traditional hand-crafts alive."
The pair met while studying architecture as undergraduates at the University of California Berkeley and immediately bonded over their shared interest in design history, art and anthropology. After graduating, Tuell opened a metal fabrication shop in San Francisco, Reification, devoted to serving architects and interior designers, while Reynolds spent the next decade working for local architecture firms such as Butler Armsden Architects and Levy Design Partners.
In their downtime, the partners collaborated on bespoke furniture commissions from big-name designers such as Paul Wiseman and Douglas Durkin. "Neither of us have any formal training in terms of product design," says Reynolds. "We have learned by doing, experimenting and admiring—and we have learned by making mistakes."
In 2003, the twosome launched Tuell and Reynolds with an eight-piece collection of hand-crafted transitional designs, including the Shinjuku and Hakone tables. "We still produce four of those products today," says Reynolds. "Now, 20 years after starting our line, we've introduced several hundred pieces."
Courtesy of Tuell and Reynolds
All of the pair's creations start with the touch of their hands—usually with a hand-forged prototype and a full-size 3D mock-up. "We'll quickly stitch together some pieces of steel or scraps, glue on cardboard, slap on some clay and draw with a magic marker," Tuell says of their brainstorming process. "There is a point, though, where you usually go back to the beginning, and like a traditional designer, sit at the computer and refine things."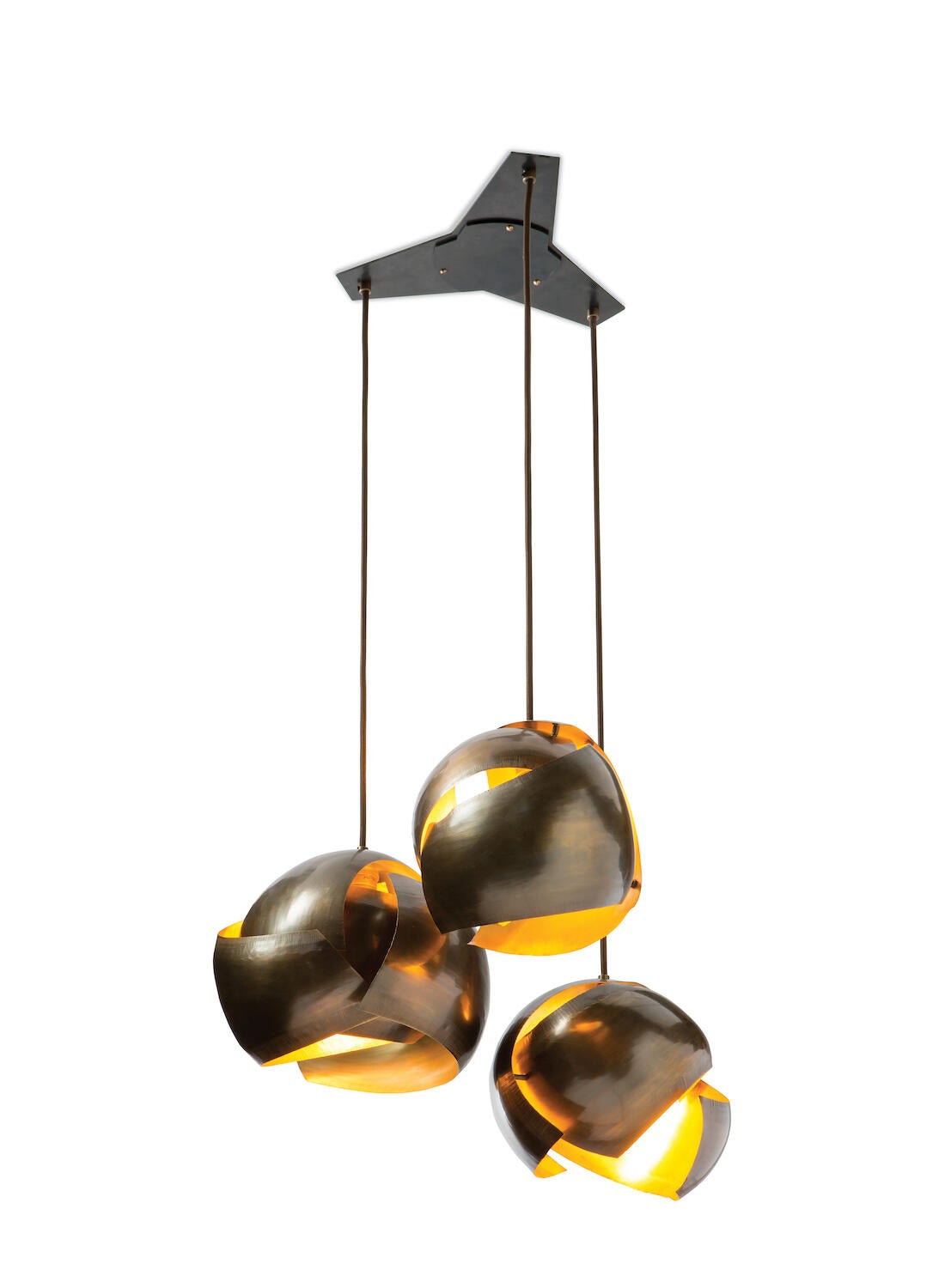 Gabriel Branbury Photography
With the help of their team of five in-house artisans, Tuell and Reynolds craft each of the brand's designs from sumptuous—and sustainable—metals such as brass and bronze. "We enhance these materials with hand-texturing, patina finishes, wax coatings, precious stones, minerals and other materials, like horn," says Tuell. "The most luxurious materials are also the most unique—irregularities, either from our hand-making process or natural evolution, have the most attraction for us."
Along with an array of rich materials, the duo rely on a medley of centuries-old techniques to forge their eye-catching pieces. Their Rorschach cabinet, for example, showcases a hand-painted batiklike lacquer pattern modeled after burl wood, and the Hoshi fire grate features a trio of hand-sculpted, lost-wax cast bronze starburst shapes. "Outside of the studio we have an extensive network of glassworkers, blacksmiths, wood carvers, acid etchers and so on," says Tuell. "When we don't know how to do something, we usually know who to ask to show us how, or [we'll] engage them for that part of the project."
The brand recently launched a handful of new dexterously made designs, including a wax cast bronze paneled sideboard clad in a rhythmic wave-inspired motif called Panthalassa, and a clean-lined console table made from blackened steel hand-brazed edging named Asilomar. "We started out wanting to be a bit more sensible and practical, but along the way we discovered that when we followed our hearts and obsessions, our clients followed along with us," says Reynolds. "We want to furnish the world with the little bits of glamour and mystery it needs."
If you want to learn more about Randy Tuell and Victoria Reynolds, visit Tuell and Reynolds's website or Instagram.
Homepage photo: Randy Tuell and Victoria Reynolds | Gabriel Branbury Photography