In our series, What I Love, we're asking designers to build us a mood board of what's inspiring them right now.
Nomita Joshi-Gupta is inspired by her heritage. The designer—who was born in Bangalore, India, and is now based in New Orleans—likes to combine aesthetic elements from both her native city and hometown when crafting her eclectic, modern interiors.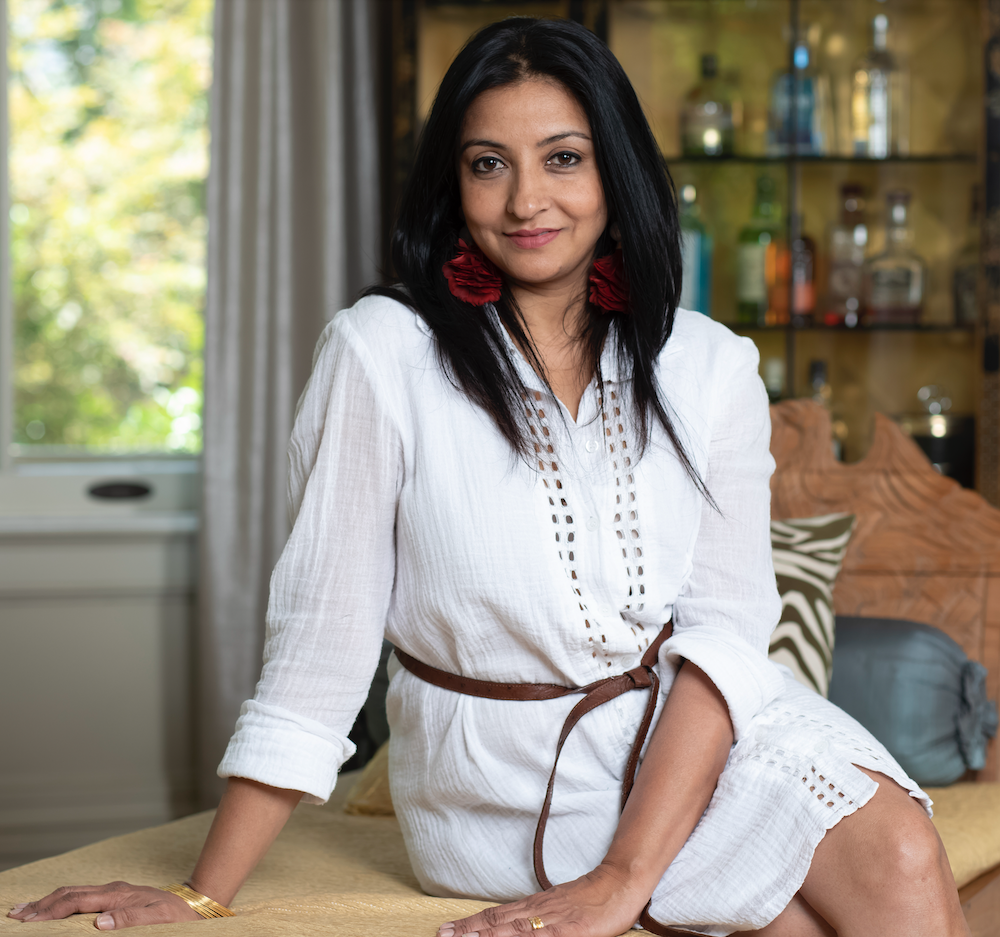 Courtesy of Nomita Joshi Interior Design
Take, for instance, her current mood board. Drawing from one of her favorite oil paintings from the 1900s—"Woman Holding a Fruit" by artist Raja Ravi Varma—Joshi-Gupta designed the scheme with royalty in mind. "The mood is one of a bedroom in a royal hunting lodge," she tells Business of Home. "Indian royals had palatial forest outposts where both princes and princesses hunted game during season, and these places were outfitted to resemble their own palaces—like a home away from home."
The final design is a moody mix of luxurious fabrics, graphic motifs and rich hues that read lush yet livable. "There's a lot of pattern play," she says. "You'll find contemporary riffs on classic geometric and animal prints throughout the palette."
Here, she breaks down the details, from patchwork rugs to brass door handles.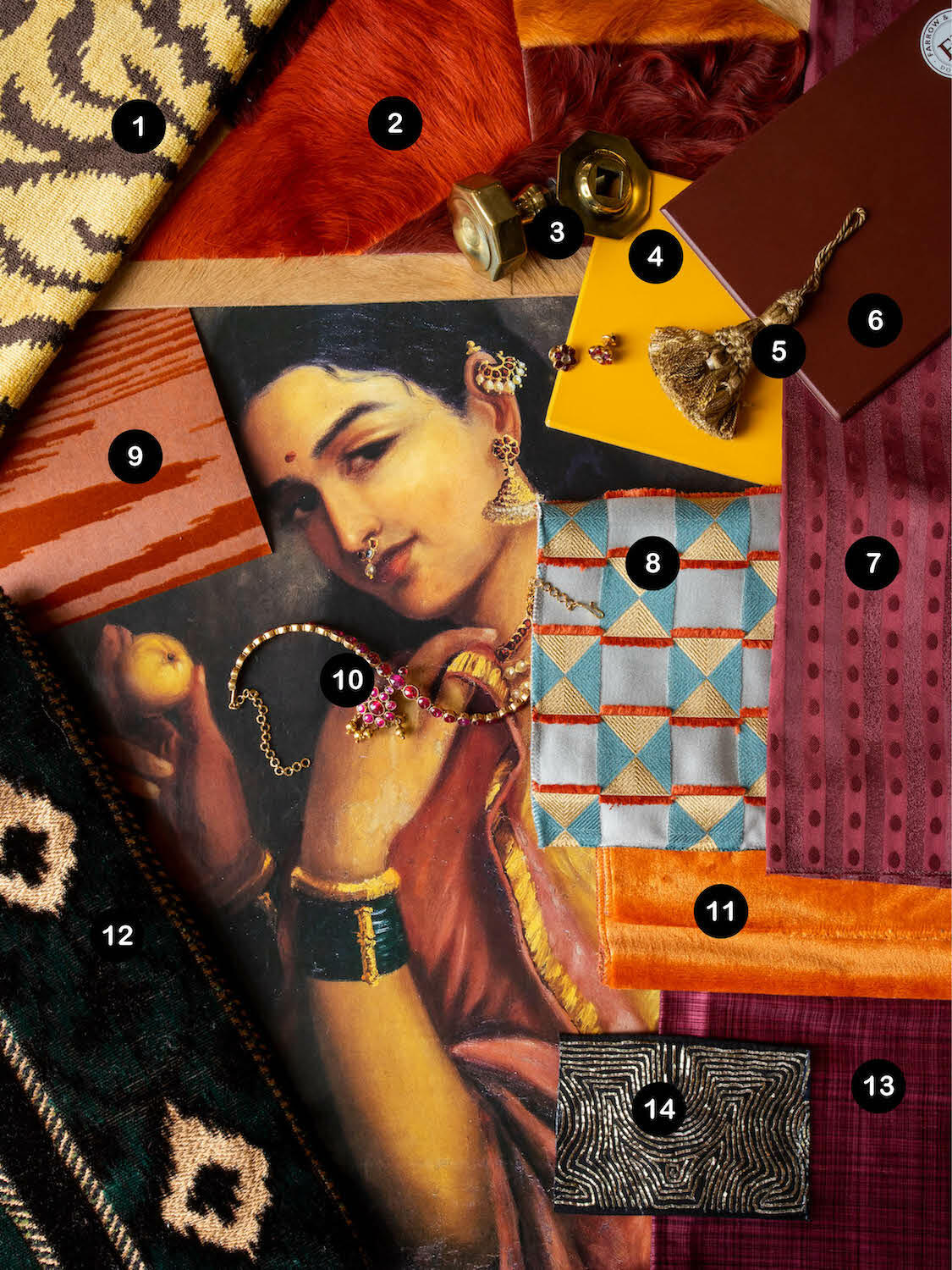 Courtesy Nomita Joshi Interior Design
1. TIGRE VELVET FABRIC IN IVORY, GOLD & BLACK BY SCALAMANDRÉ
"A long-standing Scalamandré classic, Tigre is my favorite luxurious animal velvet. Upholstered club chairs in this fabric are fit for a queen of the jungle."
2. BROKEN RUG BY KYLE BUNTING
"I chose this hide patchwork rug for its rich burnt orange hues. It looks like beautiful broken tile work."
3. BRASS OCTAGON CENTRAL PULL BY CHLOE ALBERRY
"Every door needs substantial handles. Brass door handles from Chloe Alberry are jewelry for doors, making opening and closing them pure pleasure."
4. DUTCH ORANGE PAINT BY FARROW & BALL
"This color is so powerful. Dutch Orange is a deep yellow orange that changes from yellow to orange like the insides of the alphonso mango—the grand cru of mangoes with highly complex flavors that is cultivated in Western India."
5. VILLANDRY KEY TASSEL BY HOULÈS
"A delicate silky tassel, like the earring in her ear."
6. DEEP REDDISH BROWN PAINT BY FARROW & BALL
"A royal color vacillating between reds and browns that changes with the light, and captures the wooded forest."
7. VALE STRIPE FABRIC IN OXBLOOD BY THE VALE LONDON
"This sophisticated two-tone stripe in oxblood red is even more special when you see that the dots are actually ovals resembling grains of rice."
8. CHARLESTON FABRIC IN TEAL/ORANGE BY JAMES HARE
"This geometric jacquard is similar to the South Indian geometry found in Kanjeevaram sarees. I love the added fringe on the sides."
9. FIAMMA WALLCOVERING IN 10144 BY MISSONI HOME
"This burnt orange flocked wallpaper has a wood-grain and animalistic vibe. Cladding walls in this decadent paper says 'jungle lodge' in a modern way."
10. PRINT OF "WOMAN HOLDING A FRUIT" BY RAJA RAVI VARMA
"This artwork inspired the palette. The colors create a sumptuous bedroom scheme that's fit for a modern maharani."
11. AMUR VELVET FABRIC IN ARANCIO BY COLONY ROMA
"Inspired by the Amur River in Oriental Asia, this precious velvet is reminiscent of the historical Silk Route. The vibrant orange adds brightness to a dark room."
12. KAILASH FABRIC IN VERDE BY COLONY ROMA AT SCALAMANDRÉ
"Named after the sacred peak, the seat of Lord Shiva, Kailash is a stunning silk jacquard, striped strié velvet that has an ikat-inspired design. The dark green is as rich as the forest."
13. POWERS COURT STRIE TAFFETA FABRIC IN PLUM BY SCALAMANDRÉ
"I love this lightweight taffeta with a crosshatch strié pattern for sumptuous drapery."
14. HAKARI TRIM IN SHADOW BY S. HARRIS
"Indian saree blouses are edged in beaded or metallic trim, and this one captures that mood beautifully. The design is all metal embroidery on silk."
Homepage photo: A flat lay by Nomita Joshi-Gupta | Courtesy of Nomita Joshi Interior Design