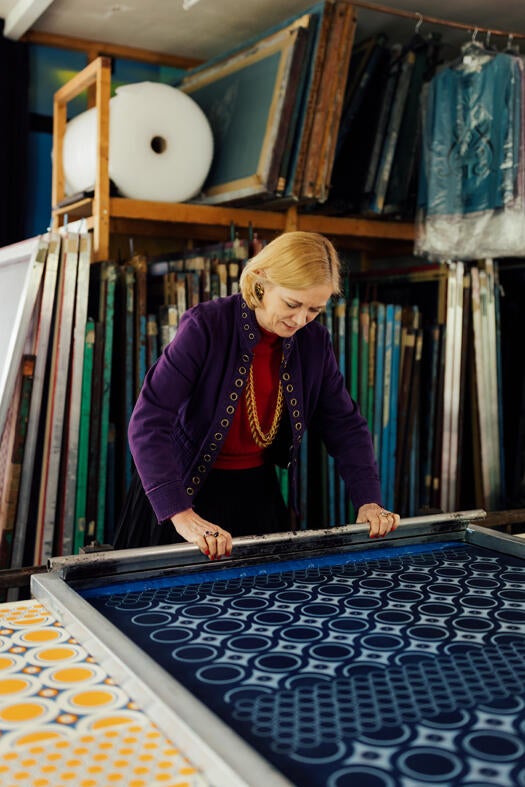 Courtesy of Cressida Bell Ltd.
To say Cressida Bell has a history with the Bloomsbury Group would be an understatement. The London-based artist is the granddaughter of painter Vanessa Bell—and the great-niece of Virginia Woolf—and her father, Quentin Bell, was a ceramist and writer who famously chronicled the early-20th-century intellectual movement in several of his books. "My early years were spent surrounded by decorative art," she tells Business of Home. "I spent summer holidays in my grandparents' home—known as Charleston in East Sussex—where every surface was decorated with rugs, pottery and furniture."
In college, she attended the famed Saint Martin's School of Art in London, where she studied fashion and textiles alongside the likes of Hamish Bowles, John Galliano, Stephen Jones and Sade, before earning a master's degree in printed textiles at the Royal College of Art. "My final exam presentation [as an undergraduate] consisted of reversible printed woolen geometric jackets and shawls the size of bedsheets, all of which I'd printed by hand myself," Bell says. "I like the idea of art being used or worn."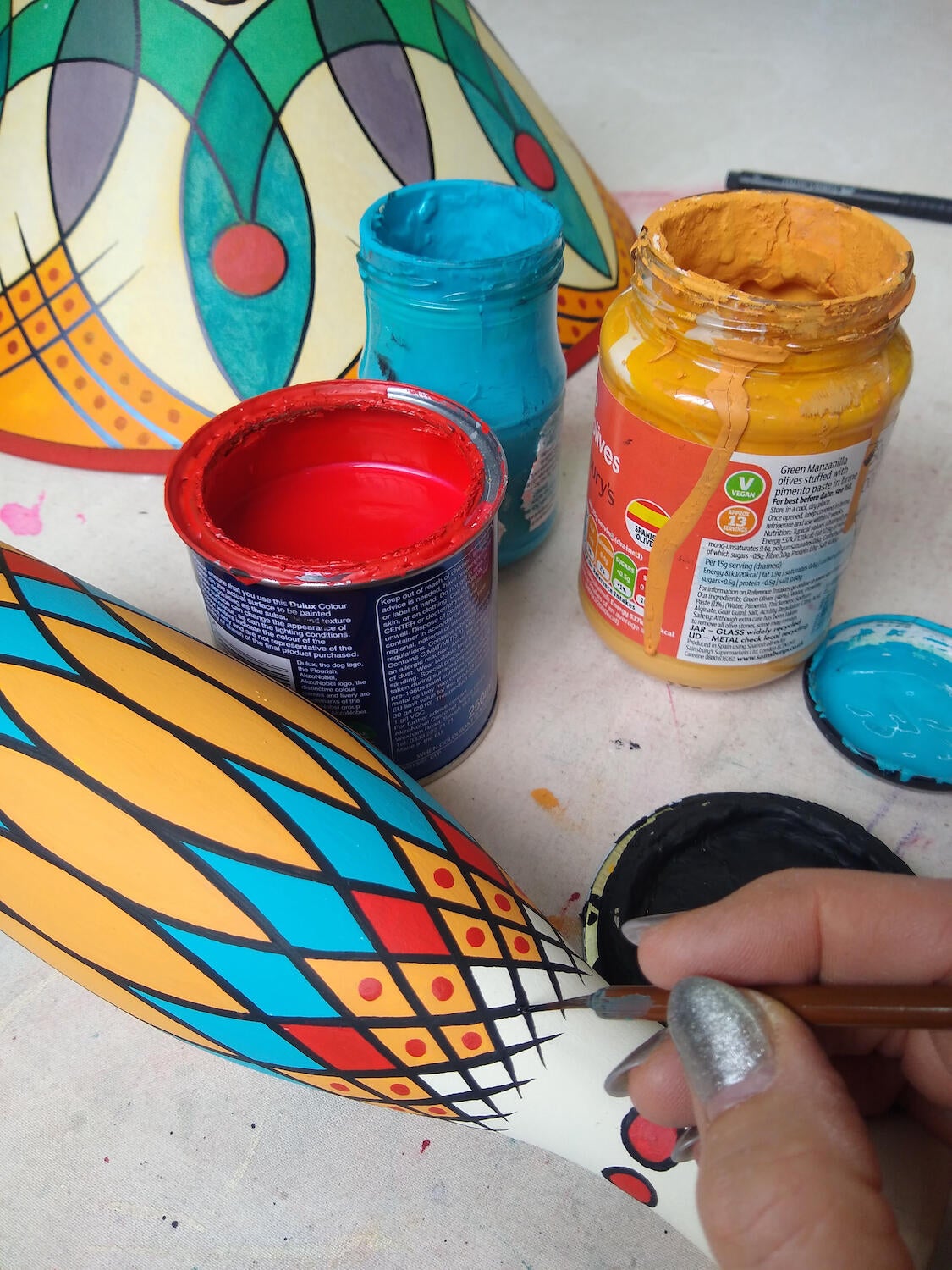 Courtesy of Cressida Bell Ltd.
Bell's final presentation in 1984 was a hit, landing her press in magazines including British Vogue and the Sunday Observer, which led to the launch of her first studio later that year. "I found a studio in Hackney, East London, and set up my company there with an old school friend who dealt with the financial side of things," she says. "I started off exclusively making textiles, mainly scarves—but over the years, this has changed, and I now produce a huge range of products, including my signature Christmas cards, hand-painted lamps and shades, rugs, table linens and upholstery fabrics."
All of Bell's designs begin in her sketchbook, where she uses a mix of pen, pencil and latex wall paint to experiment with patterns and color palettes. Once she has settled on a motif, she hand-paints the design to scale, scans it into the computer and crafts a final repeat. "Our scarves and cushions are silk-screen-printed in-house, while upholstery fabrics and table linens are sent out for digital printing because our silk screens aren't large enough to accommodate," she says.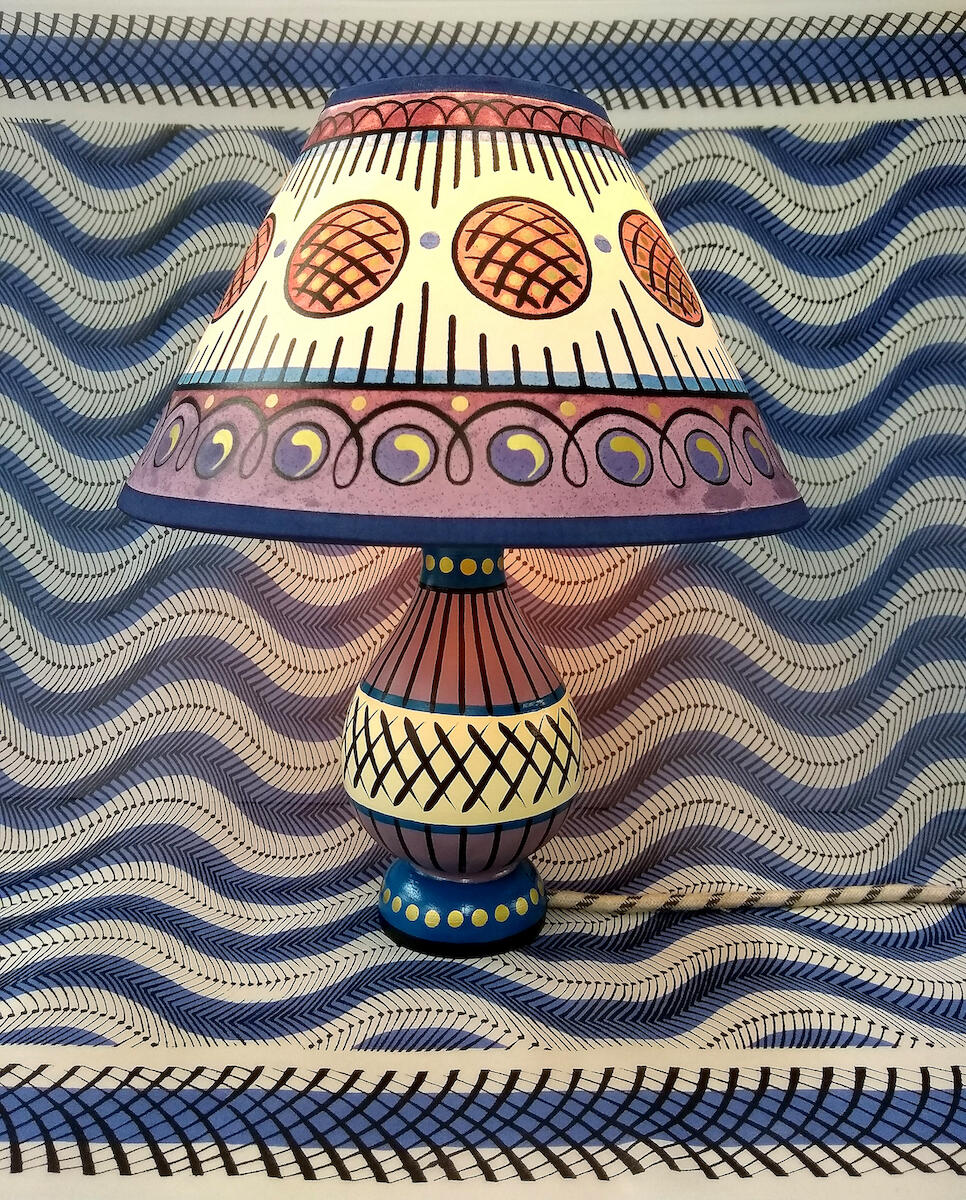 Courtesy of Cressida Bell Ltd.
To craft her highly collectible table lamps, Bell paints each wooden base in an undercoat before drawing, and eventually painting, the pattern by hand directly onto the design. "We make the lampshades by printing a black linear design onto paper, which is then sent off to be made up into shades by our U.K.-based manufacturer," she explains. "Upon return, these are then hand-painted in our studio using concentrated Helizarin pigments—which allows for detailed patterns and bespoke colorways."
Bell's latest exhibition, Beyond Bloomsbury, will be on display at the Eerdmans Holiday Bazaar in New York from November 30 through December 23. It features a fresh selection of lighting and furniture pieces punctuated with hand-painted, stylized Hellenic motifs. "As the grand finale, I created a one-off tablecloth that is 3 meters in diameter—bigger than anything I have printed before," she says. "It's a geometric pattern in fairground style, with each color block-printed individually using hand-cut stencils."
Looking ahead, Bell has plans to release a new shawl and scarf design, Sunburst, in the coming months, as well as a collaborative line with Alabama-based cement tile brand Villa Lagoon Tile. "In the future, I would really like to create more bespoke pieces, like those in the [Beyond Bloomsbury] exhibition," she says. "I would also really like to collaborate with a wallpaper company on a collection—I have yet to create wallcoverings and would love to!"
If you want to learn more about Cressida Bell, visit her website or Instagram.
Homepage image: Cressida Bell at work in London | Courtesy of Cressida Bell Ltd.