In our series, What I Love, we're asking designers to build us a mood board of what's inspiring them right now.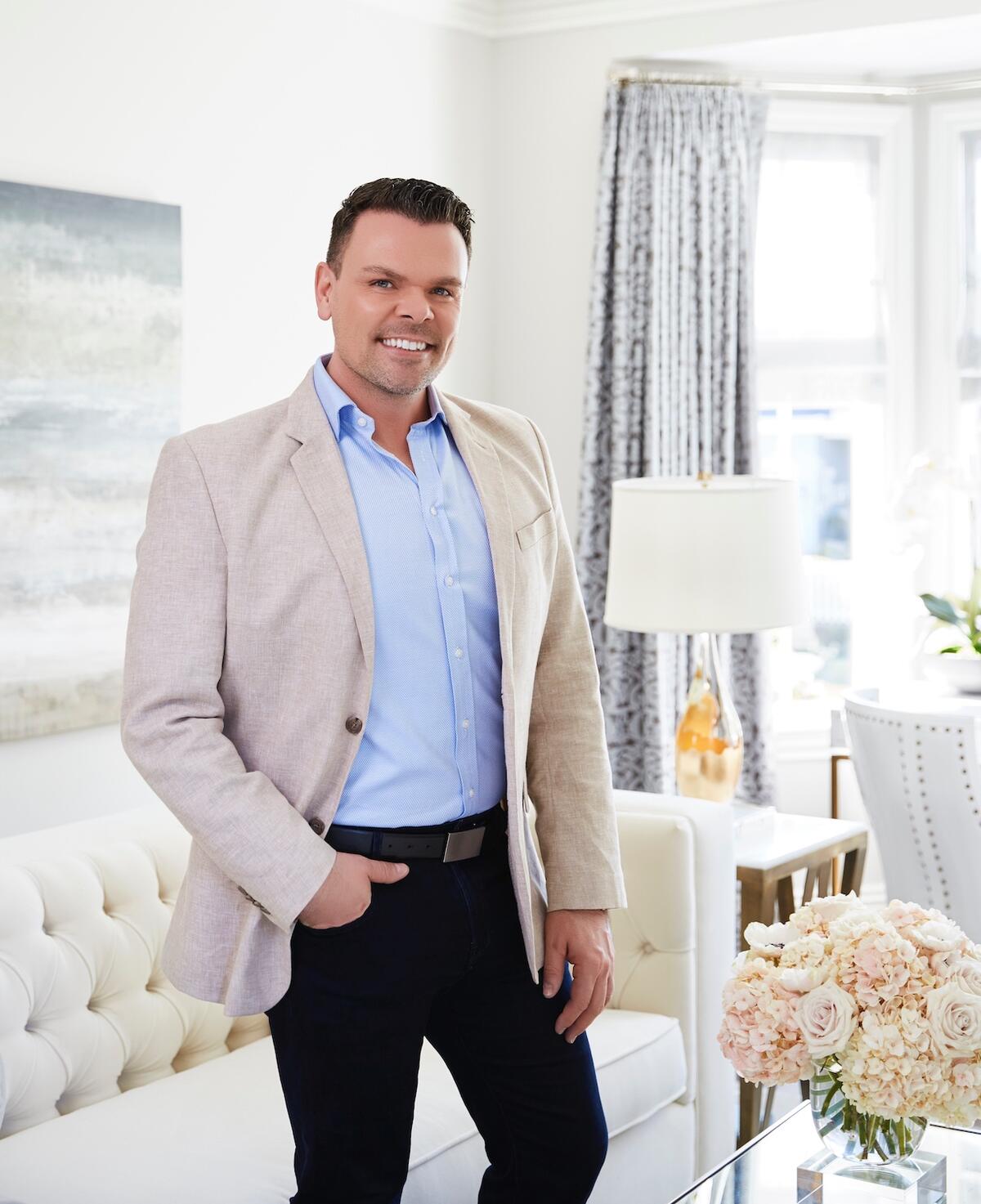 John McClain is inspired by color. The Florida- and Los Angeles–based designer believes the best hues do more than create a comforting environment; they enhance your quality of life.
Take, for instance, his current flat lay. Inspired by the colors of twilight—when the "sky deepens to the darkest azure"—he employs an array of rich blue and dark gray hues to set a soothing, enveloping tone for the space. "When I see this composition, I feel the relaxed relief of sinking into a warm bath or tucking into a bed with freshly washed sheets," he tells Business of Home. "The mood is calm, comfortable and chic."
The final scheme showcases a medley of deep earth tones in gradient shades and naturally tactile textures, from tobacco-hued porcelain tiles to concrete-colored paint. "Every element of this design holds the essence of nature," he says. "The wood, weaves and textures evoke the landscape, while the multitonal blues reflect the sea and sky at differing times of day."
Here, McClain breaks down the details, from jute wallcoverings to matte brass finishes.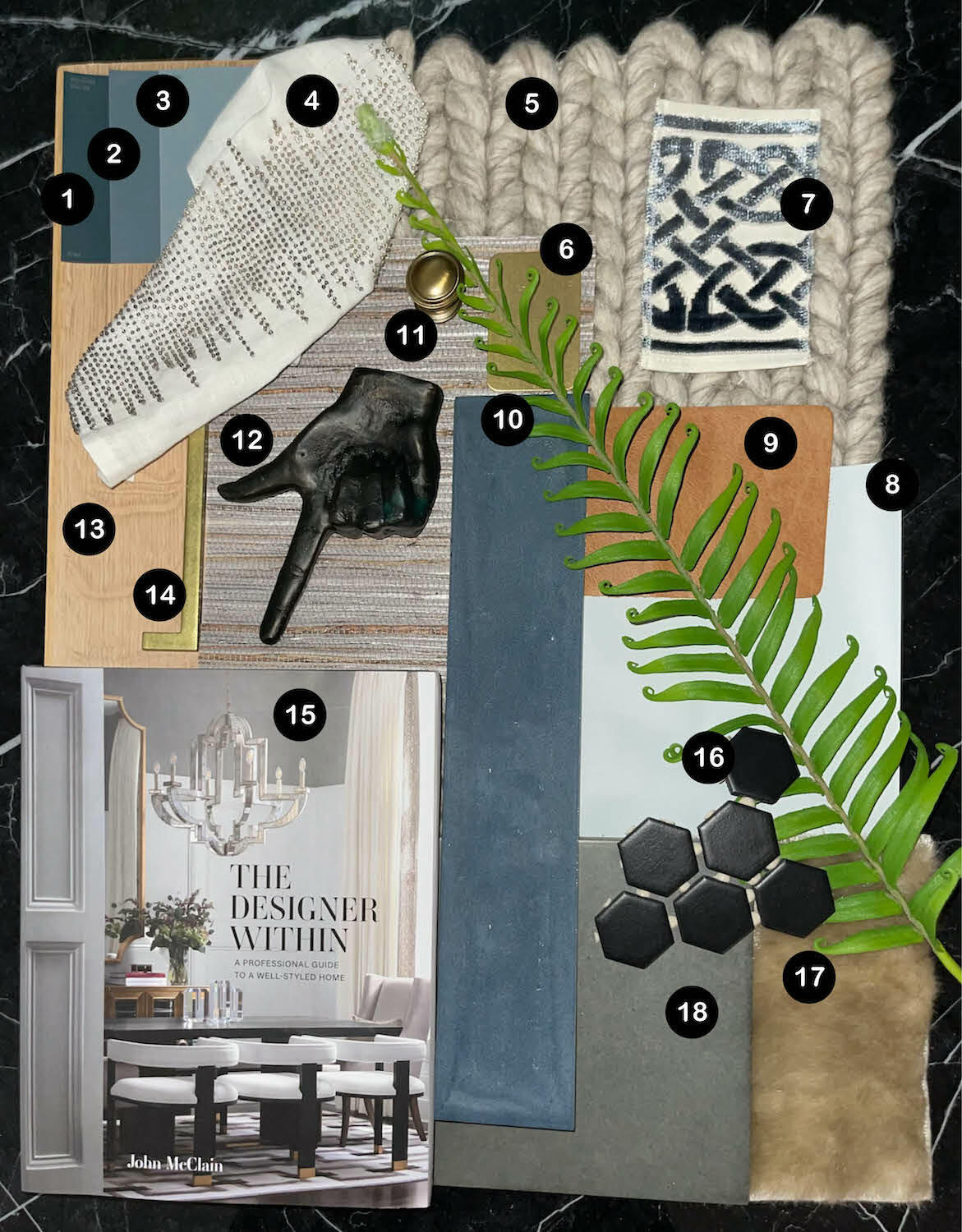 Courtesy John McClain Design
1. MOUNT ETNA PAINT BY SHERWIN-WILLIAMS
"Dark and dreamy, Mount Etna bridges the gap between deep blue and dark gray."
2. GRAYS HARBOR PAINT BY SHERWIN-WILLIAMS
"Grays Harbor evokes the precise moment when evening becomes night."
3. FOGGY DAY PAINT BY SHERWIN-WILLIAMS
"The color of wet concrete on a rainy day."
4. CRISTALLI FABRIC IN 991 BY ARDECORA AT ZIMMER + ROHDE
"The small silver beads and metallic threads on this fabric create undulating stripes."
5. SCANDINAVIA DULA RUG BY JAIPUR LIVING
"The texture and tone of this rug conjure an afternoon snuggled up in a blanket."
6. SMOOTH MATTE BRASS FINISH SAMPLE BY COPPERSMITH
"Metals make design come alive."
7. ASHFORD VELVET TAPE IN GREY BY TEXTURE
"Divine is in the details, and this decorative tape provides everything we could ask for: color, texture, pattern and shine."
8. ART NOUVEAU PORCELAIN TILE IN BONE BY EQUIPE
"Classic black-and-white floors exude an instant patina with this beautifully distressed tile."
9. KINGDOM LEATHER IN SCOTCH BY BARBAROSSA LEATHER
"Is there anything statelier than a rich, buttery leather in a classic tone? This upholstery-grade leather from Barbarossa evokes equestrian conquests and country libraries."
10. WAREHOUSE ROW FIELD TILE IN BLU NOTTE BY CROSSVILLE STUDIOS
"This is no ordinary subway tile. This fine specimen is of an auspicious size, and the slightly pillowed face finish is mercurial in coloration and texture."
11. REVITALIZE KNOB IN GILDED BRONZE BY AMEROCK
"This classic concentric circle design adds an air of elegance to traditional and transitional designs."
12. JUTE NA202 WALLCOVERING BY SEABROOK DESIGNS AT WALLQUEST
"'Organically opulent' is a wonderful way to describe this grasscloth wallcovering."
13. RIFT-CUT WHITE OAK FLOORING SAMPLE BY PACIFIC HARDWOOD
"This rift-cut, select-grade white oak flooring from Pacific Hardwood has my heart swooning. We always eschew trends in favor of timelessness."
14. CONTEMPORARY METAL CABINET PULL IN CHAMPAGNE BRONZE BY RICHELIEU
"Distilled down to its essential geometry, this contemporary cabinet pull provides pure function and visual efficiency."
15. THE DESIGNER WITHIN BY JOHN MCCLAIN
"The culmination of two years of hard work, this book pulls back the curtain on my design process."
16. COLOR WHEEL MOSAIC GLAZED CERAMIC HEXAGON TILE IN MATTE BLACK BY DALTILE
"Daltile's Color Wheel collection offers infinite color and pattern combinations at affordable prices."
17. COUTURE COLLECTION MINK FAUX FUR THROW IN CHAMPAGNE BY FABULOUS FURS
"This faux fur mink throw is luxurious, lightweight and heavenly on the hand."
18. ART NOUVEAU PORCELAIN TILE IN TOBACCO BY EQUIPE
"The counterpart to Amerock's gilded bronze knob [item No. 11], this will be making an appearance in an upcoming cottage project."
Homepage photo: A flat lay by John McClain | Courtesy of John McClain Design