That's a wrap on Day One of our inaugural Future of Home conference! The gathering was packed with in-depth conversations—both onstage and off—about the future of our industry. Missed the action? Check out the highlights below, including Andy Dunn of Bonobos on retail, David Rosenblatt of 1stdibs on transparency, Google's Kate Freebairn on home technology, Michael Ventura on empathy, and New York art critic Jerry Saltz on, well, a little bit of everything. And stay tuned for Day Two!
---
The Future of Ideas
For the final session of the day, Aaron Keller, co-founder and CEO of design firm Capsule, sat down with Business of Home's Kaitlin Petersen to discuss the value of ideas, Keller's book The Physics of Brand, and his own experience in brand building with Patagonia and Arc'teryx. According to Keller, the key to a successful brand is creating memories—which is becoming ever more essential as the world moves into an experience economy.
On when a brand is born: "It's the day you tell your mom, 'I started a company.'"
On what makes a brand: "A brand is a vessel that you insert meaning into over time."
On how to build a valuable brand: "If you don't have a memory of a brand, the brand doesn't exist."
On what success looks like: "When people are showing up and you're not doing anything."
Key takeaway: Branding today relies on creating small, controlled, measurable experiences. Or as Keller put it: "Keep it small, see if you're making memories, edit, and repeat." —Katie Rothstein
---
The Future of the Trade
Dennis Scully moderated a dynamic conversation between David Sutherland, founder and chairman of Perennials and Sutherland, and Chad Stark, president of Scalamandré and senior vice president of Stark. The duo presented different approaches to sales, growth, client retention, and attracting new audiences in 2019.
Without question, both Stark and Sutherland believe the trade isn't going away. For his part, Stark detailed his love of "adaptive experimentation"—creating defined tests and measuring their success, whether it's exploring different marketing channels, partnerships or pricing strategies—to see how his core customers respond.
Meanwhile, industry veteran Sutherland championed independent makers and artisans, and emphasized the important role of the showroom in showcasing that talent. He also reiterated his stance on selling only to designers: "We're totally transparent with our community, and we are with the end user—we just won't sell to them. I don't know how much more transparent you can get than to say no," he said to the audience with a chuckle.
Both companies sell through retail channels, which has benefited the brands, but their different approaches to product and distribution speak to the complexity of the industry and how heavily it has been influenced by the consumer market.
Key takeaway: The trade is valuable—but there's more than one avenue to unlocking that potential. —Arianne Nardo
---
The Future of Curation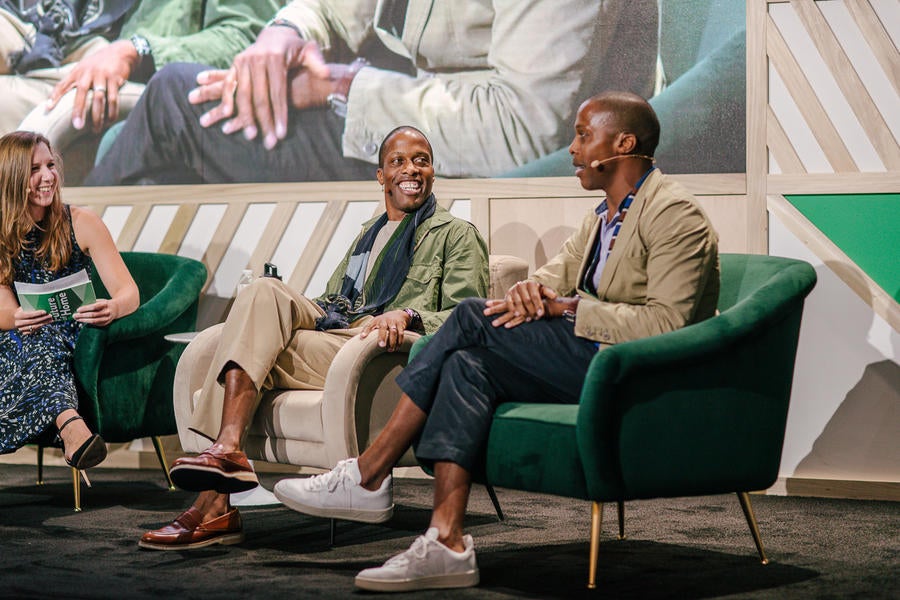 As Kaitlin Petersen, editor in chief of Business of Home, opened her panel discussion with Byron and Dexter Peart, the founders of leather collection WANT Les Essentiels, she introduced their "less but better" philosophy. The concept applies to the brothers' new venture, Goodee, and the pursuit of a different kind of quality that beyond materials and craftsmanship. "We're living in a time where there's a lot of pessimism—and how do you bring up the optimism to create original origin stories? That's what Goodee is; it's a connector between makers and artisans and artists to connect them directly to this audience," said Dexter.
The conversation explored the role of the curator, what sustainability means today, and where commerce and conscious consumerism intersect. For the Peart brothers, the quick-ship solutions customers have come to expect from e-commerce aren't the answer; instead, their value proposition prioritizes helping them make the most ethical shopping decision. "Our existence has been about helping people save time and discover things that they wouldn't find on their own," said Byron. "As curators, whether you're in the art space or media world, we have to help support people's time and curiosity and build trust together. Speaking specifically in the area of sustainability, even knowing who to trust [is what we're] working on."
The Pearts believe that today's consumers are not just seeking sustainable products, they are expecting them. "We define the new future of luxury as where design and purpose intersect," said Dexter. "There's no longer a price and exclusivity—it's design and purpose."
Best quote: "Consumption is not a bad thing. Overconsumption is a bad thing," said Byron Peart.
Key takeaway: Sustainable product is a viable, desirable category in home—if it's presented with real purpose rather than with the same old transactional retail mentality. —Arianne Nardo
---
The Future of Buying
Anna Brockway, co-founder and president of Chairish, Inc. gave a detailed presentation on shopping behaviors, how designers use the platform, and product trends. Backed by data collected from the company's recent interior designer survey, she highlighted that home goods is now the fastest-growing e-commerce category in the U.S., that the buying pattern for luxury furniture has shifted in recent years, and shared insights on how Chairish has responded to the new patterns.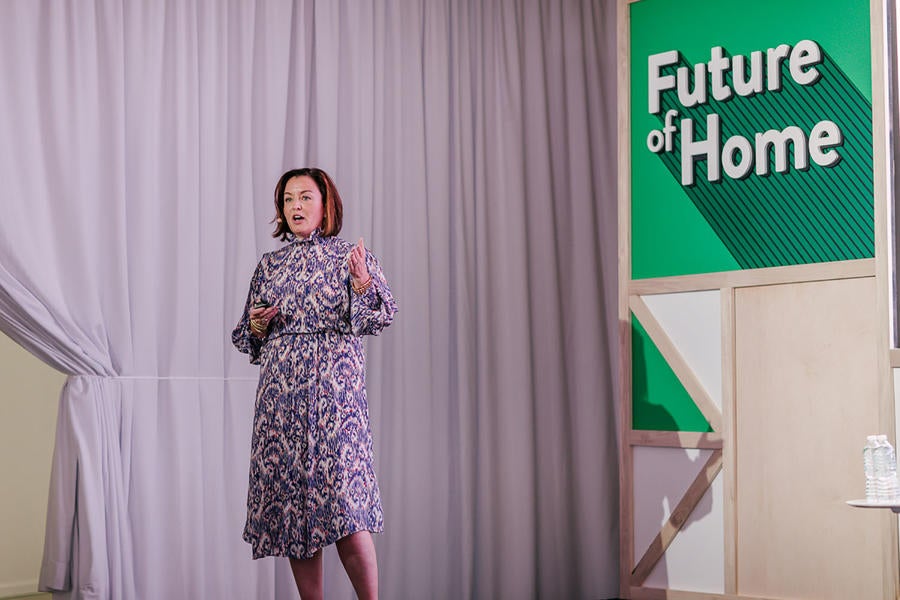 Some of the findings:
84 percent of professional designers start their sourcing online.
81 percent of designers buy high-end items after first viewing them online.
47 percent of all products in a typical design project are purchased online.
Key takeaway: Considering that furnishings are the third-largest spend after the household itself and cars, the shift to online should come as no surprise. —Katie Rothstein
---
The Future of Digitally Native Brands
Britt Bunn, co-founder and COO of The Inside, Material co-founder Eunice Byun, and Clare founder and CEO Nicole Gibbons sat down with BOH columnist and podcast host Dennis Scully to talk about the realities of creating direct-to-consumer, digitally native businesses. All of their companies play the role of disruptor in their respective spaces, but each leader acknowledged that it takes more than that to create a loyal, lasting customer base. When asked about the role of venture capital in growing their businesses, all three entrepreneurs agreed that VC funding comes with an added pressure to scale the business at a sometimes unrealistic pace and scale.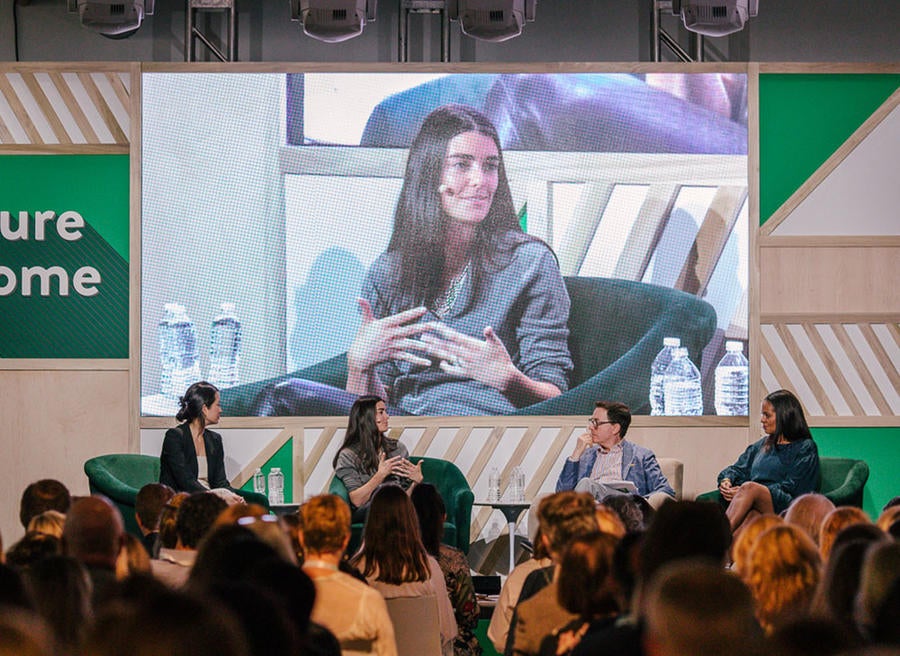 Best quote: "We're super active on social media and engage one-on-one with our customers all the time. It's about listening to their feedback and reacting," said Gibbons. "Staying close to your customer is what keeps you innovative. We're here to deliver products that we know people want. Empowering customers to be a part of the product development and to really take ownership of the brand—that's what builds a lifetime value. And that customer loyalty is when they feel a connection to us."
Key takeaway: To build a successful direct-to-consumer brand, you need to passionately believe in your product, have a great support network and invest in a great team, because, as Bunn put it: "The team that you build is the company you build." —Haley Chouinard
---
Activation: StyleRow Demonstration
StyleRow founder Erinn Valencich gave Future of Home attendees a demo of the new design management platform during lunch.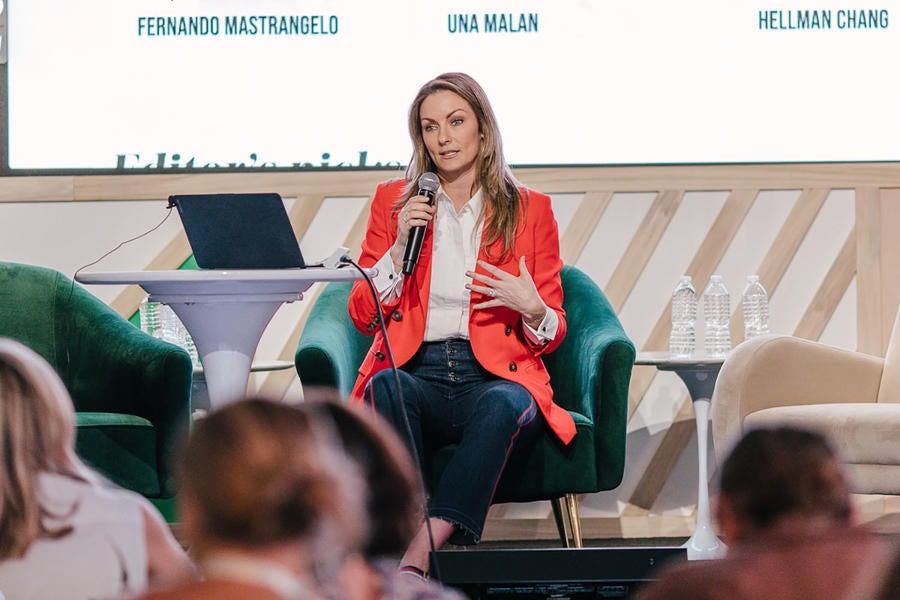 "As a design team, it's a collaborative business—yet every single member of the team has their own tools," she said, highlighting one of the main problems she set out to address. Stemming from her own experiences as both a designer and an owner of a bespoke furniture brand, Valencich explained that she created StyleRow to streamline the design process. Through features like collaborative product libraries and project management pages, the platform allows designers, showrooms and manufacturers to collaborate in one place for the first time. —Katie Rothstein
---
The Future of Creativity
In a freewheeling talk that spanned topics from the critically panned architecture of Hudson Yards to the branding of the Trump campaign, New York magazine art critic Jerry Saltz pondered the future of creativity. He began by talking about the history of the human race: After gathering food and creating tools, he said, the next thing we created was a place to sit. Design, argued Saltz, is an integral element of human life and one of the oldest art forms. He also pointed out that there are no interior design critics—something he compared to dancing naked in public with no one watching. Throughout his talk, the Pulitzer Prize winner drew from his acclaimed article "How To Be an Artist" (which will be expanded into a book, due next spring), advising the interior design community to "make an enemy of envy" and focus on their own talents within.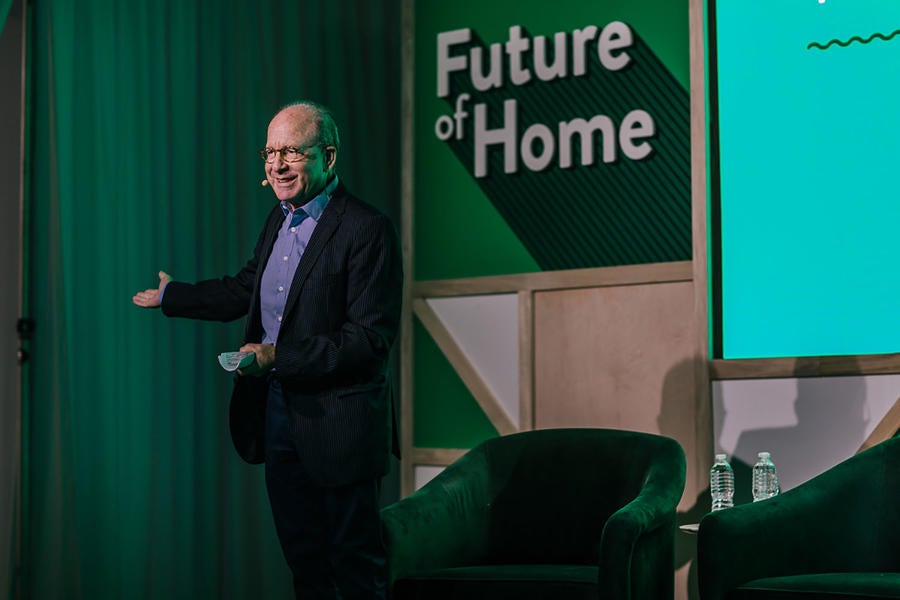 Best quote: "Art, like design, is a verb," said Saltz. "It does something. It does something to you and it does something to others. It either has a use or it does not. If what you do has no use, then it better at least be useful to you."
Key takeaway: Saltz reinforced the idea that interior design is an art and that to be an artist is to be unapologetically ambitious. Brave your demons, he said, and don't stay in your lane, ever. —Haley Chouinard
---
The Future of Relationships
Michael Ventura's presentation about practicing empathy was one of the most interactive and emotionally resonating sessions of the Future of Home conference. The author of Applied Empathy and founder of Sub Rosa—a design company that has done work with West Point and the Obama administration—began by debunking a major myth: that empathy is a capacity exclusive to only certain people. "Empathy is a human trait," he said. "Some have it more than others, some people are predisposed to it, but if you go back to the dawn of time, there's a theme that seems to emerge when archeologists dig up ancient civilizations: They always find cave drawings, they always find paintings on the wall, and that's because we have an innate desire to be understood and to understand. We have an innate desire to share our story."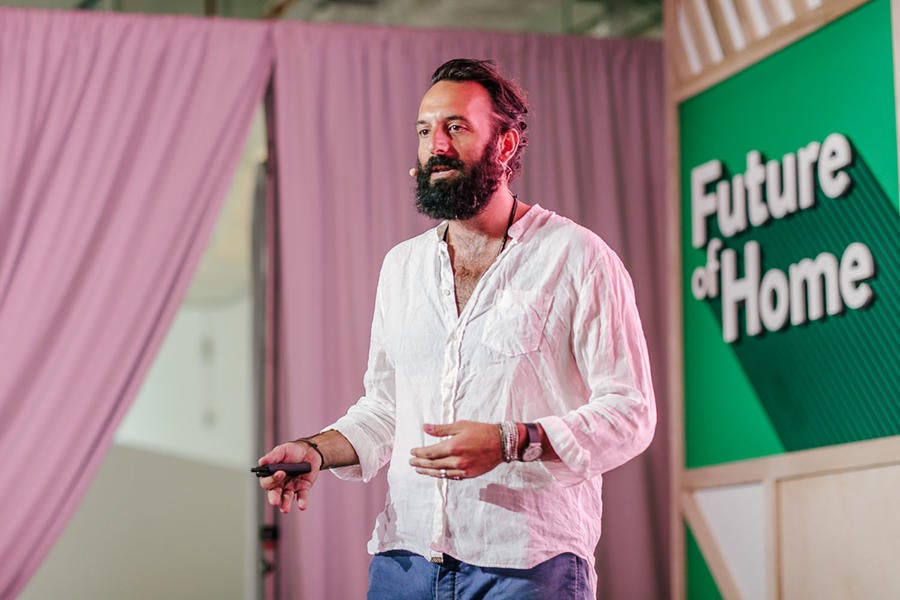 Bringing the concept into focus for the audience, Ventura focused primarily on cognitive empathy, or "the act of cerebral perspective taking," and on trying to see the world through another person's eyes. To do this effectively requires self-awareness and practice—using insights to change, he said. "Empathy is one of those things where you have to ask the questions you didn't want to ask." In simple terms, he reminded the audience to keep in mind that clients and colleagues are constantly managing a constellation of personal circumstances that impact their day. To fully practice empathy is to be mindful of all those possibilities, and to recognize that these are fluid states. He gave an overview of the seven different ways to illicit understanding, each one a distinct way to "show up" and be a more well-rounded leader and build stronger relationships.
For Suzanne Sokolov, a PR and marketing specialist, Ventura's presentation made an impact. "We've become so comfortable with how we see the world that many of us don't realize the extra effort needed to really feel and see from another person's perspective, putting us at a disadvantage to understand what their needs are," she said.
Best quote: "Whether you're a product business or a service business, you're a relationship business," said Ventura.
Key takeaway: Empathy is about stepping away from a first-person perspective and truly taking the time to understand what inspires, motivates or encourages the people around us. To put that into practice as a leader or employee makes one better on a team, in a community, in the world. —Arianne Nardo
---
The Future of Technology in Design
Google Nest's Kate Freebairn spoke with Fred Nicolaus, Business of Home's managing editor, to discuss the tech giant's push into home products. Freebairn, who is the director of user experience for Google Nest, focuses on reinventing traditional home technology, like thermostats and locks, and making them beautiful and easy to integrate into modern life. As an example, she cited the brand's smoke detector, which, instead of chirping and flashing a red light when the battery is low, sends a notification to the homeowner's phone. Part of Freebairn's job is looking at the future of technology in the home, a category she says will continue to move into ambient computing, such as asking your Google Home to play music, a command that requires no screens, typing or any interaction we'd associate with traditional computer use. She also touched on the company's continued commitment to hot button issues like privacy and sustainability.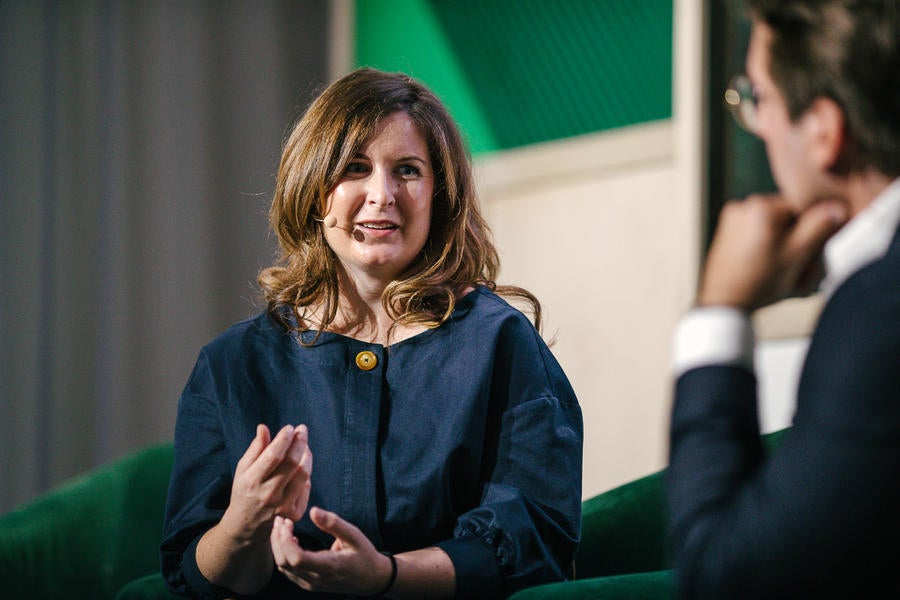 Best quote: "Your home is a really sacred place, and for me, personally, it's an absolute privilege to design products that people can welcome into their homes," said Freebairn. "With that comes the idea of making technology that will get out of your way and allow you to interact with your family."
Key takeaway: Technology will continue to become more integrated into our homes and design will play a key part of that. —Haley Chouinard
---
The Future of Transparency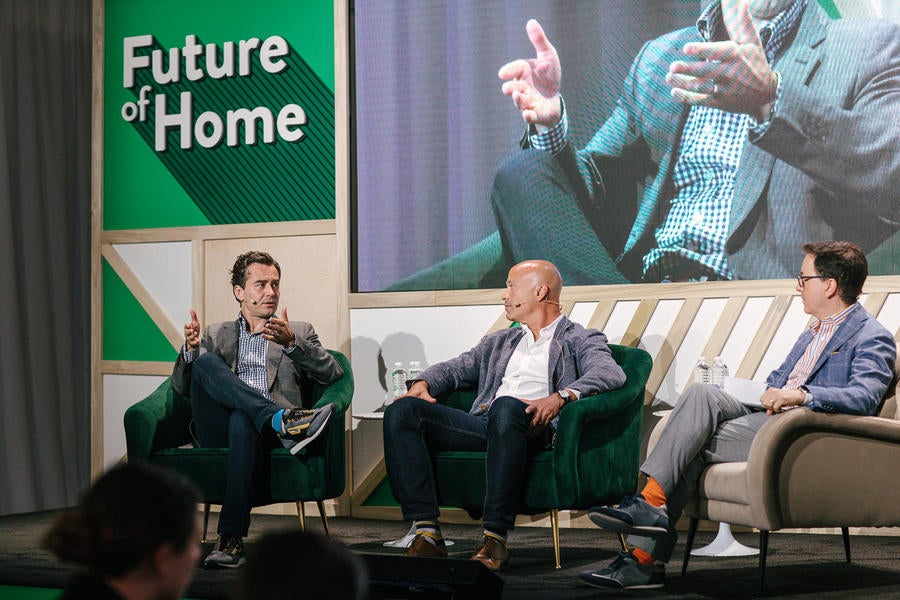 Artsy's Mike Steib and 1stdibs's David Rosenblatt sat down with Business of Home's Dennis Scully to discuss how e-commerce is disrupting art and design. As the industry becomes increasingly digital-first, dealers have to adapt to the changing landscape. Rosenblatt has seen the shift in buyer behavior in recent years at 1stdibs, and Steib is beginning to address the shift at Artsy with a new feature that allows consumers to buy art with the click of a button. In both cases, the companies seek to create transparency by eliminating the back-and-forth between consumer and gallery that deters potential buyers.
Best quote: "When you look at the disruptor in every industry, the disruptive company is able to do so because the people of the company are less anchored in the historical way of doing things. They take a fresh approach," says Rosenblatt.
Key takeaway: Greater price transparency will open up the art and design world to a whole new set of buyers. —Katie Rothstein
---
---
The Future of Retail
This morning's kickoff conversation at the Future of Home conference featured two experts who sit at the cutting edge of both retail economics and the digital marketplace: Andy Dunn, the co-founder of fashion company Bonobos and Rob Royer, founder of the D2C furniture brand Interior Define. While everyone wants a quick answer to what's next in retail, when these veteran digitally native vertical brand (DNVB) thought leaders spoke with host Dennis Scully, they reflected on what they would have done differently with their company launches and how a major infusion of capital isn't the only way forward.
Ironically, Dunn admitted he no longer loves the label DNVB—a term he coined. "It's not just about e-commerce, which is a tremendously challenging, frequently unprofitable business, and one that I think doesn't take into account how much consumers want to be in person with brands and products and people," he said. "What gets me excited are brands that are really strong direct-to-consumer but also have got omni."
During the early days of Interior Define, Royer took Bonobos's Guideshop approach to heart. "Our very first office was also our very first Guideshop," he said. "It was a powerful combination to hear how people were talking about your brand to tweak your approach almost in real time. To Andy's point on DNVB, it's changed so much in the last five years."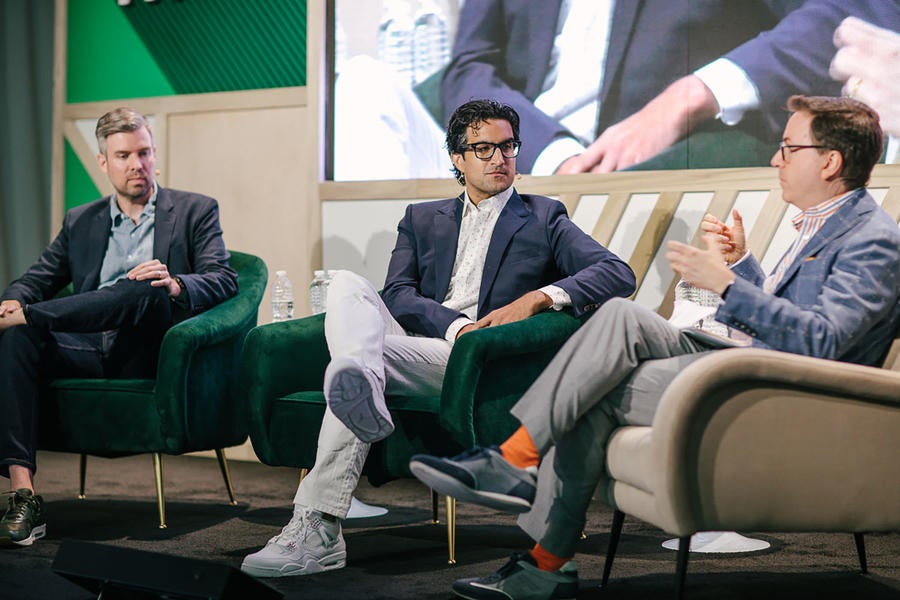 "What we did in the early days was definitely innovative and inspired by Andy and Bonobos. Now, a few years later, it feels like that toolkit is almost the new table stakes," added Royer. "If you're launching a D2C brand, you almost need to think through that secondary channel from Day One. Today, it's about how you not only build a compelling brand on the web and create a really differentiated user experience and value proposition, but how you think about a more innovative secondary channel." Royer also believes the store channel doesn't build brand awareness the way it once did.
Best quote: Dunn gave an example of his current perspective at Walmart, which purchased Bonobos two years ago, and the development of D2C online mattress brand Allswell. In shifting its pricing strategy, Walmart adjusted the way it thought about its margins: "This is a little arcane, but you have a margin you think about, but with digital businesses there's a marketing spend. So is it better to have a 70 margin and spend 30 percent on marketing, or just have a 40 margin and spend nothing on marketing? In some regard, that's a little simplified, but we had the ability in our cost of goods to do it—just fundamentally saying: Rather than spending money to inflate the price, we're going to offer this at the most accessible price that we can," said Dunn.
Key takeaway: It's cool to grow slow. Both Dunn and Royer agree that venture capital isn't the only path to success and that there is something to be said for growing a business that's actually profitable. —Arianne Nardo
Homepage photo: Dennis Scully and Nicole Gibbons at Future of Home | Kevin Lau